Discussion Starter
·
#1
·
With my last day afloat a river being well over a month ago, this day was long over due and the anticipation great, before waking at 4 am saturday to a hot breakfast and warm long johns. Having packed the truck the night before to enable to get every extra minute of sleep, I was out the door in 20 minutes into my pre warmed truck. I was so amped I didnt notice it was -3 and that it took the heater in my big diesel a good 10 minutes to start blowing warm air. 15 minutes later I pull into my buddies place and as always, boat is hooked up, truck is running and he's ready to go.
We pretty much have our scheduled trips down to a "t" and there's rarely any hiccups or detours to slow us down. It's nice.
We hit the fog souped in road and head off on our 2.5 hour trip to a northern Island river that isnt heavily pressured or tainted with hatchery genetics in the hopes of finding some of the most pure steelhead fishing available. The fish we saught rank right up there with the scraping steel of the Dean or Skeena tributarie variety.
Arriving at the 75 foot vertical embankment where we lower the drift boat down by anchoring it by rope to the tow hitch of the truck and lower it down, while I clumsily slip down behind it in felt soled wading boots trying to navigate the boat around trees, rocks and finally, to rest at on the river bank. Yell "All clear!" and my buddy parks the truck and slides down the cliff with our rods.
After taking a few pictures of the crimson red sunrise, putting the oar locks in, plugs and a futile attemp to hang the frozen anchor line and bow line in the river to attempt unfreezing them, we push off into the current.
Now the first part of the drift is completely frustrating and not how you want to start out. Being lucky and not the rower, I just had to sit there and laugh as we hung up on a different rock every 10 yards during the 100 yard drift/rock slide/push-pull to get into driftable water.
We anchored at the first hole, rigged up our gammys with 12# leader as we were expecting some hogs and finally, we were fishing.
Well, trying to lol !
Of course being so cold, it was all we could do to keep our rod guides free of ice. It'd be fine casting but as soon as you were half way through your drift, the guides would freeze up again and it was difficult to pay out line without putting an unnatural drag on the float.
We fished a dozen holes hard, all looked promising but with no results.
It almost looked too good. Is there such a thing?
The next section we hit runs straight and hard, lots of structure boulders right on the seam of the main current, ideal holding places for big steelies. I cast to what was the perfect spot, but 5 feet too low as my buddies first cast in the same spot higher put us into our first hook up !
Fish on!
Immediately she zipped into the current, turned tail and went downstream a good 100 yards and held in the current. After pulling anchor and getting into shore my buddy hands me the rod while he gets out of the boat.
I said, "Nice fish bud! Feels solid!" HE was just grining ear to ear and said , "Yeah too bad you didnt cast a bit higher up before that boulder haha!"
After 15 minutes of tug of war, rolls and surface thrashing, she came in. A nice, thick, 13lb doe with an ever so slight tint of steelhead pink along her lateral line. Awesome fish, a hard one to beat.
With the skunk out of the boat, back at it we went again!
Hammering the same spot again in hopes of finding her partner, but just didnt happen. I was very surprised not to hook into another fish in that run. It was by far the best looking run on the river.
By now it was about one o'clock and we had 2 1/2 hours before his cousin would be picking us up to get us back up to the truck on his way home from work and we still had about 4 km of river to float, lots being wide, deep and slow, not my favorite type of water to fish.
We also had to navigate the falls which would take some time and time permitting, hit a few long promising holes just before the pull out.
With no more than few casts in every spot, we started covering as much water as possible as quick as possible, there had to be another chrome bar in here somewhere...
Shortly after the falls we drifted down into two guys working their spey outfits. Turns out they had landed one really nice 15/16lb doe earlier that day. After a brief conversation, we drifted in behind them close to shore as to not spook any possible hook ups for them.
A couple hundred yards below around the river bend we came to a feeder streem running almost perpendicular to the main river and we beached our boat to fish a nice seam created by the inflow. First cast my buddy had a solid take, but missed it. He yelled at me and pointed in front of him, motioned for me to go over there, and said, "There's a hammer right there buddy, toss it in there."
Thats the good thing about having a solid fishing partner, doing that kind of thing, and me always being one to return the favour, and him knowing that.
It was like clock work, first cast and WHAM!
nearly stripped me off my rod, a huge boil in the water and the tell tale flash of a huge white belly and we both looked at eachother bug eyed, "Oh yeah baby! What a hog!"
She did a 180 and left the country, out into the main current and down, through 75 yards of rapids over a rapid decline in the river bottom and with amazing speed! She didnt stop, she must have went anotehr 75 yards past the head of the next run into the throat of the pool, across to the other side and just held there. My buddy ran up and got the boat.
He came down, fast and me pretty much bailing over the side, we were already in the rapids in the outside of the dog leg in the bend headed straight for an overhanging cedar tree, way faster than I could reel up the slack on that Islander!
He's gunning at me, "Reel reel reel!" Of course I am reeling as fast as I damn well can lol and pointing the rod in the direction we came from just to try and keep that line tight.
I must have had luck on my side because after at least 15 seconds of slack and frantic reeling, I finally caught up and had the tension back and she was still there. The current luckily grabbed my line and took it below the fish so that helped keep that barbless gammy from popping out!
We went straight for shore and the battle continued.
6 times that fish came in and 6 times she went back out, each time with a strong confident run followed by a bit of an arial waterwalkin' show.
Finally, rod bent against the back of my neck and the leader in my hand, I grabbed the wrist of her tail and slid my other hand up her belly and cupped her in my other hand, and with a big shit eating grin, lifted her out of the water for the first picture. With a drink between each picture, as that was all I'd have after letting her go, I took her back into the current and she immediately headed back down to the depths of the river. What a fish, a chrome 14lb doe, massive girth and just solid from head to tail. What a beauty! Fighting better than the 20lb I took out of the Stamp last year, I couldnt have been any happier. This made my day.
Now the best part of the trip for me is for a reason different than any other time. 2 days ago I lost one of my best friends in a car accident and this day was the best way for me to absorb everything, and take my mind off it at the same time.
In memoriam of my buddy where I can always remember him at a place I love to be most, doing what I enjoy to do most, I named the run where I hooked that perfect fish, "The Goodtimes Run" as that was his nick name.
It couldnt have been any better.
Crimson sunrise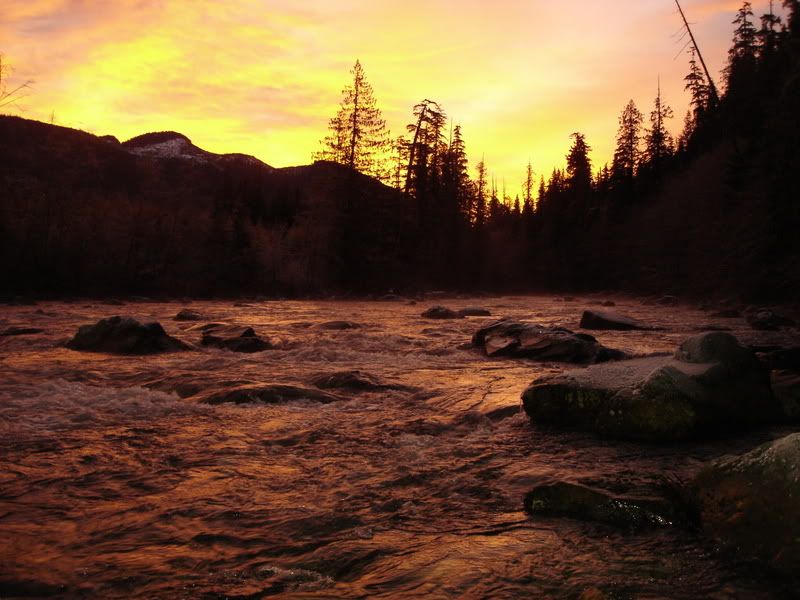 My buddies prize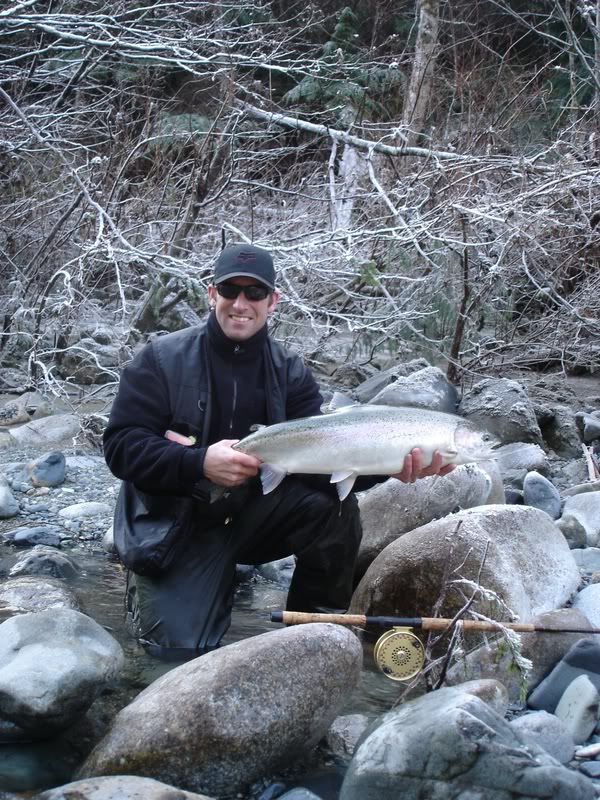 The highlight of my day
Navigating the falls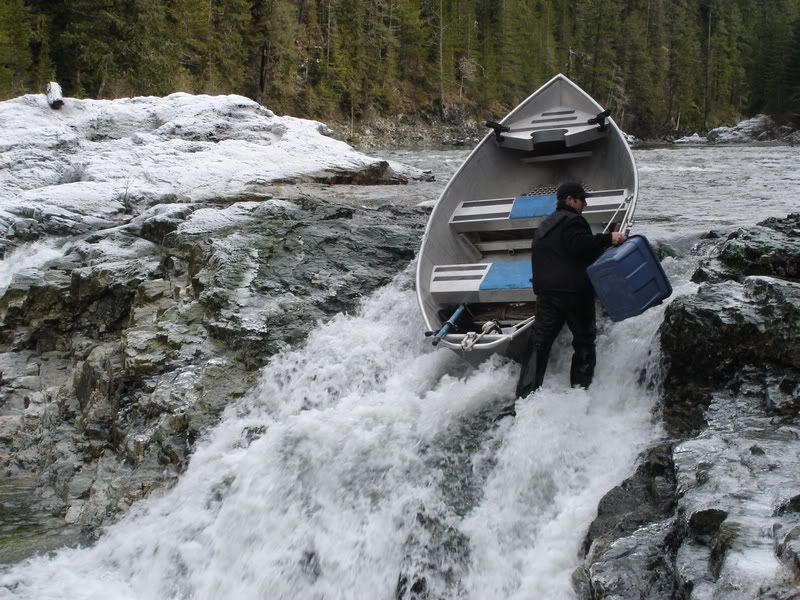 The Goodtimes Run