Discussion Starter
·
#1
·
To read the article go to
http://www.mapleridgenews.com/
click community news and than click Fisherman, cubs clean up Alouette
Here is the article for those that choose not to click it
Fisherman, cubs clean up Alouette
Jan 31 2007
The South Alouette River is tidier now, ready for the spring and summer hikers and anglers who will soon enjoy its leafy banks.
About 20 fishermen spent Saturday digging out the trash along the river along both sides, from 240th to 216th streets.
"We got quite a bit," said Brian Bronswyk.
"It wasn't as much as we anticipated, but there was some stuff there that was questionable."
Part of their haul included an oil drum, an old barbecue and a bicycle wheel.
However, the volunteers, with the help of between 10 and 15 cub scouts, because of difficult access, couldn't get to a homeless shelter near the 232nd Street bridge.
One of the challenges was access on to private properties that run along the river. Some homeowners were concerned about people in their yards.
"It's one of the few rivers where the property owners actually own part of the river," he said.
Following the cleanup, the volunteers had a barbecue while someone from the Alouette River Management Society hauled away the trash from Maple Ridge Park.
Bronswyk said the anglers fish the Alouette for salmon, cutthroat, dolly varden and steelhead trout. He said returns for steelhead, ocean-going trout, seem to be getting better.
Here is the pic they added to the article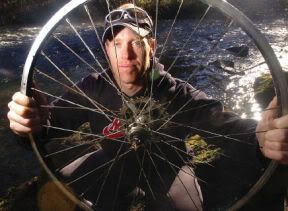 simone ponne/ the news
Bryan Bronswyk holds up a bike wheel, one of the items fishermen and cub scouts pulled from the South Alouette River on Saturday. They cleaned the river from 240th to 224th streets, starting a 8 a.m. It took them four hours.