Hello folks, hope you have been enjoying the abundance of Salmon in the Fraser Valley this early fall.
While the Pinks did run slightly late they are here in droves and catching them has been easy and lots of fun.
From twitching jigs to casting bright pink flies, anglers of all ages and genders have experienced a great fishery.
Look for another strong week of Pinkin in the Fraser Valley.
The pinks can be found anywhere along the Fraser where the current slows slightly and at key river mouths like the Chilliwack and Harrison.
With the Fraser running extra dirty this year getting the Chinooks to bite in the Fraser River has been a challenge.
We saw a strong run of late summer Chinooks most likely headed for the Thompson tribs in early September and about a week ago the first of the reel screaming Fraser Fall Chinook starting tearing down our spinners.
With the Fraser now running a little clearer sitting on anchor or fishing off shore with some large thumping spinners or some spin n glos will get you into some HUGE Chinook.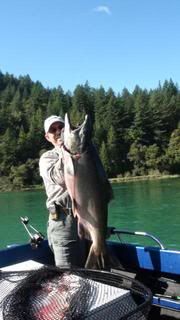 Heard of a 70 pounder the local native fellas caught in their beach seine net, cannot even contemplate the first run that would take, tethered to one of my Lamiglas 8ft fiberglass "nookin" rods, WOW.
We should see a great two to three more weeks of Chinook fishing in the Fraser before these brutes are all in the tribs, get out there and have some fun.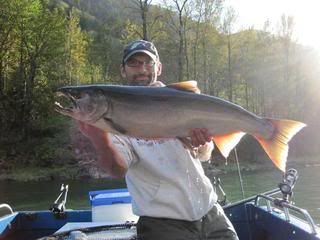 Time is ripe to leave the harvesting rods in the garage and try some actual sportfishing for the grandest of Salmon, the Chinook or King as our American neighbors call them.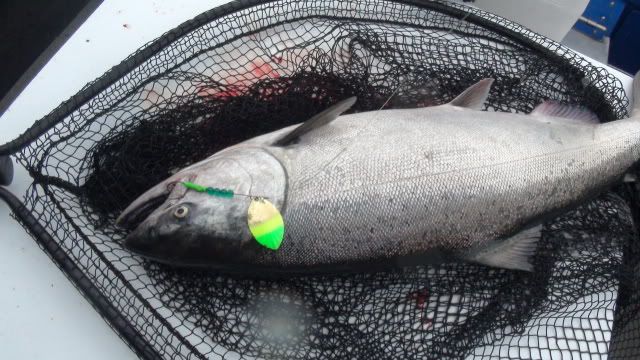 With October on the horizon, one word comes to mind, COHO.
Once the jewel of fall fishing in the Fraser Valley, recent years have seen poor returns.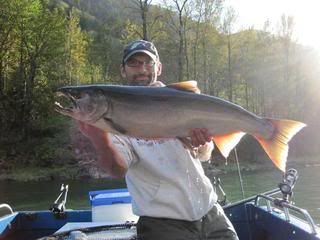 HOWEVER, last season was very good in the Fraser Valley and if all indictaions from the north coast and west coast of the island are true, we may see another fall Coho extravaganza.
All rivers in the Fraser Valley can be great for fall coho, in fact those little ditchy streams and sloughs in the valley were once hot spots for the Coho Salmon.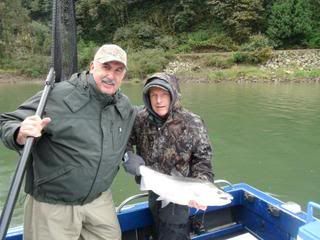 With Coho you want to avoid the faster water that Chinook seek and look for calmer waters where these cartwheeling acrobats rest, waiting for a lure passed by them giving them something to chase.
Theres many ways to catch Coho and most involve exciting them to chase. While I grew up fishing roe under a float for these Salmon , I have not done this in years and catch more than ever employing lures that move Coho to chase my presentation.
Some great ways to catch Coho are casting weighted Spinners near holding fish and retreiving them at varying speeds, this will result in many hook ups. For this I use light action spinning rods, braided line and weighted Spinners. The spinners I make are my own design and they are built with years of experience fishing for Coho Salmon.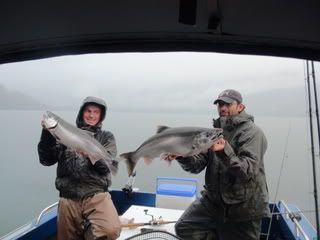 Another great method of catching Coho is fishing with a float rod and using Colorado Spinners suspended just off bottom.
Remember not to impart to much hold back with this methods as the best presentation is a slow spin, a "thump" if you will.
While I have caught Coho on many different colorado blades some of my faves are "copper" and painted blades like pink,chartreuse and orange. I have a whole selection of Colorados that I have air brushed myself available to anglers by on line orders.
Another method starting to gain a following is "twitching" jigs. This requires an angler to cast a jig near holding Coho and impart a jigging motion to incite the Coho to chase. If you have coho chasing your spinner then turning away, get out the jig and you will be able to get them to commit, trust me.
I could and will write an article on this method, but for now remember, cast your jig near holding fish, and give it a lift, drop the tip and as you do reel in the slack created, now quickly lift again and repeat. You will want your jig just off bottom and not moving too quickly. 1/4 ounce and 3/8 ounce jigs are all you need and I use the lightest jigs that I can for this methods as larger ones often fall too quickly, which is when Salmon bite a jig, always on the drop.
Another great method for Coho fishing is the fly. As with other methods I mentioned, it's all about moving Coho to chase.
Casting out sparse sparkly flies with slow sinking tips or lines is the favored method and while retrieves vary by angler, most involve a steady always moving retrieve. I find slack water areas the absolute best for fly fishing Coho and often these spots are avoided by the masses and hopefully the Chums avoid them as well.
Sturgeon Fishing has been decent to excellent lately, it seems to be good in one area and cold in another. The key is to try making large moves if the fish are not biting in a certain area, chances are 5 miles away they are on the heavy feed.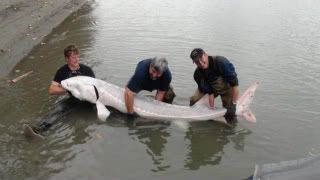 As for baits, this year I have been really using all kinds of baits daily and the Sturgeon are suprising me from day to day with how they change courses, bring many and try many.
I wish everyone a fantastic Fall fishing season and please be safe on the water, it can be very dangerous and unpredictable.
For people wanting to order our jigs or spinners you can email
[email protected]
or call our office at 604 794 5976.
Tight Lines
Rod