Happy Holidays to all the folks who participate and visit BCFR.
I hope everyone had a great Fall fishing season, it was sure a great return of Salmon and Steelhead to BC waters.
With winter in full effect now, we will soon see the arrival of one of our greatest sportfish, the Winter Steelhead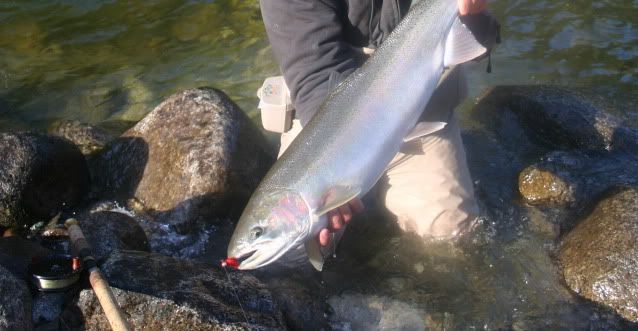 Steelhead are a truly great gamefish and will take many lures and baits.
At Bent Rods we manufacture some of the best lures you will need to have a banner Winter Steelhead season.
First off is our large selection of Steelhead jigs. We have a huge selection of jigs custom designed to catch Steelhead.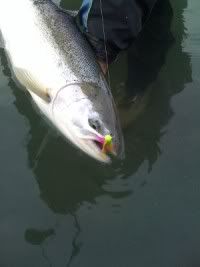 Our "special" for this December is 20 of any of our jig patterns for $55, you choose the patterns. I will also throw in one freebie jig from my personal collection (not available anywhere).
Next up are weighted casting Spinners. While Colorado blades have become popular in recent years, The weighted Spinner is truly under valued as a Steelhead catching tool. Anglers from the great lakes and troughout the Pacific Northwest know full well the amazing attraction of a properly fished Spinner.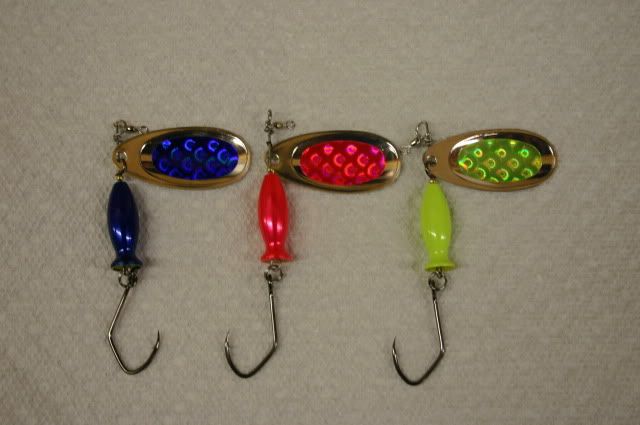 All that is needed for catching Steelhead casting Spinners is a 9-10 foot rod, a baitcaster or spinning set up loaded with a good casting line and a box of Spinners, leave the vest and all that tackle at home, simplicity is the key here.
With this in mind Bent Rods has all the weighted Spinners you will need to catch Steelhead. Our weighted Spinners are heavier than the competitors and will get down in moving water where you will find the winter Steelhead. Once you connect with a Steelhead our custom designed "Sickle" siwash hooks will ensure those Steelhead hit the bank.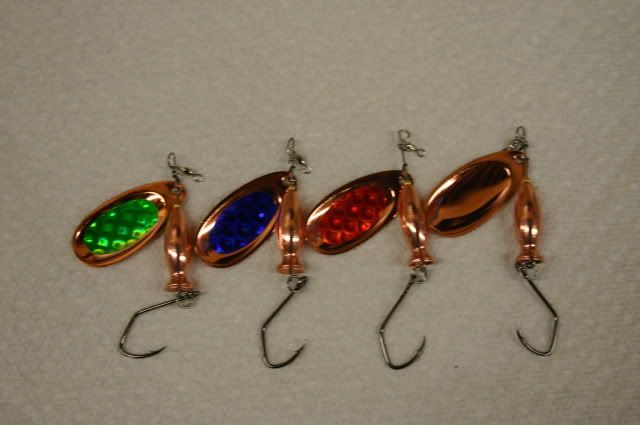 Our Bent Rods weighted Spinner "Special" for December is 12 spinners for $40, this includes any 6 -#4 spinners and any 6-#5 Spinners shown on our website, this includes all air brushed bodied Spinners as well.
Last but not least is our selection of "you build" Colorado blades. Our blades come in three metal finishes, Copper, Silver and brass and a large selection of custom painted finishes. They come in 2 sizes, 3.5 and 4.5. As usual all our Colorado kits come with our custom "Sickle" siwash hooks, because landing fish is always better than just hooking them.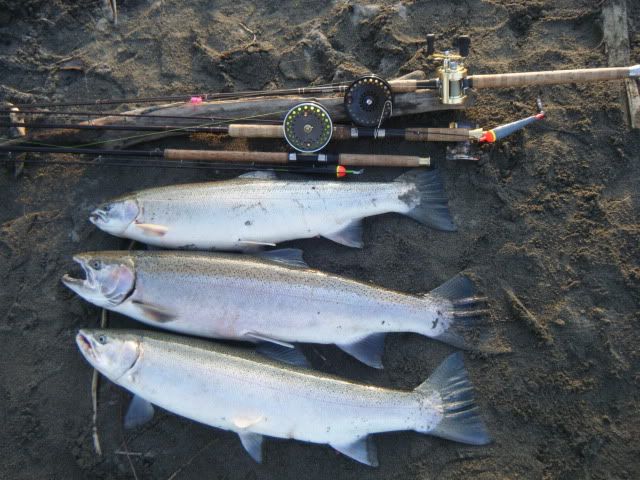 The December "special" for our 10 pack Colorado kits is an amazing $10. You pick any blade finishes you would like and the size blades you would like.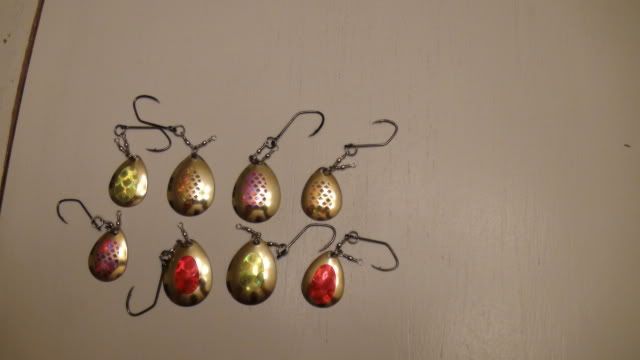 Often I fish through a run with a jig and after catching a Steelhead or two and I am convinced that Steelhead are still present I will go back to the top and go through again with a Colorado blade, this has been the ticket to an extra fish for me many times.
A few anglers from this site have had very good success using my painted Colorado blades, often the metal finish blades are not what the fish are after, give them a try.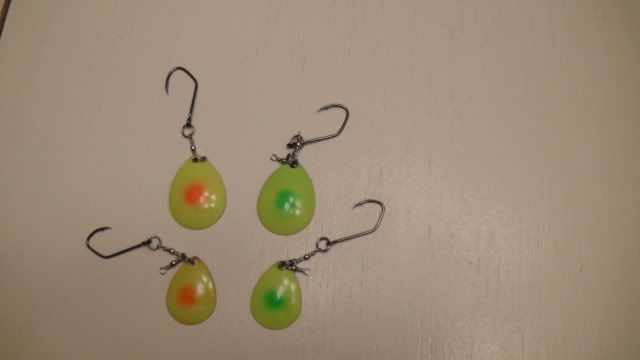 On the Guided side of things, our December "special" is 10% off of any of our 2012 trips if you book during December.
This includes our very popular "walk n wade" Steelhead trips and the rest of our boating trips throughout the year.
Being on the water constantly gives us a huge edge finding those elusive Steelhead. Many anglers from BCFR have been on our Steelhead trips and I have watched their success catching Steelhead skyrocket after a day on the water with us. I take great pride in not only putting people on fish, but take more pride in teaching anglers the skills needed to consisitently catch Steelhead.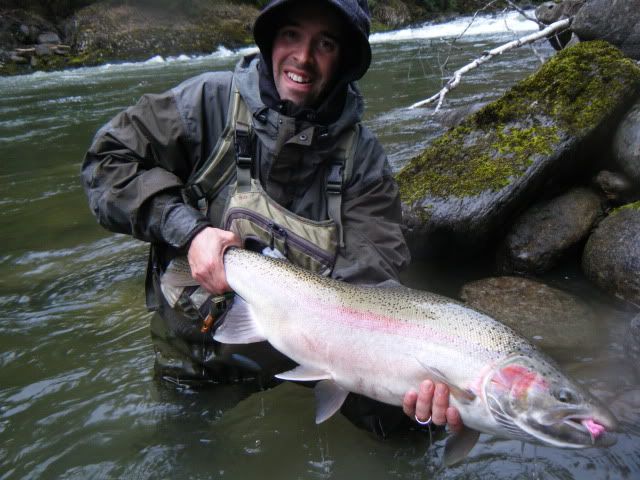 client with a massive winter Steelhead
This season I will be doing my usual teaching anglers to catch Steelhead with Jigs, but will be bringing along the Spinner rod as well to give my guided clients a glimpse of another great Steelhead technique.
I would like to thank all my clients and customers from 2011, thanks again for a great year.
Looking forward to seeing you again and meeting some new friends in 2012.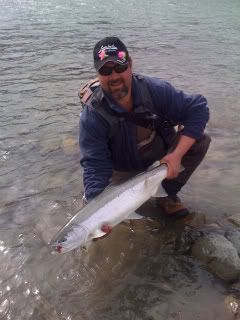 Have a great Holiday Season.
Rod