Discussion Starter
·
#1
·
Well once again Steelhead season is upon us, and at Bent Rods we have a number of new items and specials for all Steelhead anglers.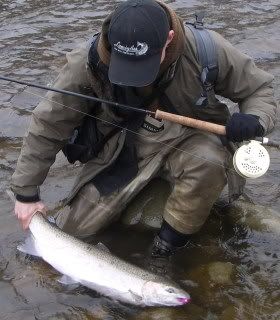 As our business has steadily grown we are able to offer our line up of jigs at more affordable prices.
You can go to our website at
www.bentrods.ca
and see our line up of jigs and the new pricing.
Keep in mind we have "do it yourself" kits for the angler wishing to tie their own jigs and we would be more than happy to give you any advice on how to get started. Tying your own creations and catching fish with them is one of the great aspects of jig fishing.
All our products are available by mail order and just simply call the office and we will ship the next day.
We accept VISA, M.C. , and American Express.
Also availble for Christmas is our 18 and 12 packs of Winter Steelhead Jigs. These come in a nice case with all the colors to get you through a full winter of Steelhead angling. We have these packs gift wrapped and ready for giving.
Not just for Christmas, these packs will be available all winter.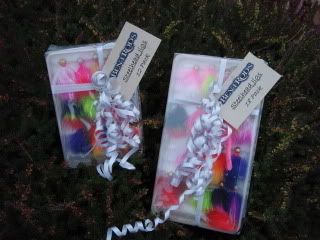 Another thing to consider is we can make custom orders of jigs, made to your specifications and we make jigs for all species of Salmon, Steelhead, trout and Char.
All our jigs are tied on the best quality Gamakatsu hooks and designed to withstand the abuse of hard fighting gamefish. Bent hooks are a common thing with commercial jigs and we design our jigs to avoid these problems.
I must also mention that Bent Rods Jigs will be available at a number of local tackle stores.You can find our products at the following locations.
Army and Navy
, Vancouver, New West and langley. We are planning a jig fishing seminar at the Langley location and we'll be giving away a free day trip on the Chilliwack river if this goes ahead.
Chilliwack Dart and Tackle
Sea Run fly and tackle
Berry's bait n tackle
We would also like to thank all our customers that purchased our jigs at Reaction fly and tackle, your business was
much appreciated
, we are no longer selling our jigs at this location.
We have moved our selection from there to
Freds Custom tackle
, they have a great selection of gear right next to the Vedder River.
We are also planning on getting our products into many other local tackle shops, so keep an eye out for us or simply ask your favorite store to carry our products :beerchug:.
We must also mention that our Steelheading guiding season is about to kick off.
We offer full day guided trips on a number of local streams. These trips are walk n wade and some boat trips are available. Our trips start in mid January and go till the end of May. We also offer remote boat in trips to some awesome rivers that have Steelhead, trout and Char. We offer conventional gear fishing or fly fishing and have tackle to suit anglers of all skill levels.
Aside from fishing for steelhead our trips include learning to read water, teaching our clients proper river ettiquette and we work hard at making all anglers who come out with us into much better all round fisherman.
Instilling a positive mindset to your angling days is one of the most underated aspects of fishing success.
Please give us a call if your interested in joining us for some time on the water.
1 604 794 5976
Merry Christmas and Happy New Year to all the members of BCFR
from the Bent Rods family.