Discussion Starter
·
#1
·
Was in Calgary this past week for some work training,and was able to get a couple of evenings of fishing in on the Bow River. :happy:
My boss and I arrived at the river the first evening at about 8:30pm to find the visibility to be only about 2 feet. I was still confident we would be able to get into fish by swinging big streamers in some of the runs that I spotted from the bridge. My boss doesn't do much fishing so I had him throwing spinners and spoons to try and fool these trout in the dirty water. We got our rods set up and started probing the head of a nice run,on my 5th cast my streamer was hammered by this scrappy 15 " rainbow. :thumbup:
Now I know that there are a good number of fish in this run because there have been fish rising like crazy throughout the head of the run and all along the seam at the back end. After releasing the small trout I was right back in there and a few casts later my fly was stopped by this beautiful little brown. :thumbup: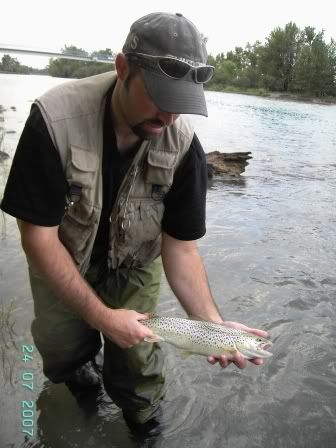 After releasing that fish 10 seconds later my boss "Brent" was into his first fish of the trip a nice 18" rainbow that fought like a freight train with 3 or 4 line screaming runs and several nice jumps. :happy: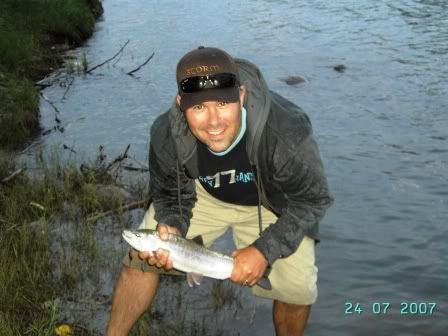 After releasing that fish we stopped and had a Primetime and a beer and we were both grinning ear to ear with finding success so quickly so close to town with no other fishermen in sight. We finished up our quick break and got right back into the action immediately. I lost 2 nice fish in a row on jumps and Brent lost 2 fish on back to back casts. A couple of casts later my fly rod was almost ripped out of my hands by a violent strike. The fish quickly peeled out into the main flow and I was into my backing in about 10 seconds. I could tell the fish was big but wasn't sure if it was a brown or a rainbow, the fish continued to pull hard and put my 5 weight to the test.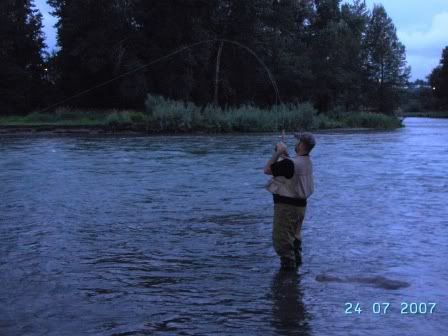 After a long battle of about 5 minutes I got my first glimpse of the fish and it was a big brown, I carefully played the fish close to the bank and finally was able to tail it a get some nice pics of this monster Brown all 26" of her.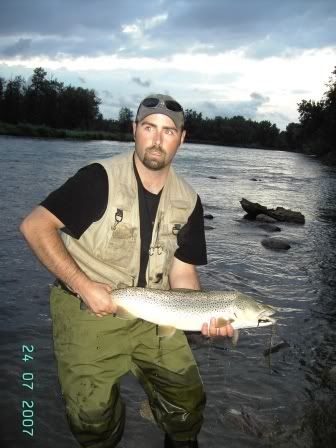 After snapping a few quick shots I carefully revived her and released her back into the Bow.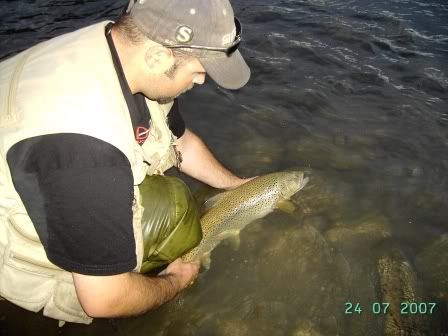 The rest of the evening turned out to be as productive as the start, in total we brought 9 fish to the bank and lost 3 or 4 each aswell. Here are some more pics from my first fishing experience on the Bow River.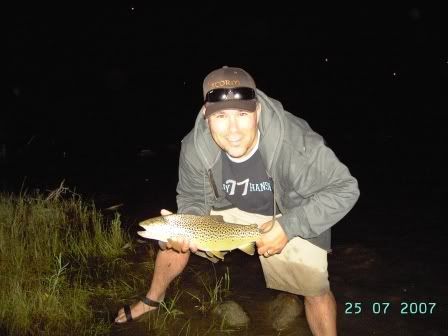 What a great evening of fishing we had, This river is truly a gem right in the heart of downtown Calgary.
After thinking about fishing all day at work, it was time to get the gear out and head back to the river for another round of these awesome fish. We arrived at the river earlier this time around 6pm. We started out fishing the same area and didn't see any fish surfacing at all, and didn't have so much as a hit in 2 hrs. So we started to explore some new water. We started power fishing,covering as much water as possible untill we found some fish. Our efforts were rewarded with only 2 browns both in the 16 to 17" range. By this time it was starting to get a little dark, so we decided to go back and try the run where we had good success at the previous day. Low and behold, first cast Brent is into a nice brown about 15 or 16".
The action continued to be productive the rest of the evening and into the night, we ended up fishing until about 11:30pm here are some pics of the quality fish that we tangled with on our 2nd day.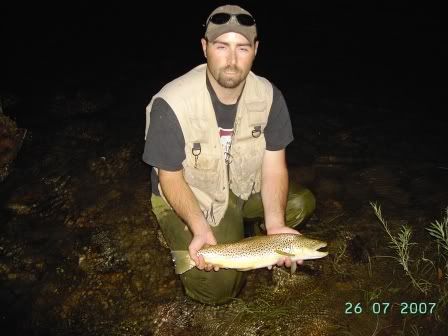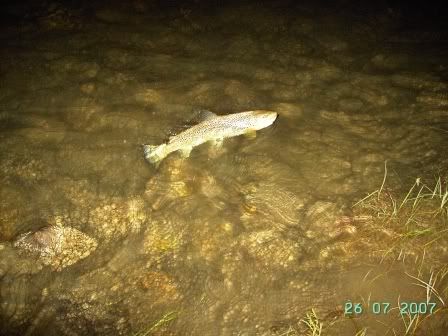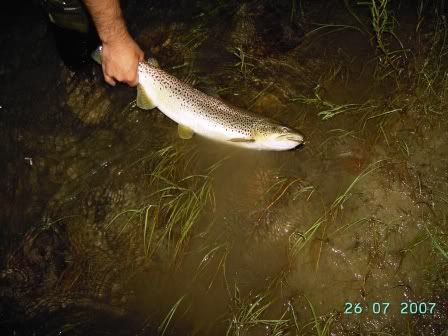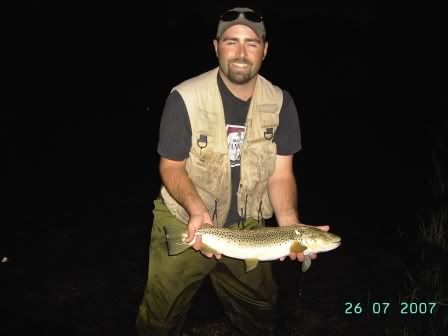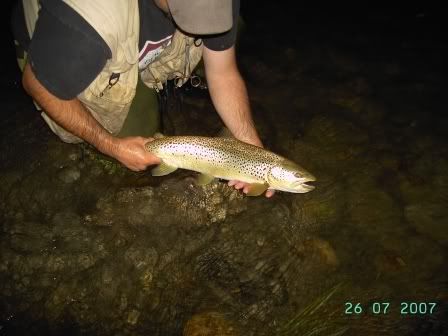 Another great day on the Bow with the tally being 7 fish to the bank and a few more lost. The biggest on the 2nd day being 22.5". That would be all the time we would have to spend on the river so we sat down on the bank had a beer and a primetime and reflected on the great couple of evenings of fishing that we had just experienced. We finished up our beer, broke down the rods and bid fareweel to the mighty Bow river till the next time. " And the next time will be in the very near future" :thumbup: :cheers: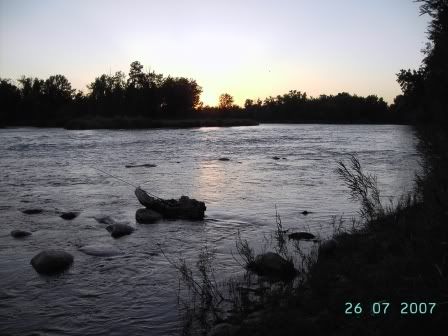 Hope you all enjoyed my experience on the Bow River. :beerchug:
Tight Lines, Nates