Now I know it has been quite some time since I have posted on the site, at least anything a kin to what I have posted in the past. Recently I realized it might be helpful for many of the guests of our site, and maybe even some of the members, to address an important aspect of fishing that pertains to all of us...each and every time we head out to our favorite rivers.
With the excitement and anticipation of a day on the river, many anglers tend to overlook or underestimate the scope of some very important facts they need to know.
I have only been out fishing this fall season a few times thus far, yet in those few times I have witnessed anglers killing
wild coho!!!
I had spoken with these anglers and explained what they needed to know, but it seems pertinent to reiterate some of the aspects of those discussions here on the site.
Many anglers, particularly novice anglers, have great difficulty distinguishing between fresh springs and fresh coho. Often it just takes a little time and effort to recognize the differences. This will save you embarrassment and perhaps even a ticket from DFO if you kill the wrong fish.

For coho, only hatchery fish may be retained.
On rivers like the vedder river, it is likely pretty common place to mistakenly identify fish. Lets make an effort here to put the kibosh on that.
COHO
Hatchery coho will not have an adipose fin. The adipose fin is the tiny little fin on the fishes back, just up from the tail of the fish. Here are a couple of pictures which might help...
This is the adipose fin. It is very obvious and often an angler can tell from a distance while the fish is still in the water whether or not that fin is there.
The adipose fin of a wild fish...
Here is a picture of a wild coho, note the adipose fin...
ALL WILD COHO MUST BE RELEASED!!!!!
Now, some might kill a fish, and later be informed it was a wild coho and say...
"I thought it was a white spring...." :-[
Here are a few pictures of white springs next to coho...try to note the differences...
White spring
Wild coho
Hook posted some pictures in the Fishing contest thread that are very good examples...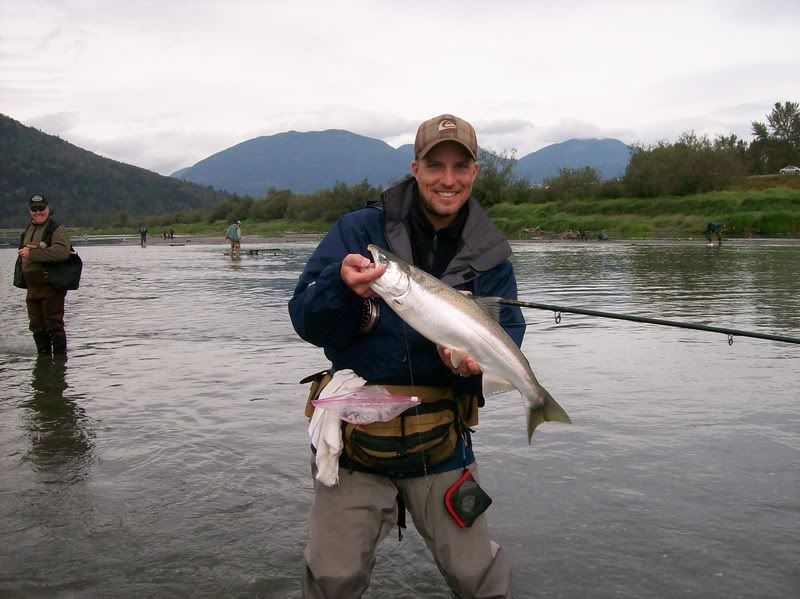 Note the missing adipose fin...?( Hatchery Coho)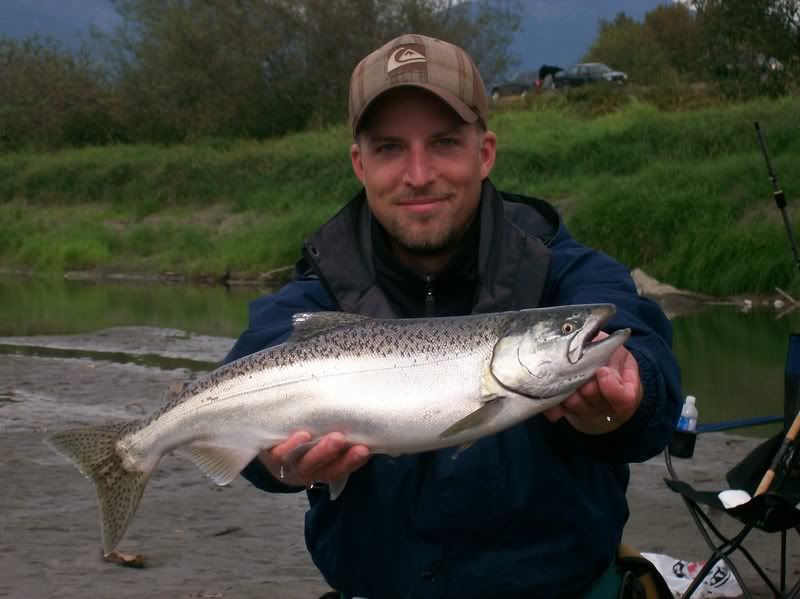 Notice the large oval spots on the tail of this fish...? Also note the larger, more prominent spots along the back...? (White Spring Jack)
Look carefully at the difference between the two in each example.
Although there are many key features which can help to identify your fish, often pictures and visual aids are the most effective tools to learn those differences.
For the novice it may be difficult to tell the difference at a glance, but with only a modicum of effort, any angler can learn to differentiate between each species of fish quickly. Once you can do that, identifying a wild coho is easy...
The DFO website has some helpful pages to assist you in identifying your catch...Here are the links:
Chinook
(Spring Salmon)
http://www.pac.dfo-mpo.gc.ca/recfish/Species/chinook_e.htm
Coho
http://www.pac.dfo-mpo.gc.ca/recfish/Species/coho_e.htm
Now, although the pictures aren't great on the DFO site, if you look carefully at the pictures above and those on the site, hopefully all anglers can enjoy a better understanding of the fish they catch.
Although there are other responsibilities that should be considered, such as retention limits and angling ethics, identifying your fish is critical for all anglers, especially before deciding how many to keep. Please take the time to read through this post and the links provided and hopefully all of us will become more knowledgeable anglers.
I hope that this thread can turn into a constructive venue for those less experienced anglers to learn the differences between springs and coho, and hatchery fish. I look forward to the contributions of all the experienced anglers we have here as well. Hopefully with a sincere and constructive group effort we can save a few fish from being killed illegally. Coho have been in decline for many years now, it is our responsibility as anglers to protect these magnificent fish.
Thx,
rib