Discussion Starter
·
#1
·
I am a veteran flyfishing guide on Montana's stretch of the Kootenai (Kootenay perhaps for my northern brethren ;D) river. I've been guiding professionally for ten years, during which I owned Kootenai River Outfitters for six of those years. (My "day job" is guidance counselor at our local high school.) I'm guessing I've rowed a driftboat for clients approximately 400-425 days during that time, and nearly that many more for family and friends. It's a good life, and I know my river well.
Last year, I was invited to fill a slot in someone else's salmon camp for five days in October in the Chilliwack region. I tied up a bunch of clouser minnows and bunny leaches, brought my eight weight Sage XP, and made a fantastic lifetime memory! Here's my favorite picture: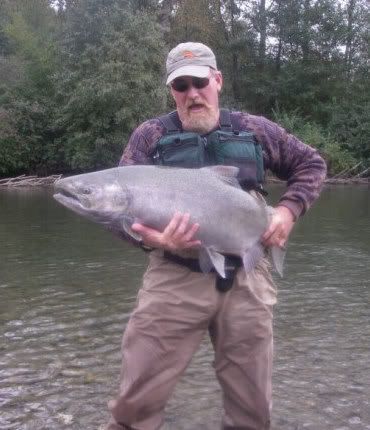 Anyway, we were relegated to a limited number of public access points, but managed to find quite a few springs, had a blast with the chums, but only caught a couple of silvers (promptly released.) I fear that I am hooked for life--big fish on fly gear is a seriously good time!
I'd be willing to swap two or three days of guided dry fly fishing four rainbow trout for a comparable salmon trip. Of course, references would be provided and required of the other party as well. Our trout aren't huge by any means (our "bread and butter" bows are 12-14 inches) but if somebody were interested in the experience, I'd be open to discussing the possibilities.
Is this forum the place for such a proposal, or can you recommend another forum if not?
Thanks,
KP