Discussion Starter
·
#1
·
Since I had the last 2 days of frustrating fishless days i snuck out for an hour and a half this morning giving it another try, to get out my little slump i have been in, knowing fully that my day will eventually come but i wasnt sure when.
I got out to the River at around 6 am walkedinto my usual red spring run to find no one there, saw a ton of sockeye rolling around but no springs rising which was OK. I usually fish the lower part of the run i was at but today i decided to start at the head of the run .. I rigged on a nice big piece roe float drifted about 10 ft down the run and WHAM !!!!!!!! Spring on !!!! Finally landed this little guy but released it quickly.. A little dark for my liking, decided to take a pic of it anyway to show my father in law thats coming down here in 2 weeks that there is indeed fish in the river lol !!!
Finally got through my little slump i was going through with a spring landed after 2 long days of nothing, rigged on another piece of roe and in the same spot as the previous fish was hooked, i hooked into another fish, this one felt allot more aggressive with strong runs up and down river jumped one and was BRIGHT CHROME !!!! so taking a bit more of extra caution playing this one making sure this one was coming in without any problems, taking me down river into fast water back into the slow water back down the fast water eventually slid her in back up at the top of the run and tailed a nice clean spring !!!!
I cut the gills let her bleed out and started to change some colours a bit (typical Vedder red spring) Got some really nice roe out of it as well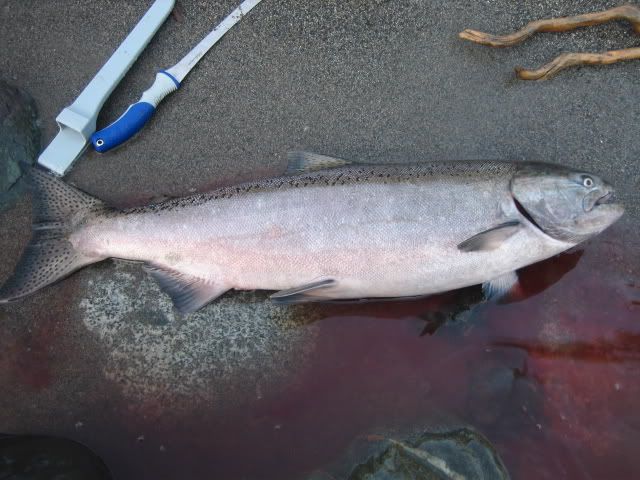 After i cleaned her out I tried one more cast and got a huge spring on the other side of the river landed it was at least a good 20 pounds really red looking, crazy fight this gave me took the hook out and slowly let it go back for another day
A guy and his father came in couple of really nice guys chatted with them for a while, they weren't having any luck, they didn't have any bait with them, and since I'm heading back up northern Vancouver island on Friday to port Mcneill for some more halibut and salmon fishing i gave these guys my left over roe and prawns hoping they get to have a great day like i got this morning.