Discussion Starter
·
#1
·
Fished an East Coast Island river and managed two nice Chinook. First Chinooks on a fly rod for me!! Not posting the name of the river though its no secret spot. Just thought you could go to any east coast river right now and the conditions would be the same.
Fished the mid river area first around noon. River was very low and extremely clear. Weather was hot and sunny. Fish were located anywhere the water was 3-6 ft deep and preferrably in shady areas. From what I had read I was expecting the fish to be in deep pools with some current but beacause of the low water these areas were few and far between.
Got to the river, spotted some fish and made a few casts. The fish looked spooky and I was doubtfull I would catch one. Because of the slow current I switched my sink tip to my 15ft clear intermediate and put on a weighted egg sucking leech in black marabou and chartreusse crystal chenille for the egg. Presented the fly by placing myself almost straight upstream and casting to the side of where the fish were probably located and letting it drift slowly in to them. Within 15min of getting to the river Whamo! Fish on.
After a nice tug-of-war I landed this one...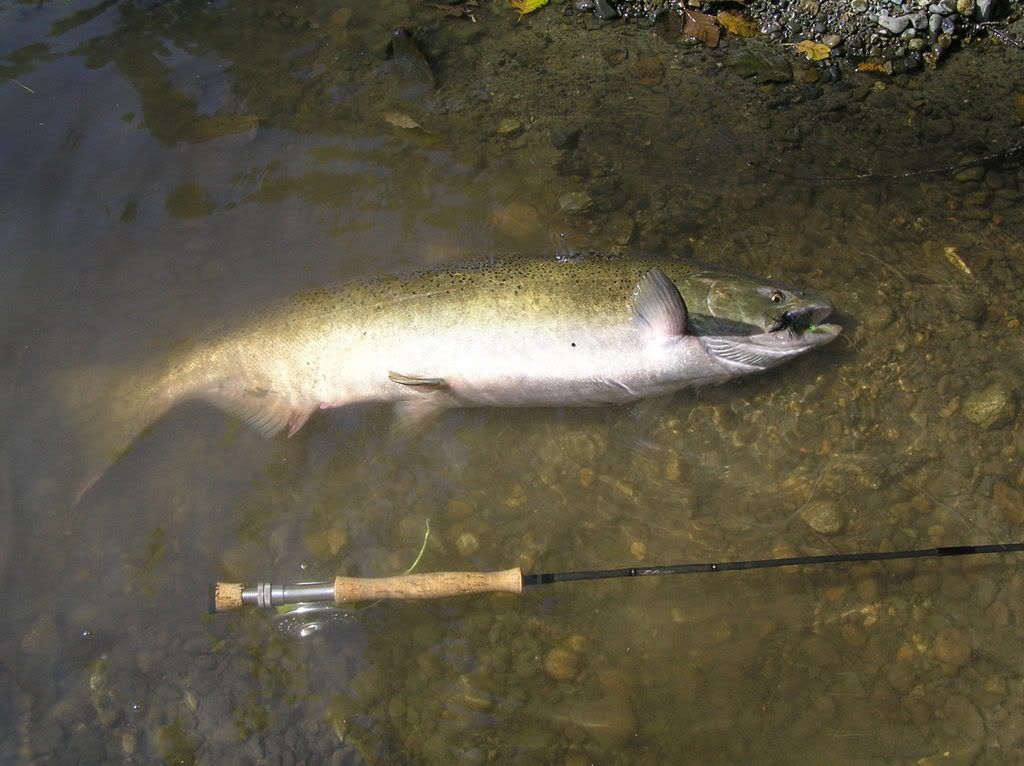 After releasing the fish I made a few more casts but did not get any bites. Right from the start I had been continually worried about snagging these fish. Several times I could feel tugs on my line that just did not feel like a fish biting but rather fish running into my line as they swam around. Unless it was a solid tug I would not set my hook but rather let the fish swim away or even try to gently shake the line away from the fish. It seemed to work as I did not snag any. Fishing in slow current probably helped as well as casting down and to the side of them rather then swinging a fly through the middle.
Mid-afternoon I went exploring in the lower part of the river where I had never fished before. Found a few spots by the number of cars parked on the side of the road. There were a few more fishermen in the lower river but overall not too many. More fish were present in the lower river. There were really only 4 or 5 fishermen down there but I still like to avoid the crowds so I went up river a little and found a spot to myself. Boy am I glad I did.
I had placed myself at the top of a 4ft deep pool with lots of shade and made my casts down and across towards the opposite bank. For around two hours I watched as wave upon wave of schools of fish came into the pool from downriver circled around a couple of times and then passed me as they headed upriver. As I made my casts downstream I could hear them behind me as they splashed their way up a shallow section.
Looking further downstream I could anticipate the schools coming into the pool as they created large wakes on the surface of the water that would slowly come towards me upriver. As the "V" shaped wakes entered the pool I would cast in front of them hoping that one would stop its migration upstream long enough to bite. I only managed one more fish in this pool but it was a beauty. Very fresh and clean.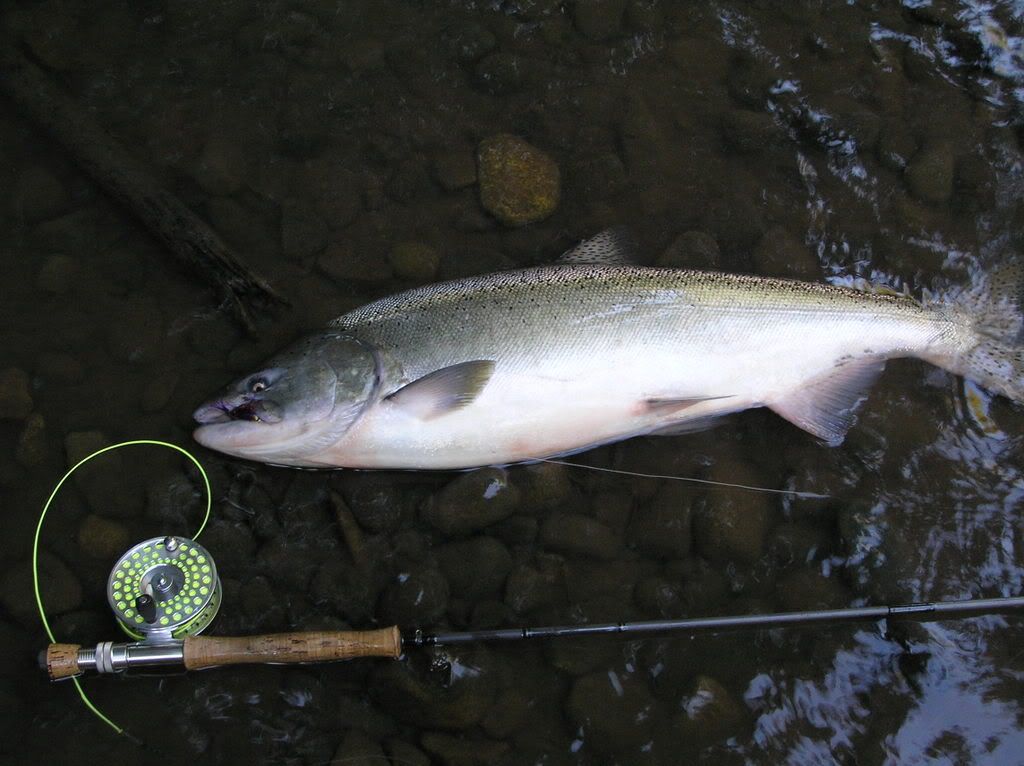 Again I had on my 15ft clear intermediate sink tip but this time I caught it on a orange, red and purple popsicle with a conehead. I had about 2ft of 20lb mono tied to the end of the sink tip and then another 2ft of 10 or 12lb mono for a tippet.
Pretty heavy to cast but mostly I would roll cast as the distance was not too far and there were often trees behind me.
Here are pictures of the flies I caught my fish on. I tied some of them up the night before.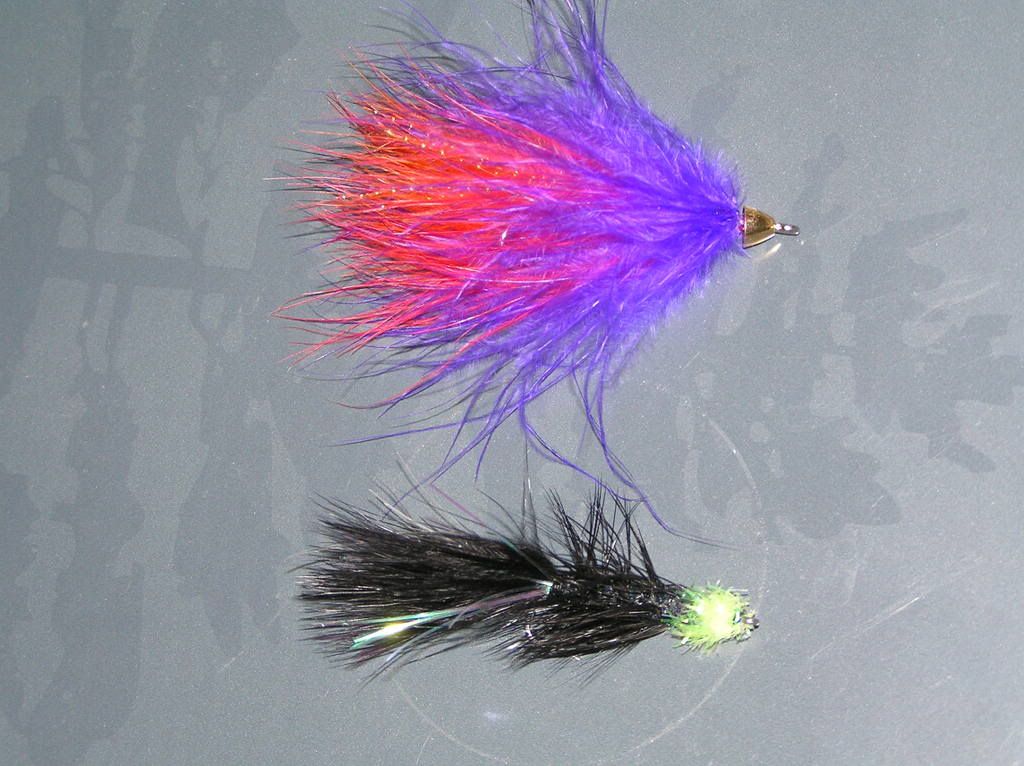 I was pretty stoked about catching the fish however it was just as exciting standing in the river and watching as wave after wave of schools of fish passed me. Never witnessed a large run like this before. I would guess a thousand or so moved by me. The timing of the run coincided with the high tide which might have been a factor in the numbers of fish moving into the system as most of them looked very fresh. I heard that the full moon may be a factor as well in bringing fish into a river??
Most of the fish I saw were Chinooks but I think I may have seen some coho as well. There were also some large cutthroat about and some were apparently caught up to 4lbs.
Hope some of this info helps the other newbies out there. I have my eyes set on a west coast river for next week hopefully.
Cheers