Discussion Starter
·
#1
·
Here are a few pics from last week ends fishing trip. My buddy lainbow tlout and I headed up to his condo right after work on thursday. Upon arriving we unloaded our gear into the condo grabbed our rods and headed straight to the dock for an hour worth of fishing. This is what I came up with that night.
After that we headed back to the condo to get rigged up for steelheading the next morning.
Alarm goes off at 5:30am. We get up grab our gear and are on the road for 6:00am, with anticipation of strong tackle testing steel. The first hole we fished didn't yield any steel, so we moved upstream after working it hard for an hour. Arriving at our next area of choice the water looked great and our optimism was still high.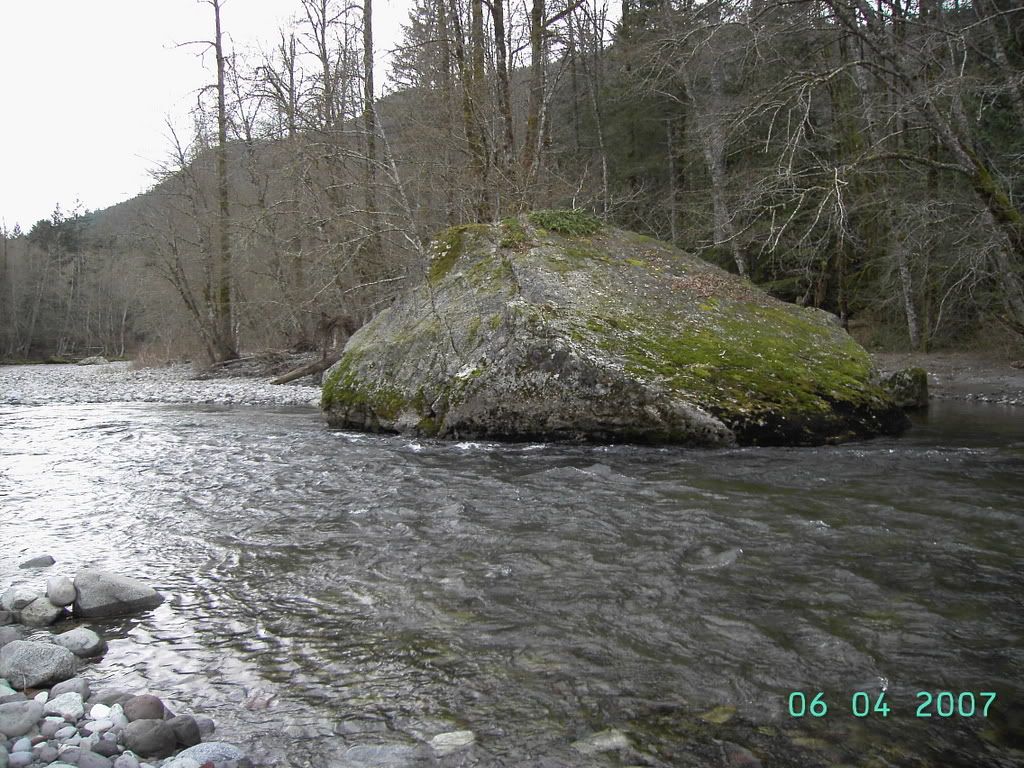 We started fishing the water carefully trying to pick it to pieces as best we could. This was lainbow tlouts first time steelheading so needless to say he was having a few issues. For the most part though he was making great drifts as far as I was concerned. Just had a bit of loose line causing him issues with the baitcasting gear. The second area we hit looked real good and after five drifts through there my float buries on the outside seam of the run. FISH ON! After a short but spirited battle I brought this small 5lb steel to hand.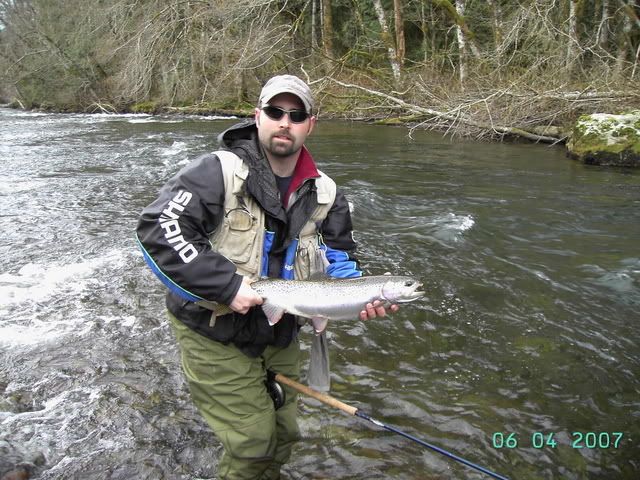 We continued onward working the water patiently, we fished throgh some awesome looking water for the next 2 hours and only came up with 1 resident rainbow.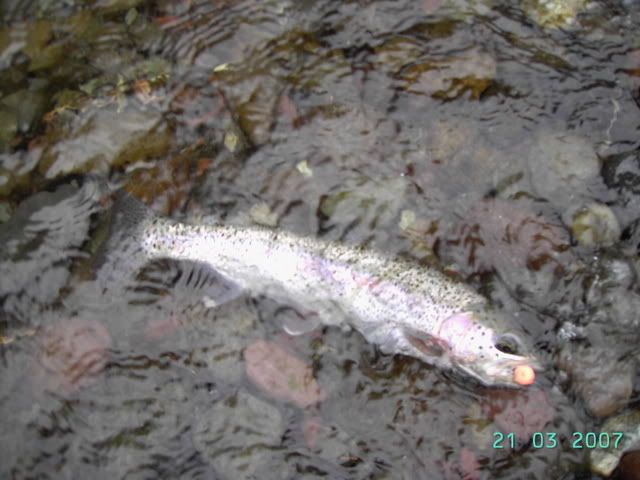 After all that hard steelheading Andrew was wondering when it was going to be his chance to get into his first steelhead.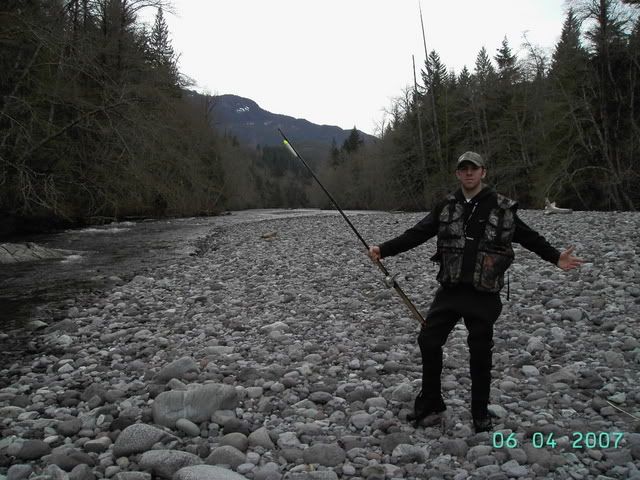 So we jumped in the truck and moved on to the next likely holding area. This water looked unbelievable we fished it hard for 2 hours but to my disbelief we came up empty handed. ??? 8)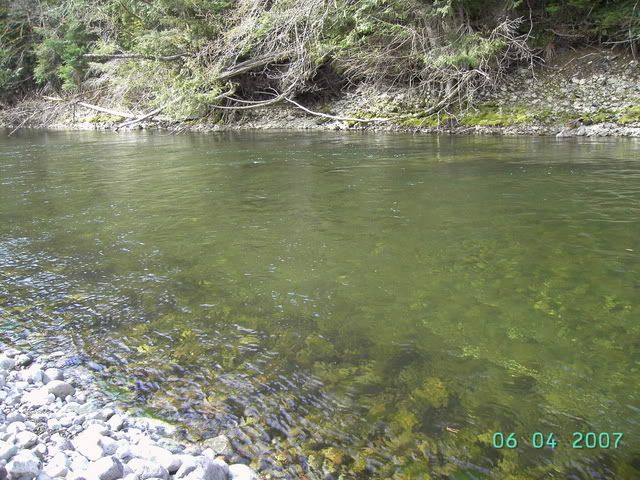 After fishing through this water with no success, I decided we should go fish downstream closer to the mouth of the river to see if we could find some fresh fish moving in on the high tide. We drove downstream and fished for another hour with no takers. We decided to call it a day at 3:30pm and head back to Whistler and try some lake fishing for rainbows. That proved to be a good call cause in the last 2 hours of the day we ended up catching about 20 rainbows between 12 and 14 inches. Here are a few pics of the lake we were fishing and one of the fish we kept for dinner that night.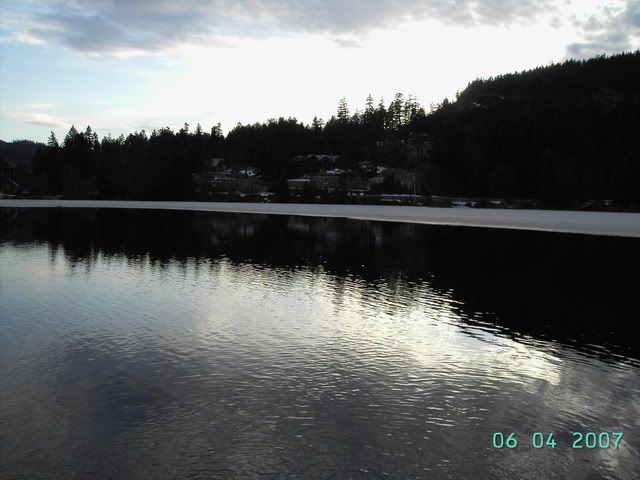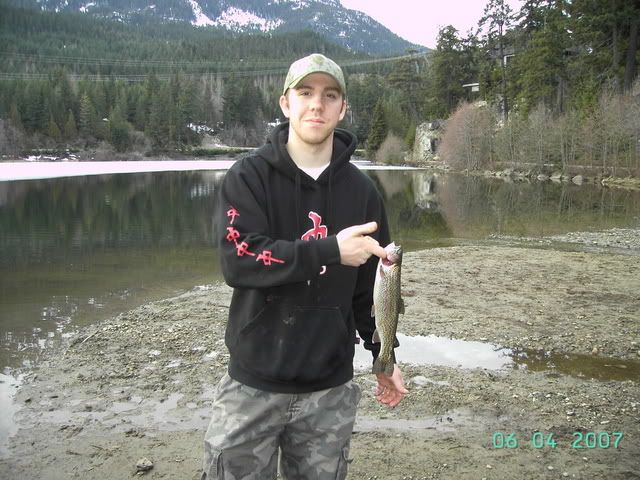 With the steelheading being slow and the trout fishing hot, we decided to fish some other lakes the next day. We started out fishing the next morning at 11:00am. I figured with the ice just coming off the lakes the bite wouldn't pick up until the sun was on the water and warmed it up a bit. The action started right away again with 10 more rainbows falling victim to our offerings. Throughout the day we had pretty good success and towards the end of the day this cutthroat decided to come out and play.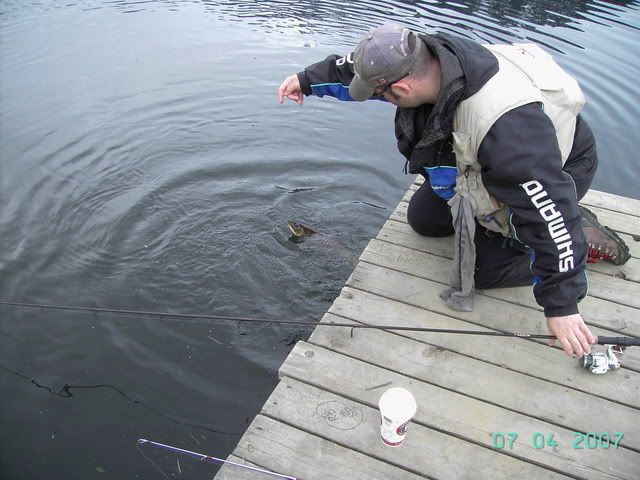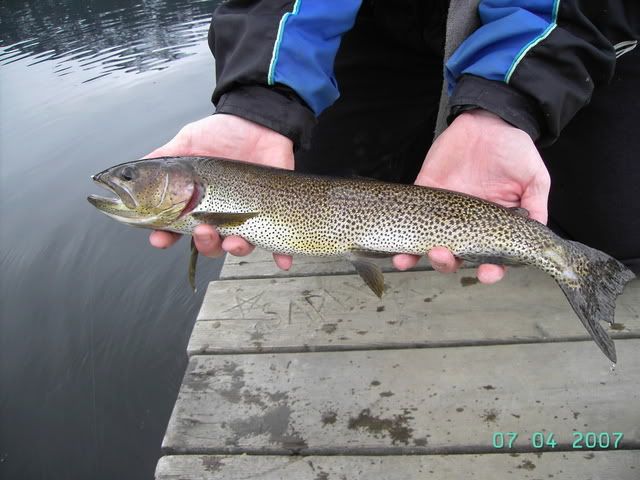 The final day of our trip put us back on the rivers in search of some more steelhead action. we fished for a half day without a sniff and packed up our gear and headed back to Vancouver with some good memories and some good fishing. :beerchug: :thumbup:
Thanks to Andrew aka lainbow tlout for a good week-end.