Discussion Starter
·
#1
·
I grabbed the rod and with that it began.
Is that a smile or a grimace?
...line was peeling out it just continued to peel. Depending on your perspective I was lucky or unlucky. Most people would think that I was very lucky. These fish want to rip the rod out of your hands. My whole body had instinctively tensed when I encountered the power of this bruiser. I was gripping the rod far too tightly and in the background I heard someone say, breathe Chris. First contact with a large fish could literally see you lifted off of your feet and it happened to Diane. If the Sturgeon is big enough...say 6 plus ft or more, that fish can easily spool you on it's first run. If you're in danger of getting spooled the guide simply releases the anchor and follows the fish downriver. Previous to coming to the Fraser river, I would have liked to have been spooled. I had thought that Sturgeon fishing would be something like Salmon fishing...I had envisioned hauling in a giant slab of fish. These fish were no slabs, the larger they were the more in control they were.
The peeling stopped. How long had that taken? No time to think about it, now everyone was yelling, reel. REEL. REEEEEL. Any slack in tension and the fish might get off the regulation single barbless hook. Only now with leverage, strength, and power on the gears.... I could make some headway. Yet line taken in wouldn't matter because the Sturgeon would simply peel it out on it's next run. This was simply a battle of brute force and stamina and for the first time in my life a fish had put doubt in my ability in both departments. With time I brought the fish closer to the boat and now the fish darted with mini-peels. People scrambled out of my way as I lunged from side to side on the boat. More peeling and then my fish came boatside in a somewhat manageable manner. It wasn't a long battle. I'd guess it was over in ten minutes. I exercise three times weekly but was left huffing and puffing like an old man climbing the CN tower after this encounter.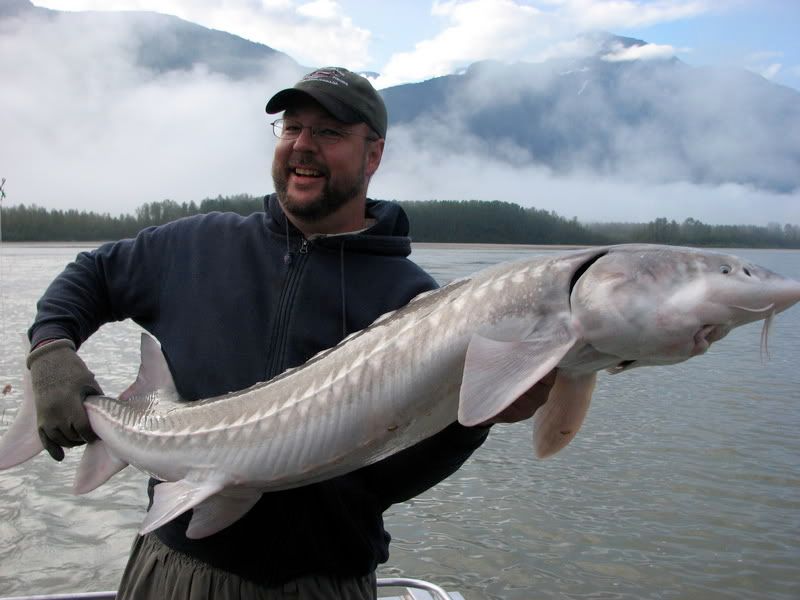 Was that fun? Am I simply smiling because it's over?
They caught one at the lodge 3 times the size of this one this year, I asked?!???? I contemplated this. My turn was coming up later in the day but being the kind altruistic sort of guy that I am I gave up my spot in the order so that Hoss would have a chance to catch a fish on the first day. Earlier he had lost his fish. As luck would have it I never got a shot at that second Sturgeon on day one. Damn!! My wrists were sore and stayed that way for over a week. Everyone landed a fish that first day except Dean on the other boat. On average we caught a little more then one a fish a person per day. Usually we would miss several hooksets per boat per day on the Sturgeon take. Nor was it uncommon for a Sturgeon to get off the line at least once a day.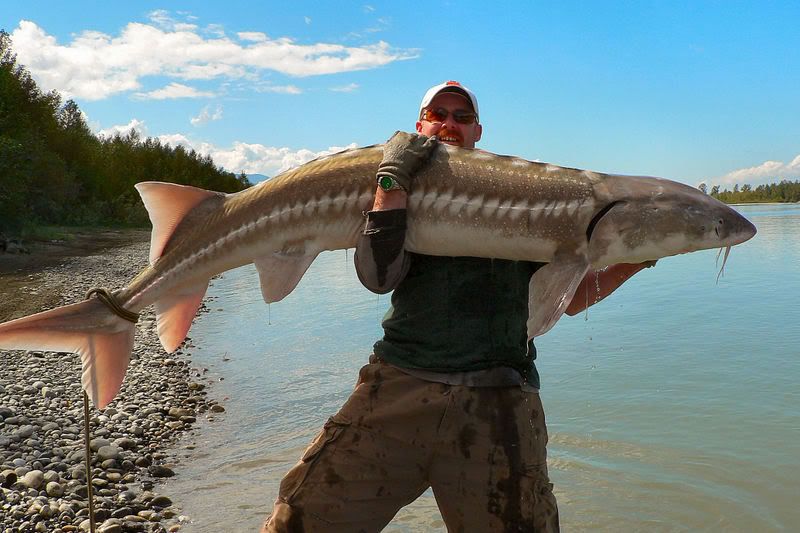 Drew would have the hot hand on both boats day one. Drew had this look on his face after 20 minutes of battle...with his eyes I saw him wondering if this beast was going to ever stop?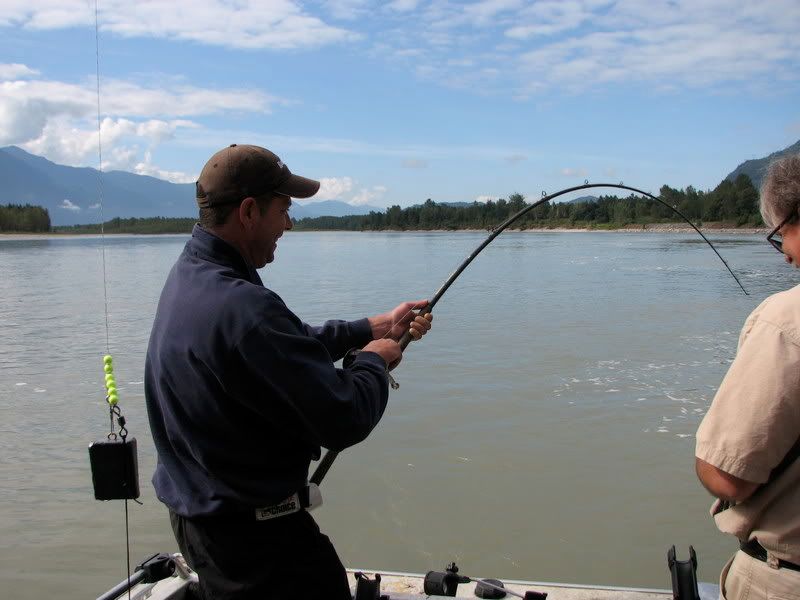 Over on the other boat Scotty got into a nice fish also.
A pleased Scotty with his first fish.
And then the day was over at 3pm. We would come back and sit on Muskoka chairs at the Fraser River Lodge. It was a total contrast, now we were in the lap of luxury laughing and recounting the day's events while drinking German draft beer. Our group leader had negotiated "reasonable prices" by booking this trip with 8 on board two years prior. I look at the prices now and scratch my head.
...this was the view from our chairs of the mountain across from the resort.
After day two we came back to the lodge to tackle more gourmet meals. I ate so much during the first two dinners that my stomach ached. You think I would have learned my lesson after the first meal.
Salmon cooked the traditional way by a local native.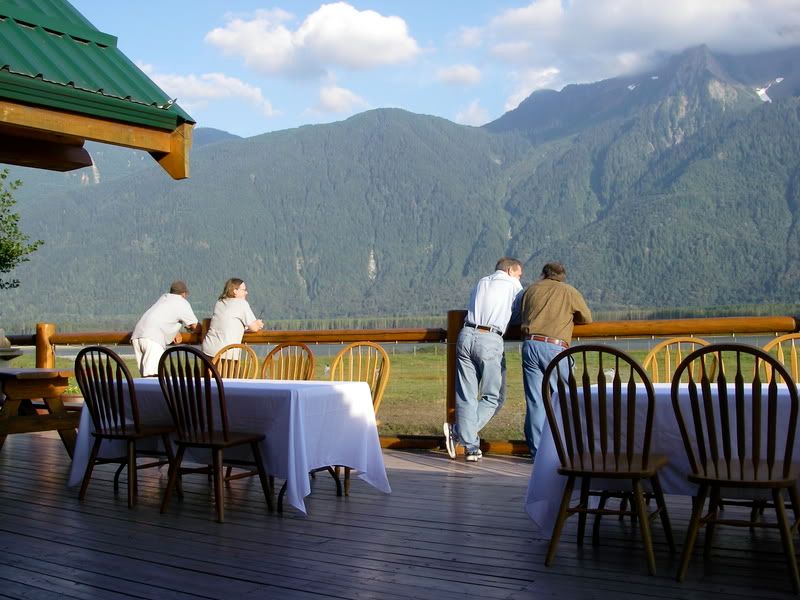 Waiting for the feast.
Dinner
Day two
started out well. Like yesterday we were up at 6 am to be on the river at 7 am. Hoss caught a 5 and a half footer and like me he was huffing and puffing and amazed how dogged the fight was.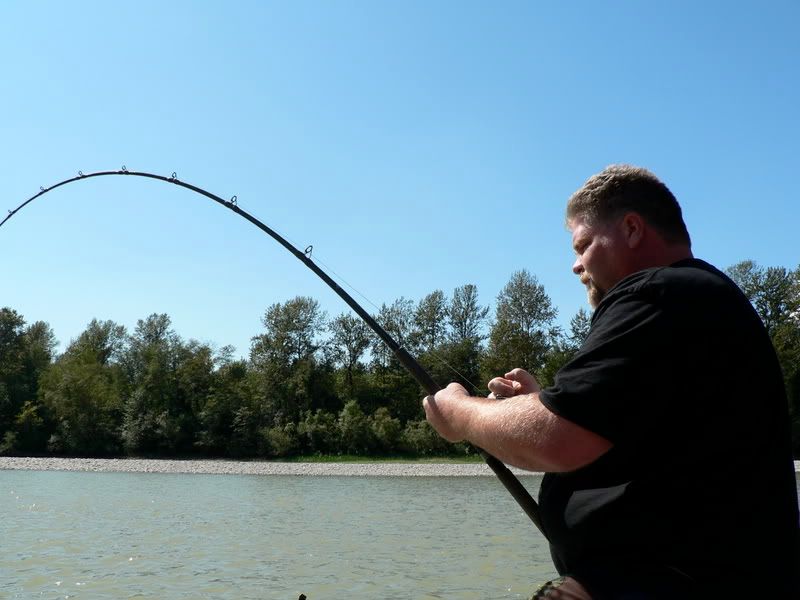 Power vrs power.
Hoss with the best of his trip.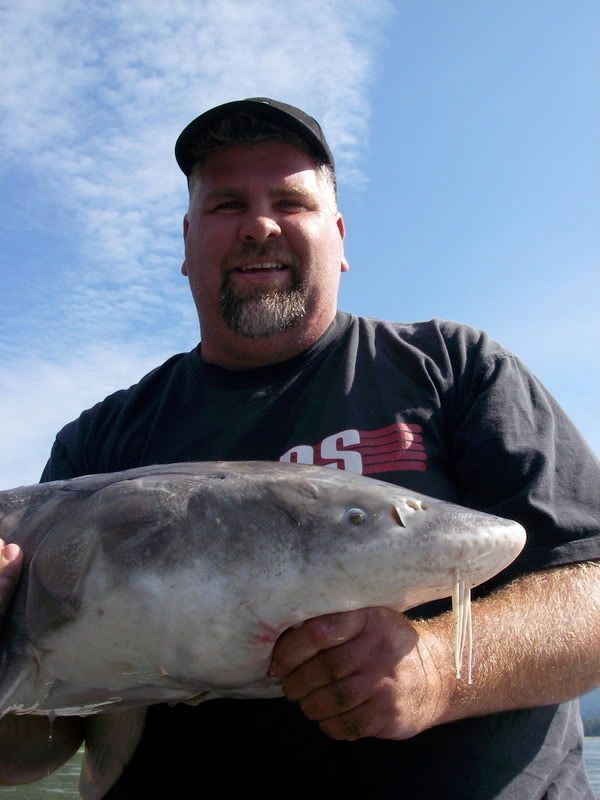 Hoss with a head shot.
Unlike me he was lovin the pain. Hoss and Simon are avid salmon fishermen and had strictly come out for the challenge. Seems like most where here for that challenge. They were here for these epic battles and lovin it. I had come for the "BC experience". Unfortunatly the salmon fishery was closed and we couldn't Salmon fish until our last day when they lifted the ban. I had no choice but to Sturgeon fish day two.
Day two would see me with my personal best for the trip at 4'8". It was the second shortest PB for our crew of 7.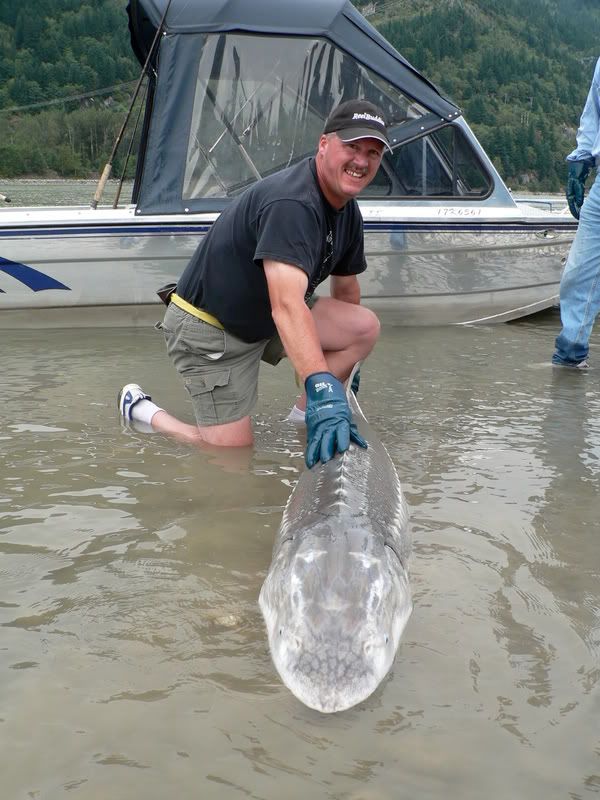 Simon bested Moosebunk on the other boat. This would end up being Simon's personal best fish for the trip. This one came in at a whopping 81 inches long.
They actually lifted it out of the water.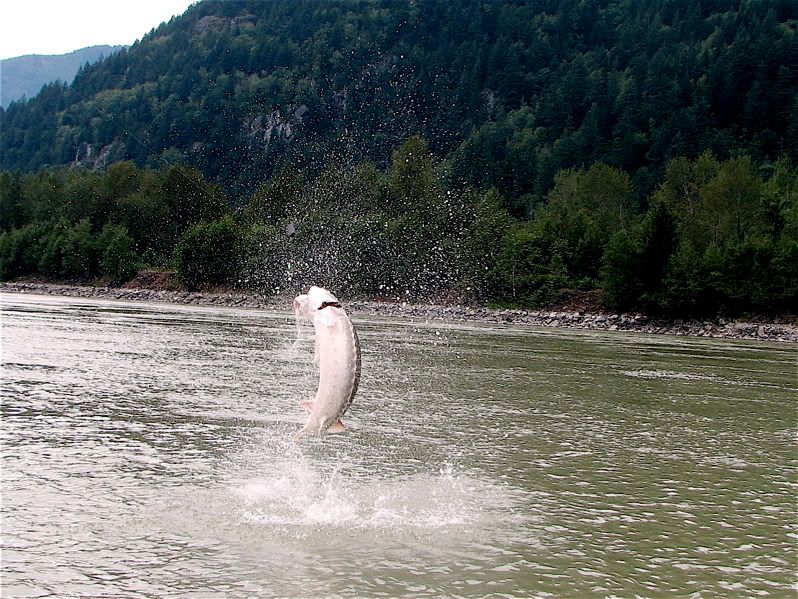 Simon had also began to perfect taking breaching shots with his camera. Here is a pic of Dean's Sturgeon.
Day three
On
day three
the crew of Simon, Dean, and Diane slaughtered them again. Coming home from the Pitt river we learned that the rest of the crew had the best overall day on the water of what would be our combined 6 full days of Sturgeon fishing. Bunk's and even Simon's best fish of the week would fall to Diane. Not only did they catch huge fish they also lost some beauts that are undoubtedly seared into their memories now. These are the type of fish that gets an angler craving more of a species. In Simon's case he hooked into a Sturgeon that was estimated to be over 8 ft long. Upon the hookset it bolted straight out to the horizon. It took line until the 130 pound test broke. Simon nicknamed this fish "freight train". Dean also hooked into a very large fish that got away. He battled it all the way back from it's initial run where upon seeing the boat the Sturgeon breached the water, gave a violent head shake and dislodged itself from the hook. In that regard the Sturgeon have an advantage. The hooks are weighted to the bottom of the river with heavy weights. When they do breach and shake their heads the weight swings from side to side with a lot of force that can easily dislodge the single barbless hook.
As luck would have it, Diane would end up catching the largest fish. She had already been tuckered out earlier in the day by a previous 4 plus footer and then her turn in the rotation came up again. Knowing Diane I'm sure upon the hookset she pleaded to her maker,
don't let this be a big fish
...but that outcome was not in the plans. She hooked into a 7 and half footer estimated to be just shy of 300 pounds.
The monster tries to shake free
Diane said that this powerhouse brute disheartened her because she thought the fight was all over when she hopped off the boat with rod in hand to get on shore to land it. But, as it neared shore this Sturgeon knew danger lurked and promptly did another terrific run. I can imagine it now, she had given it everything to get it close to shore and then this crusher shows her another gear. The battle would last 40 minutes, which was typical for the larger fish. Landing the fish was no easy task either. Simon said that he was given the task of holding the tail with rope once the guide had control of the fish to unhook it. Once unhooked this Sturgeon gave several last thrashes of it's tail and Simon had to hold on... or forever be the one who let HER FISH get away. As described by Simon it shook it's tail and soaked everyone nearby as he got jerked from side to side.
What a monster
Diane had many bruises on her body from that battle that coloured into to deep rich hues a few days later. She would display none of them. :angel: She did have an interesting oval and symmetrical starburst bruise that was visible on her arm which she couldn't explain. She had initially thought the pattern was caused by someone grabbing her during the fight yet there were at least a 1/2 dozen dots that radiated perfectly from the center.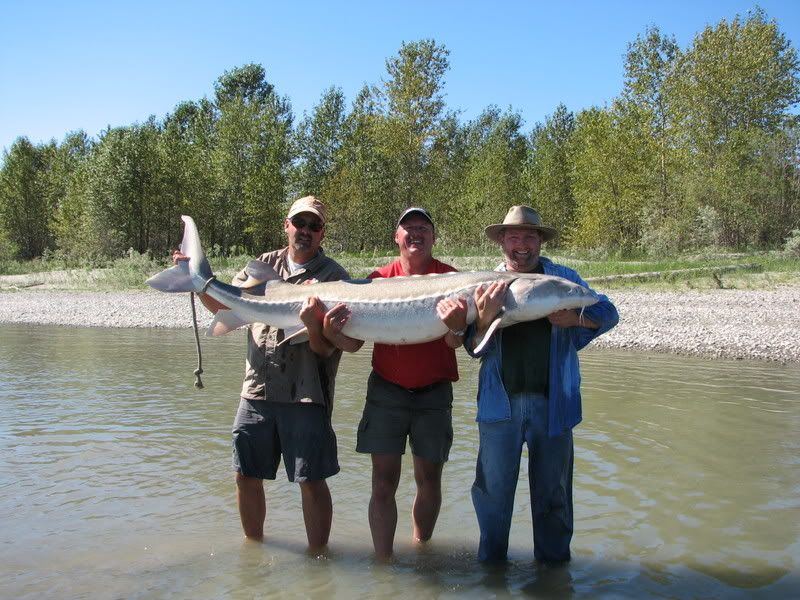 Dean would close out day three with his personal best of 76 inches.
That evening after another great dinner I decided to take a walk down the rivers edge and walk off some of this excess weight that I was already gaining. The hills had a particular enchanting glow that evening.
looking up the Fraser river from near the lodge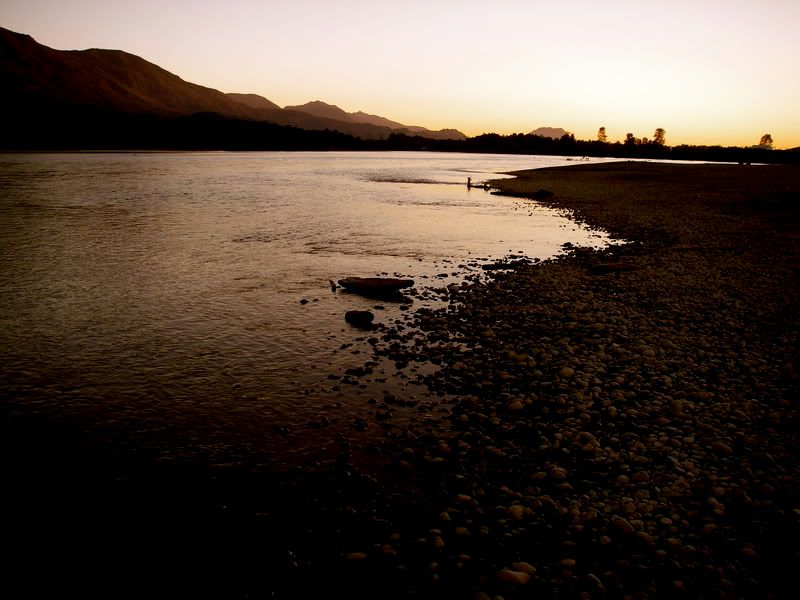 looking downriver
Day 4
was a Southern Ontario type of day. We didn't start the morning with the normal nip in the air. A warm muggy day soon descended upon us. It had been determined that I would get the second go for Sturgeon that morning and I was mentally ready for it. I had new strategies in mind for battling Sturgeon. This time I'd use more of my body for the fight and try to use less arm power. I could do it...I think I can...I think I can. Our last day would be for salmon fishing now that they had lifted the salmon ban so we all wondered if Diane's lunker would stand as the best fish for the week. This was the last shot at a mammoth and we were all drooling. Diane had nothing to fear. I never even got that last chance to hold the rod seeing that we only landed one smaller fish in the morning. Was it the weather? ...or perhaps the extensive pressure put on the sturgeon since every boat on the river fished them this last week with no salmon to catch? A cold front moved in that night and things would be different the following day.
It got very warm on Day 4.
Most of us only knew one or two people in the crew before we met. I knew only Drew. We all commited to this from an Ontario internet fishing forum. As crews go I'd have to say that this group worked like a well oiledl machine. There was absolutely no bickering, squabbling, hurt feelings etc.... in fact there was genuine interest and concern shown by all for the others in our group. I'd fish with any of them again given the opportunity.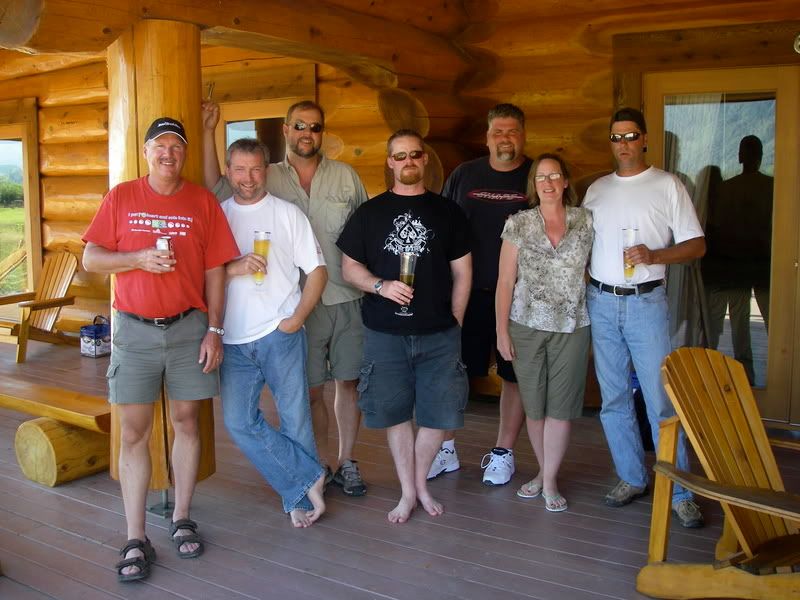 From L to R - Simon, Dean, myself, Drew, Hoss, Diane, and Scott.