Discussion Starter
·
#1
·
Great day to be out on the river - sans fish. Spent a few hours in the afternoon and evening checking out a few of my favourite old haunts. It always amazes me how this river reinvents itself each year. Even expecting the changes I still get blown away with the new landscapes, pools, bars and blowouts that get created each year.
I started a couple miles up from Alison somewhere past the prison. Found some beautiful water but no sign or sniff of any fish. I was a little disappointed to see many of my holes all but filled in, and lower down no sign of any digging this year? Are they not going to do any of the flood control digs they normally do each year (fly fishing pools for me)
Walked a lot of river and saw a LOT of traffic, not too many fishers surprisingly for a long weekend. Bunch of guys checking out (trying to) the river from the drivers window of their truck. Never could understand that kind of 'drive by' sportsman. You know you could make an absolute KILLING if you came up with drive-through fishing holes! Pretty sad really. They pool behind the cabins is still there but mostly filled in too. Didn't have time to wander down from there, save that for next time out.
The closest i got to seeing any wildlife today was a monster beaver at the train bridge. This guy looked like he would be 120lbs easy! I've owned some pretty big dogs and this guy was bigger than all of them. Unfortunately all i got of him was his nostrils sticking out of the water
He jumped in as soon as i brought my camera up!
Drove over KW on my way out and amazingly it was deserted. Looks like it's a few weeks yet before things start to happen on the flow.
RR
Here's a couple shots from today, rest of the album is at
http://s13.photobucket.com/albums/a256/bcriverrat/Vedder090108/
http://s13.photobucket.com/albums/a256/bcriverrat/Vedder090108/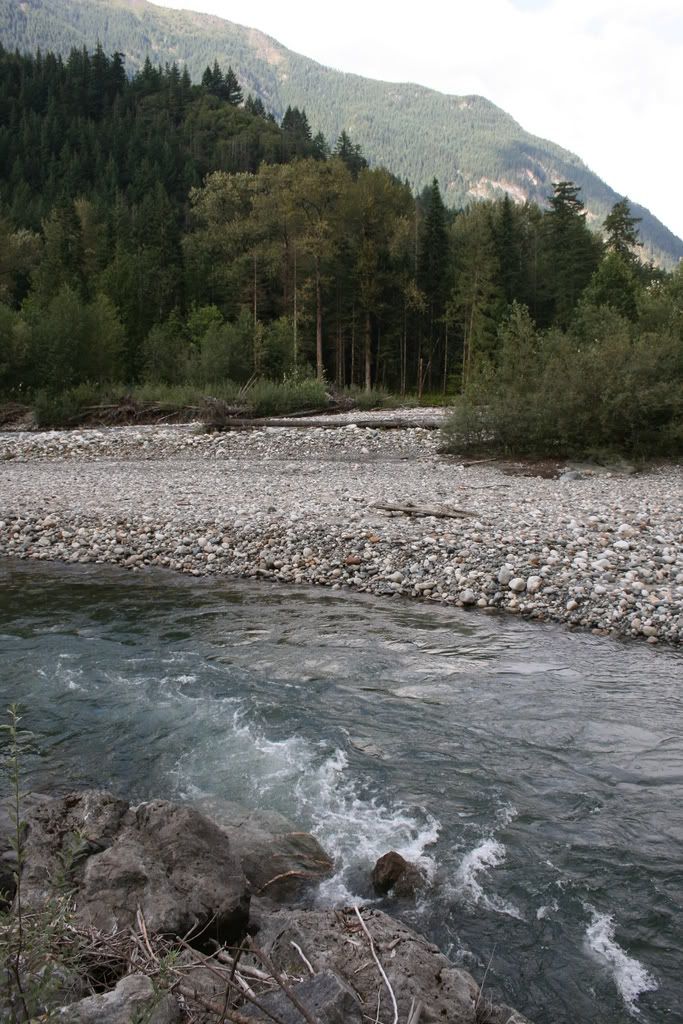 RR