Discussion Starter
·
#1
·
Now, I have don't a lot of fishing for big fish. The biggest being a 120lb marlin on 20lb's, that was great, a thing more artful than what we did with 100lb braided on an Qctober day. But art is not always the goal.
Me and two buddies set out with Silver Sides Charters (may have gottent that wrong, sorry Brian) in fog I would not trust myself to bicycle in. We start the day with a 6' fish. And I'm satified. What more could happen. We all catch a sturgon up to 6' feet... then have one go until the line brakes. We move from the first spot to fog enshrouded to know were we were to a spot just down from the Vedder.
Again we got a couple small fishs - at least for the gear. All the while another boat was fighting a fishing, trying to get it to the other shore. They did and we took a small one to get to my turn again.
Tappa, Tappa, Tappa, Tappa... line 1, then 2, Tappa, Tappa, Tappa 3, then 2 again... and again, and for three minutes 2. Smack, Brian hits on the fish and with the rod in my hand he is realeasing the anchor as the reel sings... the others clear the lines. It goes and goes and goes, moving me to the transum.
Now, I have caught big fishes... marlin to a hundred, sails to eighty, tuna to sixty, but never on a rod with 100lb test and damn it nearly pulled me in. The cramp in my arm is only being remidded cause of the beer. I'm so happy the Fraser is not 300' deep, cause Dave Jones would have kept her in his locker.
I was suprised, it was not the blaze of speed a tropical fish is but it had tourque, like a diving bluefin must. While we gotter her in 45 mins or so.
It was good, good enough to bure all those sunks in the salt and all the crap at work and think maybe I could just go fishing.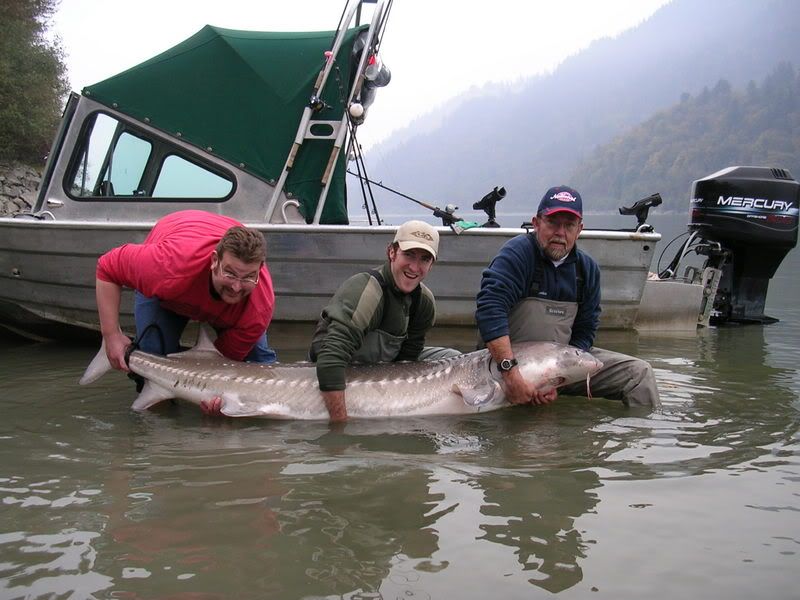 [/url]
Then some A$$ from work called.
Have fun, Jason