Discussion Starter
·
#1
·
Well to get some discussion going....is anyone ready? what do you need to get ready? what are your early season stratagies? Whats your insight on this upcoming year?
Ahhhhh the sweet days...sitting in the lawn chair bsing or asleep waiting for the bell to toll....could it get any better than this....well early spring fishing has done good for me in the past...1st and 2nd weekends in may produced good...3-4 fish/weekend barfishing not to shabby....but this year could be different...we could see a blown out fraser with 0 vis that could possibly be in our front yards...but we'll see....
I am no where near ready yet...need to get about 50 spin n' glo's, weld up some bar rod holders, get new boat holders, do some polishing, tie up the leaders, make a new heavy duty anchor (big claws), reels full of line, get some plugs oh wait did I say plugs? and a few other top secret things.
NO FLOSSING :naughty: I will not floss this year! Barfishing only yet again...was good last year! I hope you do the same!
Now my early season stratagy....May-June if the river is high...find the troffs and plunk them! Or...just sit in the trees and bar fish....
I hope good things happens when the river gets super high! blow out a few new channels, make some deep troffs, etc....
I know for a fact that the GOFISH/MIKE bar will fish well yet again this yr :thumbup: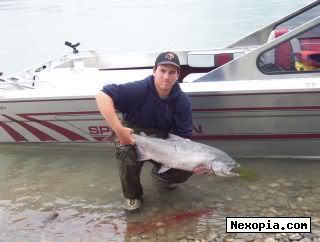 Couple Pics of many to get the juices going...kind of colored up though....
Mike <")))))))><