Fraser Valley Fishing report for July 31, 2007
The Fraser River is finally starting to drop and get a little clearer.
This should mark the beginning of some excellent fishing for Chinook Salmon.
While Chinook are being caught daily with snagging techniques, actual sportsfishers have waited patiently for their chance to catch one of the highly prized Fraser River Chinooks.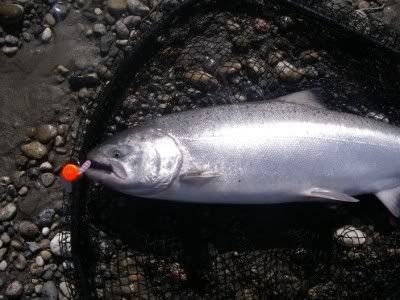 As in past years August and September can be some great fishing for late running summer Chinook.
Bent Rods still has a few open dates for these hard fighting summer Chinook, so please give us a call if you would like to try this fishery.
The Sturgeon fishing has continued to be very good and some days the big ones have been quite plentiful. With the coming of the Pink salmon the Sturgeon fishing will keep getting better and some real monsters will be caught by local anglers.
Now is the time to book if you want a chance at a front page Sturgeon, one of the elusive 10+ footers that swim the Fraser.
Pinks salmon are without a doubt the most plentiful and easy to catch of the Fraser river salmon.
We are rumored to be receiving 20 million of these scrappy little salmon, so catching them should be a guarantee for those anglers who have the proper presentations.
We still have a few days available for the pink salmon season that runs from late august till early October. Our Fraser River guides have the techniques and lures to keep anglers catching these salmon all day long.
See the bottom of this report for our Summer/ Fall Jig slection.
The Chilliwack River has been fishing well in july for the summer Chinook. These hard fighting Chinook are very strong for their size and give anglers a great battle, often breaking leaders and gaining freedom.
The run has begun to taper off now and many of the fish being caught now will be colored up and hoping to spawn , please be careful with them when catching and releasing them.
For the trout fisherman the beautiful Skagit River should come into fine fishing shape soon and with not a lot of summer pressure this year the scrappy little trout here should be willing biters and plentiful. Mention should be made of the large Bull trout also in this system, while not often targeted these big char can be a blast on light gear.
Please pack out all your garbage when visiting this high mountain gem.
The Summer Steelhead season has been very slow this year, hopefully these fish will make a late arrival and seed the future generations of these high jumping awesome Steelhead.
We do have some days available for this fishing on a number of systems; we typically target these fish with the 8 weight fly rods or light action gear rods and jigs.
This is a great way to spend a summer day, hiking and learning a remote summer run stream.
Have a great summer, tight lines and Bent Rods.
Rod
Bent Rods Summer/Fall Salmon JIGS 2007
Bent Rods is pleased to introduce our line up of Summer/Fall Salmon jigs for the 2007 Salmon season.
Pink Salmon are the first to arrive and these scrappy little fish are crazy for a properly designed and correctly fished jig.
Our line up of float fishing jigs for Pinks are made with new age materials that provide not just lifelike movement but also plenty of sparkle to consistently hook Pink Salmon.
They are tied on razor sharp Gamakatsu hooks. At Bent Rods we believe having confidence in the quality if your gear is a first step to great fishing.
We also have available the Fraser Valley guides favorite Pink Salmon style jig and that is the heavy headed "twitchin" jig.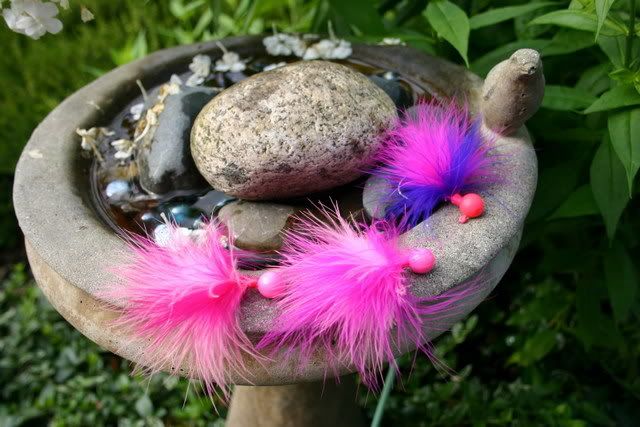 Guides throughout the Pink Salmons range are fully aware of the power of a properly "jigged" marabou tailed jig. The real skill to this technique is the proper lift/drop/retrieve of the rod tip. Once mastered, this technique is deadly. Not only does it take Pink salmon like no other technique but Coho Salmon and Sockeye Salmon fall victim to it's hypnotic spell every season.
Chum Salmon Jigs
Our Chum Salmon line up of jigs are proven styles that consistently catch fish when other jigs fail and when the bite is on these Jigs are known to get hook ups every other cast or better.
Years of testing has proven to Bent Rods guides that a correctly colored and rather sparse jig is the key to success with the Chum Salmon.
In dirty waters such as the Fraser we will use our same style jigs and add a specially prepared piece of prawn, just enough to create some scent and "complete" the sale to a interested Chum.
Jig Tippers
For some time now I have been pressured to share my recipe for my jig tippers. It is with some hesitation that I am going to make available "Bent Rods Tippers".
These little chemically enhanced and specifically colored prawn pieces have helped us catch thousands of Salmon and Steelhead in recent years.
Look for these "Tippers" at any tackle store selling Bent Rods products.
Bent Rods has expanded our store sales lately and you can find our products at the following dealers.
Reaction fly and tackle
Chilliwack dart and tackle
Berry's bait and tackle
Searun fly and tackle
Also look for our jigs in your local shop in the near future.
Please request our products to your favorite shop.
Tight Lines, Bent Rods and have a great Summer and Fall fishing season.