Discussion Starter
·
#1
·
Fished the Vedder today, hiked a few miles of river, with only a VERY FEW worthwhile pieces worth casting into. The river seemed still a little high, as it was very swift with not much in the way of fishable water, which may have been caused by the recent floods. The upper had about 2.5 feet of vis, and below most of the clay action it had about 1 foot of vis.
In light of these water conditions, I have been tying up some new JIG patterns to aid in attracting fish in these less than stellar conditions. Today I tried some very large, bulky, buggy, chartreuse monster jigs. In one of the very few spots that smelled fishy, I found a fresh little steelie that just wiggled my float, enough that I lifted up my rod and was shocked to see a steelie shaking it's head. I lost it shortly after, and was rather pissed about not setting the hook properly. I immediately cast again into this piece of water, and my float once again started to act funny, this time I set the hook hard and was tight to what I thought was the same fish. After a very short battle I landed a nice chrome 7.5 lb buck steelie, and with no adipose fin both our days were done :lol: . Upon further inspection, I could clearly see the two puncture holes in the roof of it's mouth,definately same fish.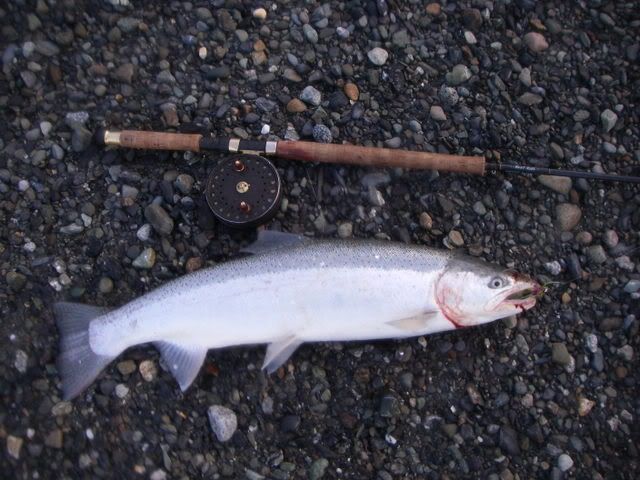 My buddies kept exploring and hopefully they also get a fresh steelie for sunday dinner or mybe a nice wild fish to make their day.
The rivers far from prime, but there are fish there for those who work it hard.
Good luck to those that can get out in the busy holiday season.
If your interested in jigs or a little info about how to fish them, check out my site, listed below.