Discussion Starter
·
#1
·
My buddy and I managed to get the day off so we decided to hit the river. Today was just my second outing for steelhead, so it felt great to get out. I picked up my buddy at 6:30 AM and we hit the highway shortly after a brief stop at the McDonald's drive thru. We debated about which area to start fishing. We eventually ended up choosing the upper river.
On the way up river, the snow on the road greatly increased. Even though we were driving my CRV, which handles pretty well in the snow, it was a slow go. We were just about to arrive at our chosen run when we saw a guy crawling out of a ditch. A closer look revealed a truck on its side in the ditch. We stopped and helped the poor guy out. He said he was taking it slow, but with a rear-wheel drive truck, he ended up in the ditch. Anyway, after making sure he was OK, we drove him back down river where he could get a cell phone reception. He was able to connect up with BCAA. He assured us he was OK and we proceeded to another run mid river.
We arrived at the run to find out that the guy left his sweat shirt in my vehicle. So by the time we returned his shirt, it was 9:00 AM when we actually arrived at our first run. Somehow, it didn't matter to us. It felt good to help someone in need – which made the entire trip worth it. I told my buddy that we had "good karma" and that one of us was going to get a fish.
We started at the top of the run and worked our way down behind another angler. He worked the run quickly and was gone in about 20 minutes. The water was quite coloured with about 2 feet of visibility. Just before 10:00, I was near the end of the run. I made my cast and almost immediately, the float went down. Gently raising the rod revealed that I wasn't on bottom! The rod came alive and a beautiful steelhead was rolling in the water right in front of me. I felt pretty calm until I saw pure chrome and a clipped adipose fin. I started to feel the adrenaline as I carefully played the fish to shore. My buddy came up behind the fish and just as the fish was almost landed, the hooked popped out! However, I was able to land the fish as she was very close to shore. A few photographs and I was done for the day! Here are a few photos: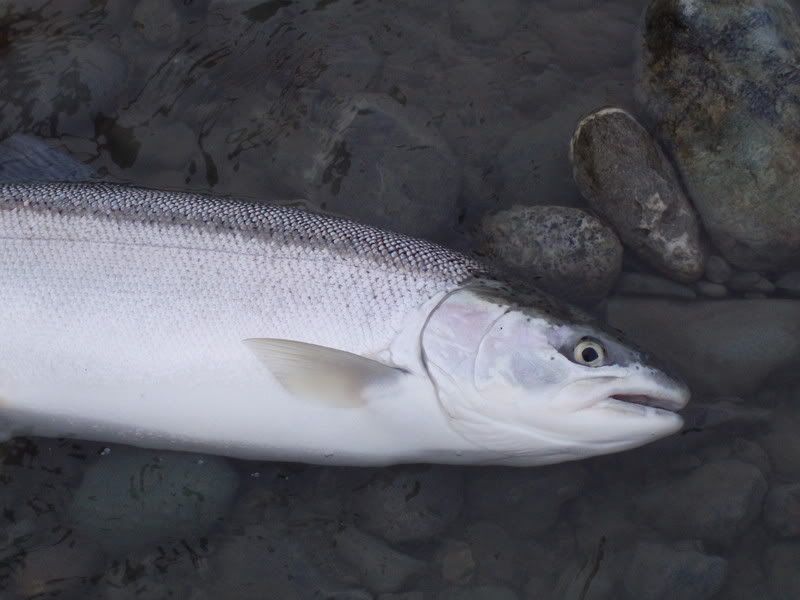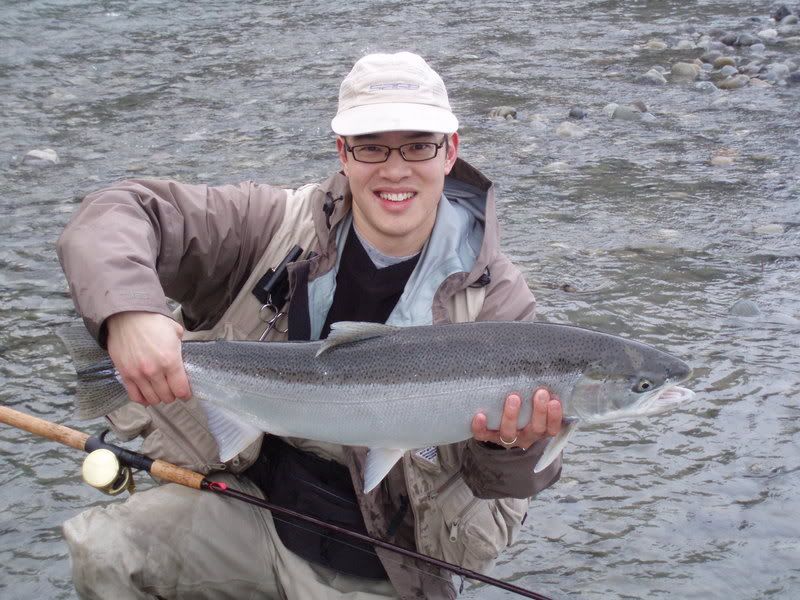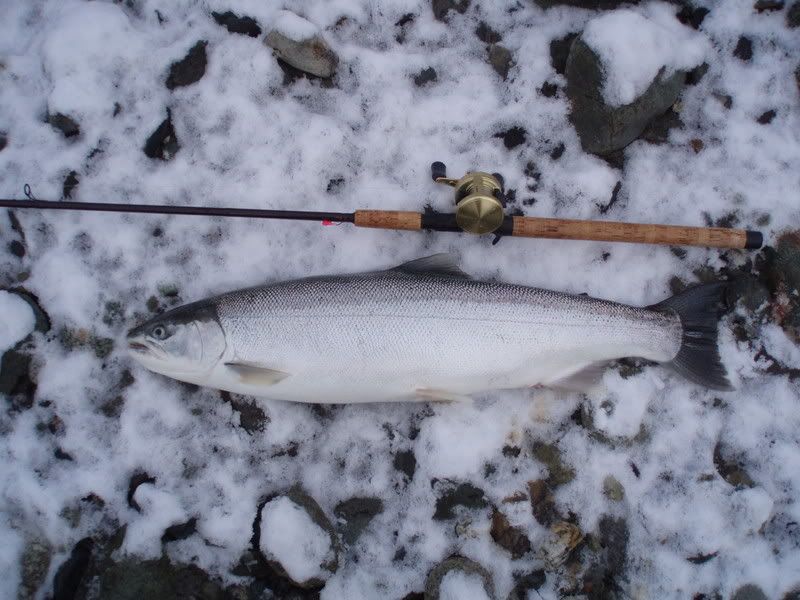 My buddy continued to fish through the run with various gear. One other guy came walking down from the run above with a fish on. He managed to land a beautiful 15+ pound hatch buck. Other than that, we didn't see any other signs of fish. My buddy fished the run a few more times and we decided to try and beat the rush hour back to Vancouver.
All in all, it was a great day! Cold, wet, and full of good karma!