Discussion Starter
·
#1
·
Another year, another trip! My fly fishing "mentor" and I did our 9th annual trip to Heffley Lake last week. Ran into Ribwart in Vancouver on the way up! Good to see ya Ribby! Anyway, we arrived on Wed and left Sun. All in all it was a great trip – as usual. Here's the report – just to wet your appetite for the upcoming BCFR fish out at Roche Lake!
We arrived Wed afternoon ready to go with chironomids and sinking lines in hand. We anchored down at our usual spot at twin bays and first cast……nada! Second cast….no dice! Third cast…..hmm. After an hour or so, we switched up to stinger leeches. Within five minutes of trolling, I hooked and lost a nice fish. About ten minutes later, the rod bent over and my first fish was in hand. Not a huge fish, but a nice solid 15 incher that would offer up the meal of the day. After a quick use of the throat pump, the fish was released and the secret food was revealed. Water fleas! Thousands of those little buggers that you cannot imitate! So – back to the leeches which produced several strikes and about 8 – 10 fish boated with the largest being about 16 inches.
Fish hooked on the stinger leech: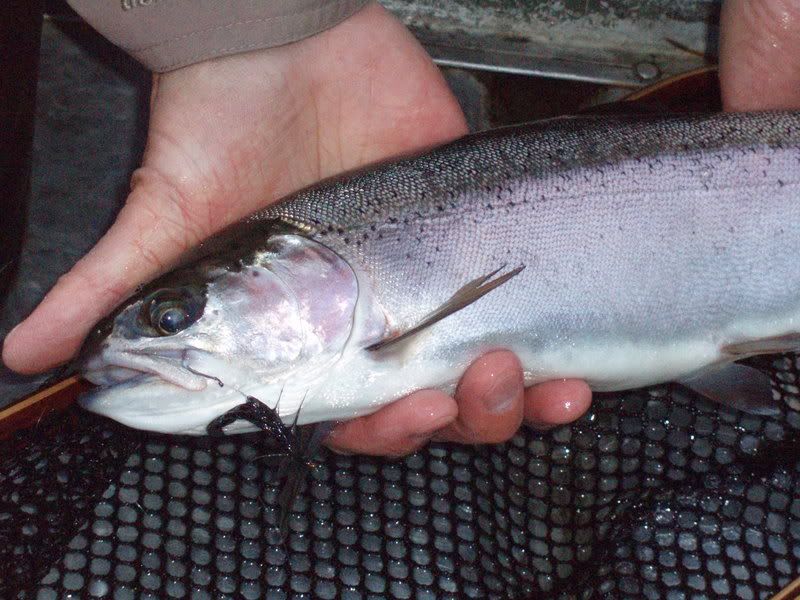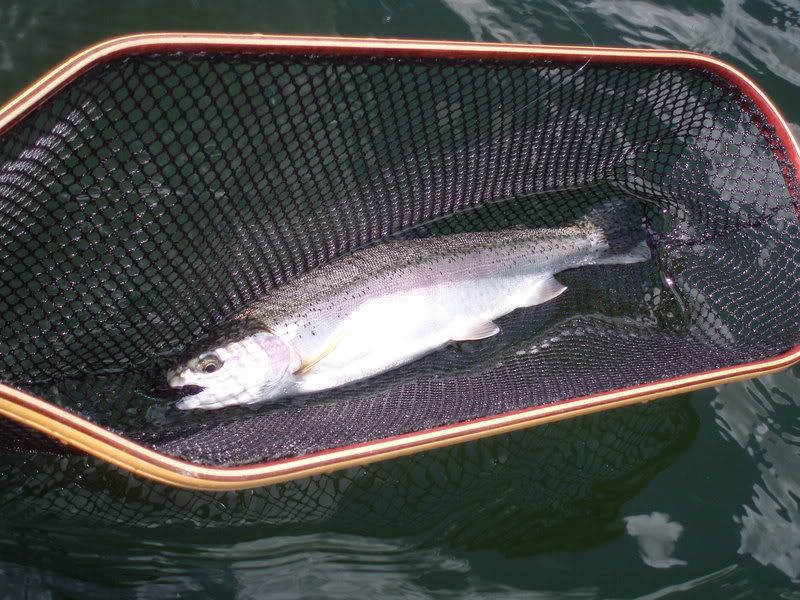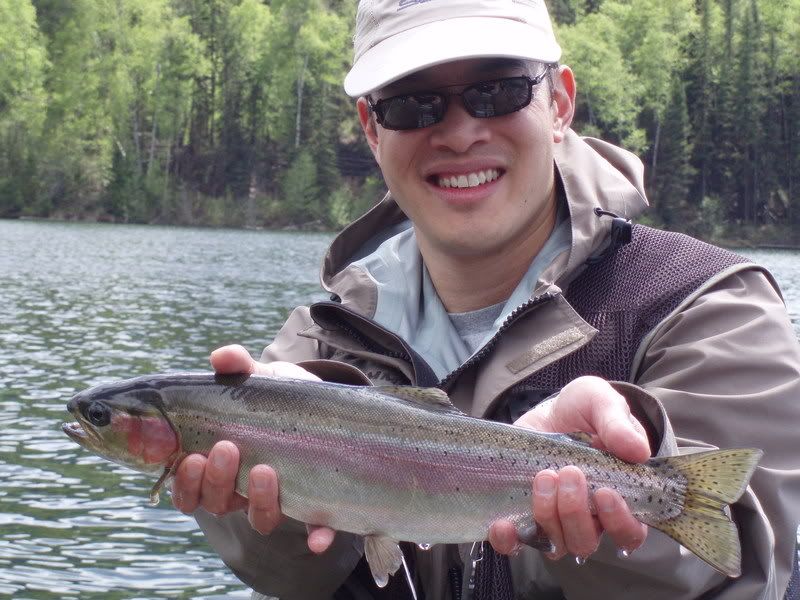 The next morning we started off with stinger leeches and did reasonably well. By afternoon, we decided to head over to the "flats" which is a shallow area of the lake located on the west side. Once we got over there, another fish took my stinger leech and was netted. This time, the throat pump revealed chironomids! Lots of chironomids. No water fleas…thank goodess! Yes! We're in business. Time to break out the floating lines and indicators. After studying the size and colour of the pupa, I found that I had a close match. A tiny "collaborator". However, I only had three of these flies (out of over 500 chironomid patterns in my boxes). I remember tying these a few years back, but had not used them yet. I digress. The next nine casts produced nine fish in the net! Not bad. My fly was pretty chewed up. So – I tied on another and hooked a handful of fish. By now, the fishing slowed and the throat pump revealed…water fleas! Doh! We kept at it, with small chromies becoming the best pattern into the evening.
Throat pump reveals chrionomids! Leave 'em long enough - they begin to hatch...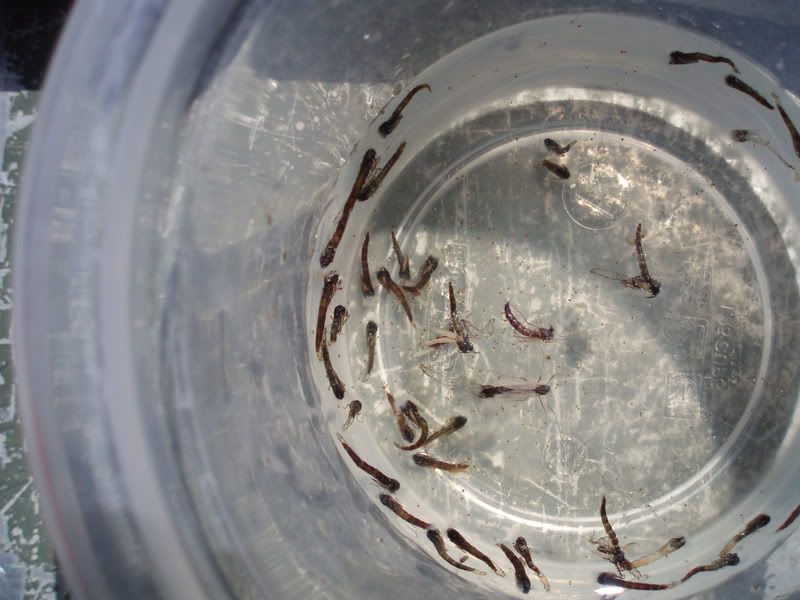 Releasing a "cookie cutter" 14 incher: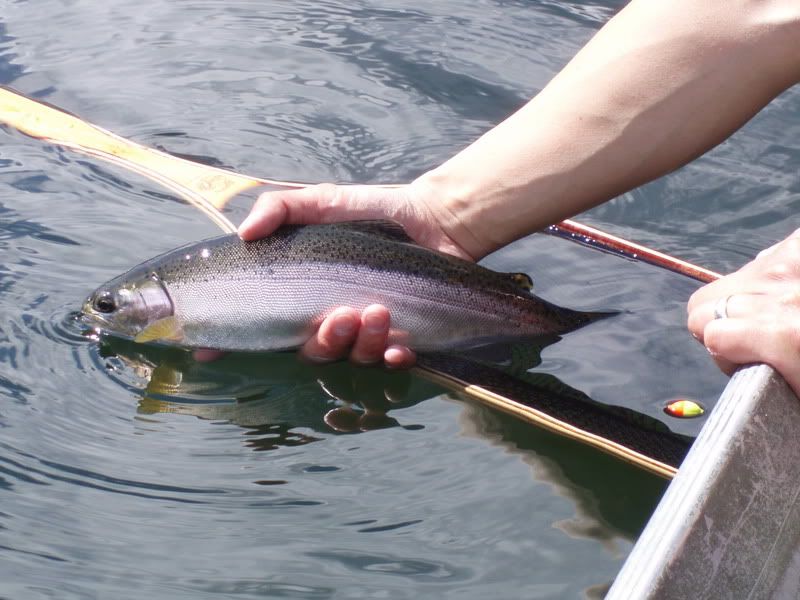 On Friday morning, we headed straight back over to the flats and with my little "collaborator", I managed to net another nine fish in nine casts. By now, my "mentor" had now reluctantly accepted one of my flies which I managed to tie the night before. After three consecutive fish, my buddy was left with a pig-tailed leader and a missing fly. We were quickly running out of "collaborators". However, into the afternoon and evening, the fishing again slowed with the odd fish being hooked on chromies and variations of these. After studying the results of the latest throat pump, I got an idea for a new chironomid design. I tied up some "prototypes" and we called these "chrominators"! >
Watching the indicator...
Saturday would be our last day on the water. The morning was beautiful – bright sunshine with no clouds in the sky! If we were going to slay them, it surely would be today. However, the morning proved to be difficult until around 11:00 AM. Fish finally started taking steadily. The "chrominator" proved to be the hot fly. We took a break to meet my dad who wanted to spend a day on the water with us. After meeting up, I quickly set-up his fly rod and dry line with an indicator and a "chrominator". We hit the water and were into several fish. Dad wasn't used to this type of fishing and missed several fish. However, he managed to land several fish, the largest being about 16 inches. All on the "chrominator". The best part of it was that he had never experienced this type of fishing before. After a few hours, and many laughs, my dad had to go home. After dropping him off and saying our goodbyes, we headed back out to close out the evening. Again, the fishing slowed. As the sun began to set, all was could do was take it all in and hope time would stand still. Another trip done!
Fish on!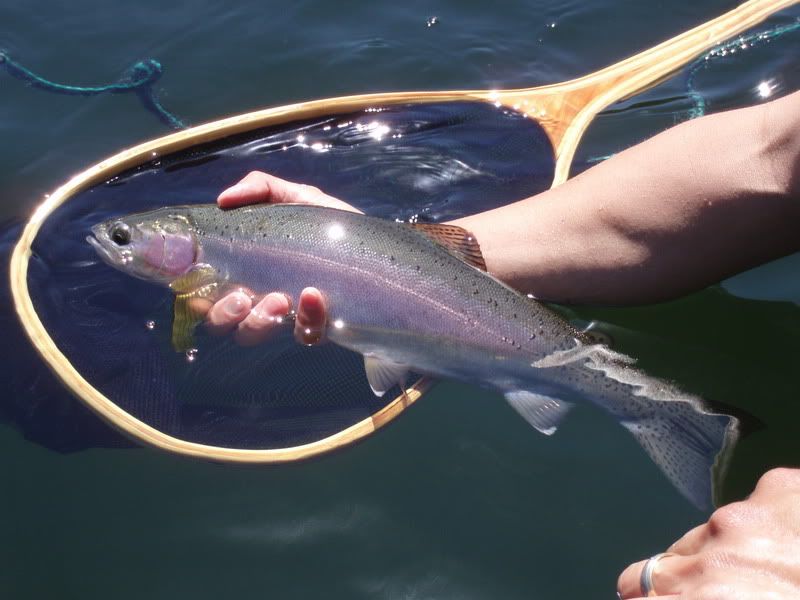 Me and my dad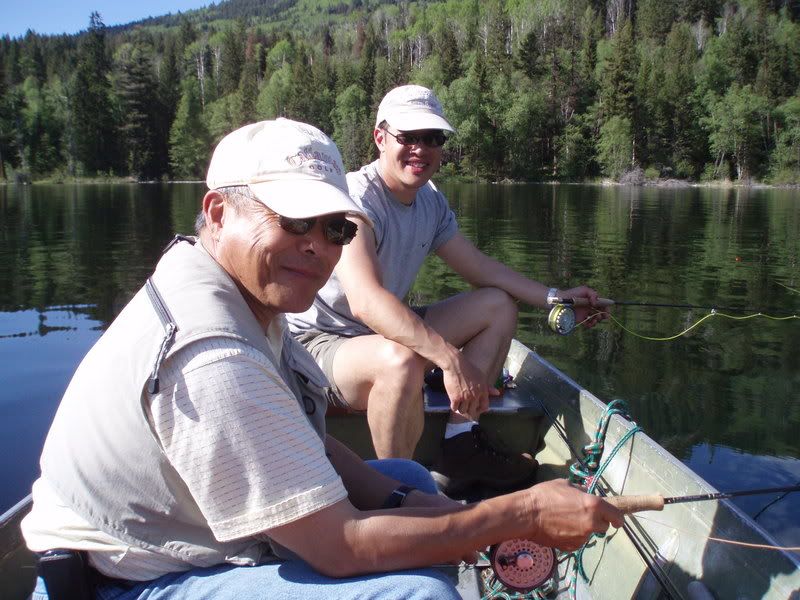 Watching the sunset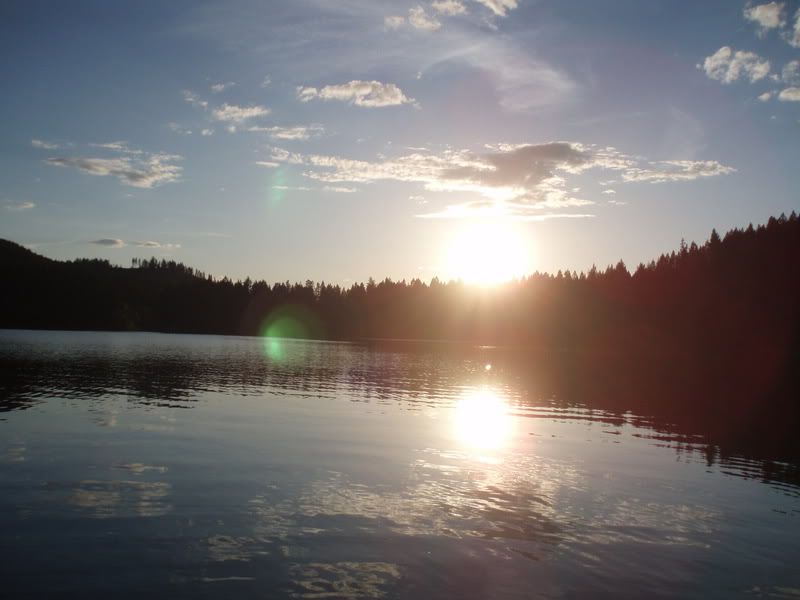 So – to all you fellow members, enjoy the BCFR fishout and remember to never take your eyes off that indicator! :thumbup: