Discussion Starter
·
#1
·
As most of you who have families of your own can relate, summer time for me usually means busier life through and through. Work, and family take up more time at this time of year than any other. This for me usually means less time on the forum.
Fortunately not entirely! :thumbup: I was originally going to post this in our Washington board. However after reading it through I found it was more of an experience than a fishing report, so I'll opt to put it here. I recently headed down to Washington for a little R&R and a little fishing. I thought I'd share a small piece of that experience.
A slow hour and a half wait in a border lineup can test the easiest going adults around, let alone two children and a dog.
Throw in some dreary hot over cast weather and some thunder showers, and it may as well have been 4 hours in the creeping line. After all the U.S. 4th of July weekend seems to be just as a big deal up in Canada as it is to our neighbors to the south. Or so it felt to me, with all of the "Beautiful BC" plates heading due south. Or was it the cheaper gas?
This was our yearly family sojourn to do a little camping, catch up on some over due family time, and of course a little fishing is always a must. The cabins are small but nice, the facilities at our chosen destination are geared towards family's with children, and planned events where we lodged awaited throughout the weekend for anyone wishing to participate. The fish are usually easy and willing, which is perfect to keep the interest of the children ( big ones too ;D ) long enough to hook a few and provide those very important first memories of learning to fish. Memories that I can guarantee will stay with them forever, wether they continue on with the past time or not.
Behind our cabin ran a narrow stream of dead water that branched off of the parks lake, which I think once resembled a free flowing creek, but is now blocked off on a far side of a culvert which was over grown with bush, dead fall and what ever other plant life could survive in the vast foliage. It was not much to look at, however it not only provided plenty of cover from the vegetation and algae bloom, but it also provided a never ending smorgasbord of invertebrates for the feisty little trout that swam beneath its soupy surface. Back and forth these trout could be seen with polarized glasses on, feeding sub surface as they glided along the cut bank of the opposite shore line only 25 feet away. Occasionally one would pop up and sip a Calibetis spinner off the surface during the odd early morning hatches during our stay .
Like clock work they would make the rounds throughout the day and then head back out into the small lake only to return a short time later. The key would be to nail a few and then give the area a rest so the fish would return in calmer surroundings and the process could potentially be repeated. In the mean time there was a few Crown and Sevens to drink, puppies to walk, kids to entertain and at night a little fire gazing and good cigar smoking. A little swimming and lounging would also be part of the itinerary through out each day.
A quick check in, and unloading session and off to the town to stock up on our groceries and ice for the 4 day visit. Waiting in a truck with a restless dog in the muggy heat, while three ladies shop is not one of my strong suits. :wallbash: You can only read the same Fly magazine so many times. I think by now I have all the publishing credits memorized. :
At least now everything was unpacked, and after the drive back, there would be nothing left to do but too find something to do. That first thing would be to string up the rod for the girls, and hopefully get first crack at the water before the weekend holiday crowd showed up. Which usually made for spooky fish out side of the early morning or at dusk. That's exactly what I did, and before my kids even knew I was already behind the cabin, I had my first fish splashing about, only on my second cast. Little (Size #12) Half Backs tied with a little pearl flash always seems to do the trick. I didn't want to waste too many opportunities for the kids un divided attention on the weekend, so it was now their turn do their thing with a little guidance from dad.
My oldest who'd already had the experience of catching her first fly caught fish, would bat clean up in turn of her younger sister who would be trying for her first ever. A quick little how to, and soon with my hand guiding over top of hers a short line was laid out into the water. With no interest we tried again, and then again, and once again. After a half dozen tries, and with a little mind starting to wander, the line tightened, and that first fish was on. With little feet constantly moving about, stripping in line was not an option in trying to keep the learning curve of the new experience as small as possible. With a steady hand instructing hers on when to reel and when to let go, it wasn't long before we gently cradled a little scrapper for a quick first fishing picture. For those two or so minutes with that fish on I had the total attention of my daughter, and her joyous task at hand. For that brief moment nothing in the world would take her eyes off what was pulling back beneath the waters surface. Looking into her face as we brought in the fish, I could see the curiosity, and the excitement. Just as her big sister before her, another memory none of us will ever forget. A perfect first fish.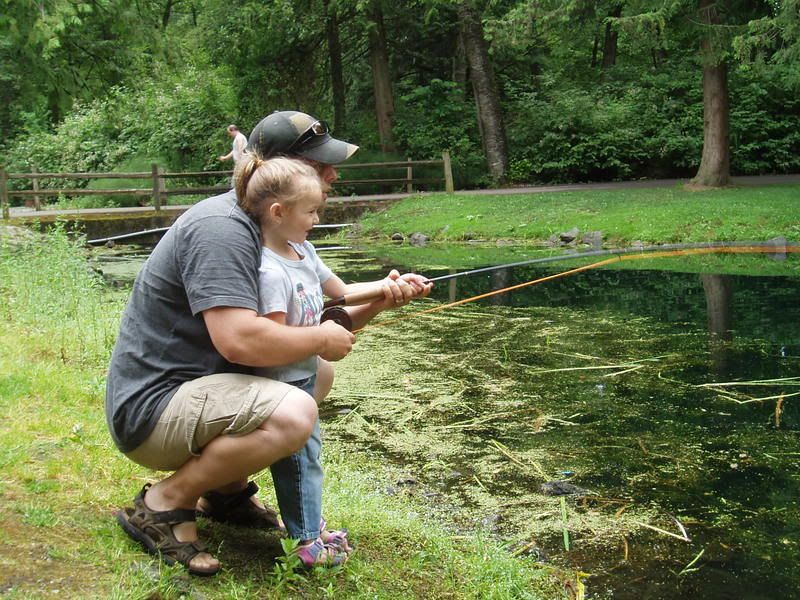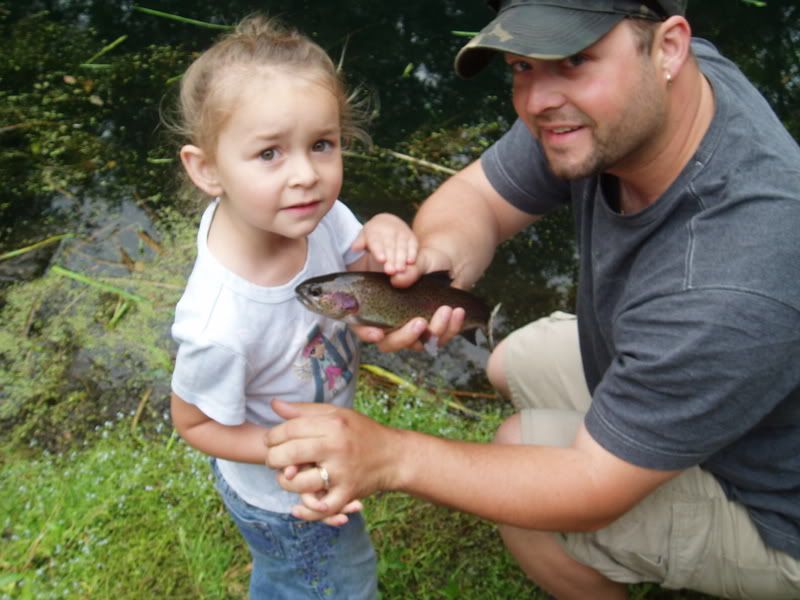 Next up was my oldest daughters turn under a thunder filled sky. With a little more age comes a little more patience. Good thing too. Because in a 5 1/2 year old child's world, 10 minutes can seem like an eternity when the same task is repeated with little results. Also with a little more age comes a little more independence. In short wanting me to back off and let her do her own thing. Restlessness would quickly set in fumbling with the small set up. So after a quick pit stop for dads help to untangle lines wrapped around hands, feet, eventually me and what ever else it could grab in the commotion ,it was back to business after I took control of laying out the line and giving a quick debriefing of the procedure. Time do buy cheaper set up. I'm not sure how 50 feet of line on the ground will help aid in the casting of a maximum of 15-20 feet. Maybe it looks neat to a child, with all that line lying about. Persistence eventually paid off as the familiar feeling once again pulled on the end of the little fly rod, and surprisingly I watched as line was being stripped in. Somebody was paying attention those times watching their father fish. However not totally convinced, and for the welfare of my line I assisted in catching up the line onto the reel. A bigger fish than the first, but by no means a behemoth. The perfect size to cut your teeth on fish fighting skills at 5 years old. Rod tips up was the main hurdle here, but we over came that with success as I netted a little classic rainbow. Lastly I learned, with a little more age comes a little more daringness. My daughter requested to hold the fish for a picture. With my insisted help for the intended release of the fish, a quick memory was frozen in time.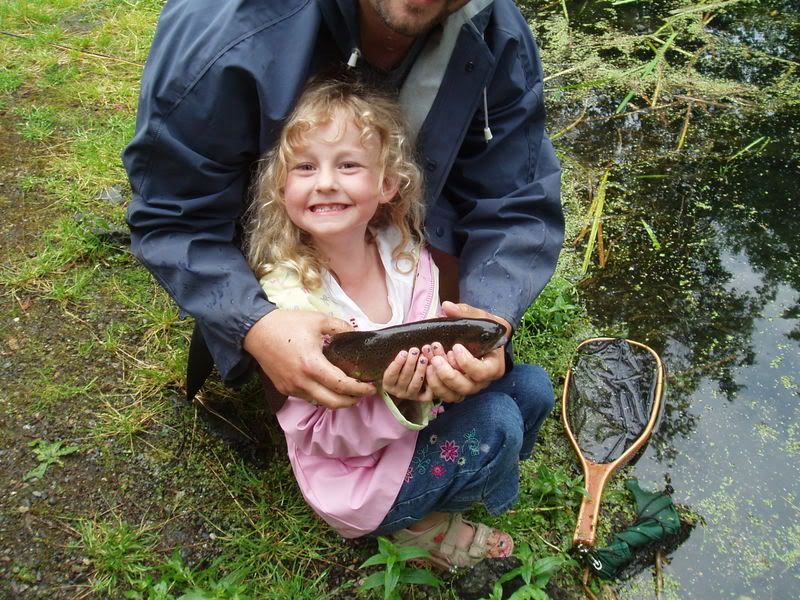 That half hour, forty fives minutes on our first afternoon taught me, and re taught me a lot. To my children this was pure simple fun. The way I caught myself for a second during thinking. The way it should be, and the way it was meant to be. No strings attached and even though they're to young to know it, they were as one great outdoor writer put it, "Tempting the unknown". The curiosity of what swam underneath the waters surface, how big was it, and what will it look and feel like. In doing so, new memories and a deeper love for the outdoors were created. It's something I believe every youth should experience. The rest of our weekend was spent periodically fishing with marginal results. A half hour here, and hour there. Dogs, paddle boats, and other water activities in the heat put the fishing off.
It's always a funny thing to me when I talk to people who don't fish, and the conversation turns to fishing. The one thing I constantly hear is " I remember when I was a little girl" or " when I was a boy". Then an experience of fishing as a youth with a parent or an uncle was played out. To me it's funny how something so simple and fun can stick with a person for a life time even if they haven't picked up a rod in one. Those stories are always told with a smile and a glow in the tellers expression. It's one of those few activities in life that bridges the gap of age no matter how old. Wether you're 7 or 70 the feeling is the same. Regardless if my children actively fish as adults or not. ( I know they will >
;D ) I know one day my kids will be part of that " I remember when" tradition.
Hope you all are having a great start to your summer. :cheers:
Finder