Discussion Starter
·
#1
·
"The East/West Connection"
(Part 1)

Meandering along the trail through the trees, a caravan of eager young steelheaders peer through the branches at a tantalizing set of slicks through a bend in the river below them. Monstrous immovable boulders hold steadfast in the relentless current, breaking the water effortlessly.
Steelhead live here.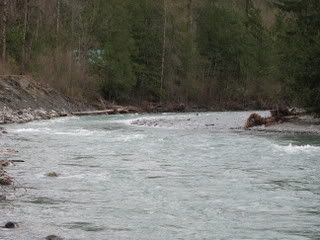 Pairing up, the four anglers split down separate paths to the shoreline, picking their way over roots and stones to the river's edge.
One after the another, floats sail out over the water, landing softly into various seams and pockets, drifting slowly through the depths below. Nice bright winter steelhead eyeball their presentations with increasing curiosity, stirring restlessly from their drifting sleep.
Moving with the current towards some excellent looking structure near the shoreline, a nice tight drift drops into a deep slot a few meager feet from shore. The angler tenses as the float bobs around as if in slow motion, that's the money spot right there he thinks to himself...
Nearing the last few feet before a nice sized boulder the float takes a sudden turn to the side, and the rod comes up tight to a blazing quick slash of a fish's tail. A flash of chrome breaks water violently in a vicious turn for freedom...
Peeling line off the reel with awesome runs, an angler holds on tight for a fight with the fish that would soon bring an early end to his day....
One anglers day is done just as quickly as it had begun...
Little did the others know, but today was definitely going to be a good day...
Big Late season Doe

Tune in tomorrow, same time, same channel,
for the next exciting installment from...

...your favorite river... :yummy:
...To Be Continued...