Discussion Starter
·
#1
·
Hey guys...Had a slow day at work so I thought I'd pass the time away and put this report together.
Royal Coachman, Nostrildomis, and I made the trip up to Kamloops on Saturday. Upon arrival we were greeted with rain and wind. It's always a chance you take when you drive up for the day.
However being a die hard, (judging by my new status! :thumbup
the 6 hour round trip of driving is always worth it. The rain would eventually subside, however the wind was a constant factor through out the entire day. Luckily the temps were on the cooler side so; we didn't run into any electrical storms.
There was not much in the way of any major hatches with the drab weather, until later in the day when we found our selves in the midst of a small Calibetis May Fly hatch. Before then we found moderate interest and success retrieving dragons and damsels from the weeds, and shore lines. Like our last trip RC was the first to hook up, connecting with a beauty that won its freedom after a short spirited battle that took his offering straight to the lake bottom. This style of fight is very typical for the more colorful Blackwater strain rainbows. The bigger they get, then the harder it can be to raise them up, and sometimes you never get the chance to see them. We both got a turn getting worked over by a fish we never saw. :
A short time later RC got his revenge, battling and landing a solid well fed bow.
Like many of the high country lakes, the trout in this lake can grow large just from dining on the abundant feed it provides. An example from our last outting.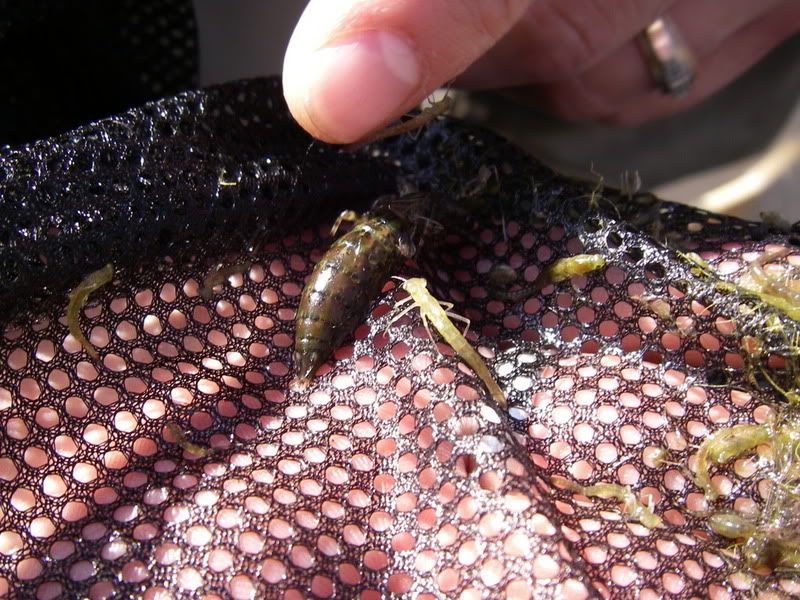 I love it when you connect with a solid fish, that'll put the best fly rods to the ultimate test. Now I know why I'm truly becoming a still water addict as the years go by. With the exception of landing a winter run on the fly, in my eyes it's so hard to top, especially when you solve the still water riddle that can result in success. To keep us busy in between battling the wind we would found some action in some smaller fish that were more than willing to attack a fly. They were small in stature for this lake, but hard fighting little footballs none the less. It won't be long till they double their size.
You know I learnt a valuable lesson on this trip. I love it when that happens. ;D The plan of attack usually follows the same pattern when you visit a lake you've already fished. You can fall into the trap of using what worked for you the last time out. It almost always seems to be the first thought when starting out a day. The tendency is to present the same fly in the same manner and fish where you found success the last time. Well that doesn't always get you the same result as it did before. Every time out, it can be a whole new ball game. Whether it's where to go, what to use, or how deep and which manner to use it. What happened before can go out the window, and a new day can mean starting from square one of solving the riddle. Sometimes the still water game can make you work and keep you guessing. Again sometimes you can't help but to stay in that same mind frame of past success. In turn during slow times, it can mean over looking the little differences or the obvious that could make or break a day. Stay on the move if the action is slow. Give your flys a fair chance, but be sure to change up if there's still no interest. keep changing and know your depths. The same goes for methods used. If chironomids under an indicator is not happening, try switching it up to another choice off a sink tip line, and retrieving it. Know how your offering is supposed to move through the water.
As I stated above there were no large hatches during our day. Nothing except for a small May fly hatch. The next offering that would be plucked from my box would be a #14 dubbed Hares ear nymph that would imitate the emerging mayfly nymphs that were coming off the waters surface.
This proved to be the ticket as it fooled some lunkers, one of which engaged in a battle that lasted nearly 15 minutes, and totally made the trip.
Thanks for sticking by on this one Kelsey! Anyhow sometimes it can pay off big time to think outside the box, and it saved what other wise would have been a tough days fishing.
Sorry we missed you guys Rib and Nates. Sounds like you had some fun of your own. Thanks for another good trip boys. Good to see you again Troutchaser. Hope you made out good on Sunday! Can't wait tio do it again soon.
Finder