Discussion Starter
·
#1
·
*There are some locals who may not be enamoured with me for posting on this lake due to the high- pressure it already receives. However I believe my report will confirm what I already knew to be true in the beginning: These trout are bloody difficult to catch.*
The construction company that I work for is building in Kamloops right now so for the past several weeks it has become my home away from on the weekends. Not for work, but for Stillwater trout fishing. The crew comes home for the weekend and I secretly take over a hotel room for the weekend. As I've only been fly fishing for 3 years now, I had never imagined such an unbelievable start to the season. I had had quite a bit of success on some of the best lakes that Region 3 has to offer, but this Saturday was to be dedicated to a lake that I had been dreaming about since I started reading about fly fishing 4 years earlier.
Pass Lake is a very special place. A relatively small lake that harbours huge Kamloops Rainbows, and not very many small ones. But not just any Kamloops Rainbows, Triploid Pennasks. These fish are so big and chrome that they look like steelhead fresh out of the chuck. You will think they have wings when they come flying out of the water, well over 3 feet at times, followed by multiple blistering runs. One problem though, much like steelhead, they will frustrate the hell out of you before you ever hook one. Pass is very lightly stocked, fly only, and receives a lot of fishing pressure for such a small lake. Only the most skilled, well-seasoned fly angler could expect to have any type of consistent success on a lake like this. And that is certainly not a description of yours truly. No to be discouraged I had to finally go and find out for myself.
After a long day of work on Friday that started early and went way too long I still felt I had to get up to the 'loops that night so I could have a decent sleep and not be tired from waking early and being tired from the drive before I even set about kicking around the lake. After a frustrating wait for a fishing buddy who finally bailed on me I left Abbotsford at 9:00 alone and was asleep in my pilfered motel room by 12:30. I had a quick bite to eat and a coffee and was on Pass Lake, geared up at 7:30 a.m. ignoring reports from those camped out, some of whom for a week already who had told me what I already expected to be the case. Fishing was slow.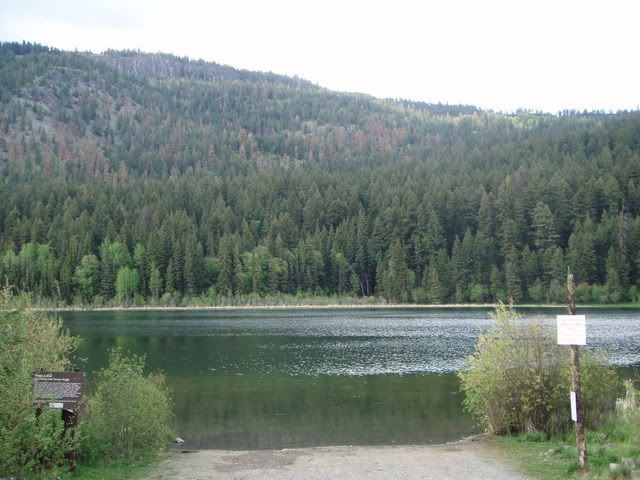 I started off with a floating line, indicator, and chromie combination, with a most optimistic feeling, totally oblivious to the dubious task that was in front of me. I anchored near a shoal that looked very fishy with chironomid shucks already showing and began to fish, if you could call it that. It didn't take long to start hearing some splashes that could have displaced most of the water in your bathtub. I was excited. I was taking in the scenery of this heavily wooded area, much different from many of the lakes I'd been fishing in Kamloops, but there was one other thing stood out to me even more clearly. This lake has the most incredible food source I've ever seen. Chironimids hatching everywhere, huge freshwater shrimp, damsels and dragons, and leeches that are bigger than some of the trout you will catch in a day's fishing on a lower mainland lake. I'm not kidding you, some of these snake-like creatures were nearly 7 inches long. I tried to catch a couple for a photo-op but those suckers are elusive. (pun definitely intended.) There was even a mayfly hatch as the day went on. With all this food available to these fish I kept thinking to myself, What chance did my little fly have?
Not much of one apparently. This I was proven in rather short order. By noon I had not even seen so much as a bump on my indicator. What I had seen were many large trout cruising the shoals in the gin-clear water seeming rather indifferent to my presence or the fly's for that matter. I had tried many colours shapes and sizes. I had gone through a gauntlet of other patterns that I thought might work but to no avail. I was getting bogged down. I had seen the odd fish caught but for the most part everyone on the lake, almost all of them more experienced than me, were getting schooled.
By 3:00 I was spent. I had kicked around half the lake, lowered and raised my anchor more times than I could count and had seen enough fish reject me to think I should go back to trying to hook up with women instead. I was a long way away from my car still, and did not want to cover that much water with a floating line so I made the decision to change to my clear-sinking or 'slime line'. I was making my way back when I did start to notice a few more fish breaking water, some of them quite close by. I casted at many of these rises with a small nymph thinking they might be nailing the mays or damsels but still nothing.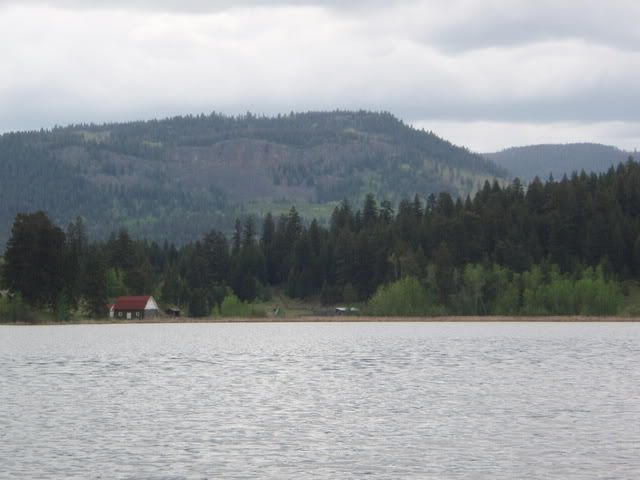 I couldn't try a dry fly because I wasn't switching reels again, so I tried my first leech of the day. I didn't have any 7-inchers tied up so I settled on a size 16 olive bead-head micro. I tried a few casts with slow retrieves that not surprisingly produced squat. I was now determined to leave. But I received one last burst of adrenaline when 2 good sized trout hurled themselves into the air no more that 40 feet away almost simultaneously. I popped a good tight cast about 6 feet past the rises directly in between them and hopelessly waited. A minute later I felt a tug that had me so excited that I could have jumped straight in and almost did. I set the hook and out she came, as advertised, 3 feet in the air and pure chrome. Almost 50 feet out I could tell she was big but didn't know for sure. At 4:30, some 9 hours after I had put in, 4 jumps and at least a half dozen blistering runs into my backing, later produced this silver bullet.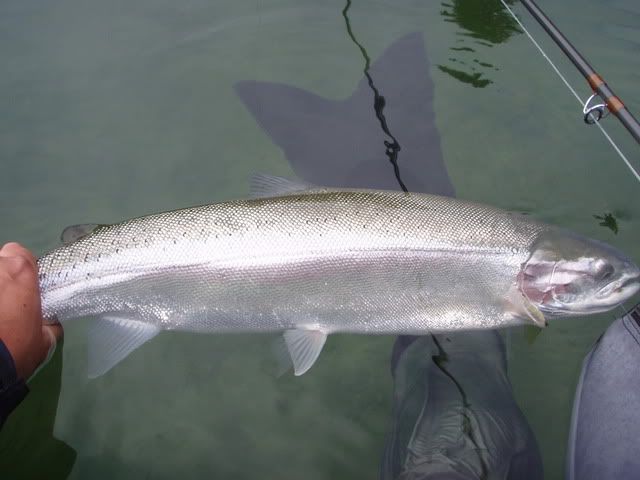 Any time I could gain any ground on her she took off again, a most admirable battle for life. If she only knew I was going to let her go. It had to be about a 20 min fight that I will never forget. I hadn't even played her out all the way I had to finally muscle her in as she just kept bulldogging her way down. I spent a little time resting with her before letting her go on her merry way. There were a few more splashes that had moved closer to the other boat in the area so I yielded to him and went home, with a huge grin on my face, thinking about the most humbling yet rewarding experience I have ever had with a fly rod.
Good ol' Pass Lake.
:cheers:TC