Well.....I was supposed to be flying with my girlfriend up Northwards last Tuesday as her sister and brother-in-law chartered a big 130' yacht for 2 weeks. En route to the airport we receive a call that they are in Campbell River and there were some pretty serious mechanical issues with the boat and they were going to fly home on Tuesday night. Crap!! We were both looking forward to getting away as she had just come back from a 2 week trip and I was away up in Desolation the week prior to that.
Now, we both had taken some time off and as far as anyone knew we were NOT in town and we had to make that a reality. So we quickly looked at other options and decided to head towards Tofino. A friend of hers and her husband live over there and my girlfriends sister has a place right on Chesterman's Beach right near the Wickaninish. (sp?) Well the plan was to 4x4 back around the North side of Kennedy Lake which is just a bit inland from the junction of the highway where you can either head south to Ucluelet or north to Tofino. We wound up on the Sand River VERY deactivated logging road and made our way to a spot on the lake. My truck is in desperate need of a cut polish now as the road was really grown in. So we spent a couple of days just relaxing with the bears and NO sign of anyone where we were.
Here is a shot looking from a bridge that separates Kennedy Lake and Clayuquot Arm (I thinik it was arm....maybe basin??)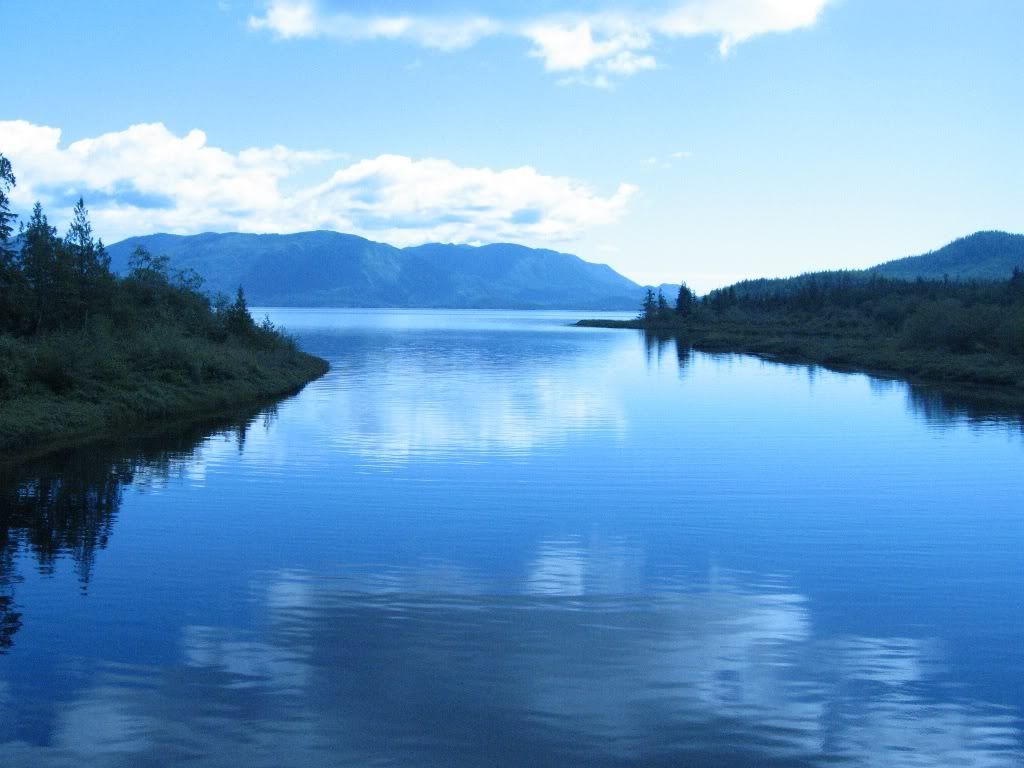 We decided on Thursday we were going to fish with her friends husband who is a guide in Tofino and offered to take us out on Friday!! Now the trip was gettin' good!! So we pretty much packed up our campsite Thursday evening so we could wake up at 5am and just drop the tent, air mattress and sleeping bag rolled up and we would be on our way for some fun on the water. The plan was to stay with her sis at their place Friday night as I really did not want to head back in on this road after fishing all day.
There were good sized swells and the fog was THICK......I now know why they call the month of August in Tofino "Fogust".
After grabbing a coffee we were on our way at 7am.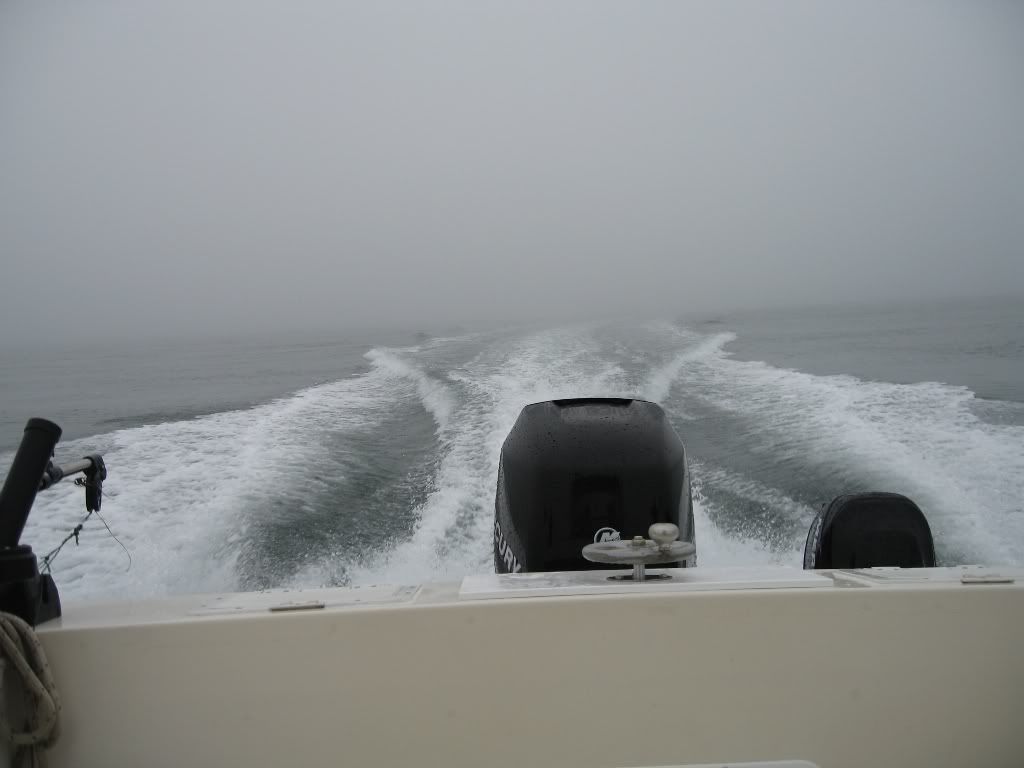 It didn't take too long and the first hit of the day I landed a nice 21lb spring!! Whooopeee........first one bonked and plenty of time to go.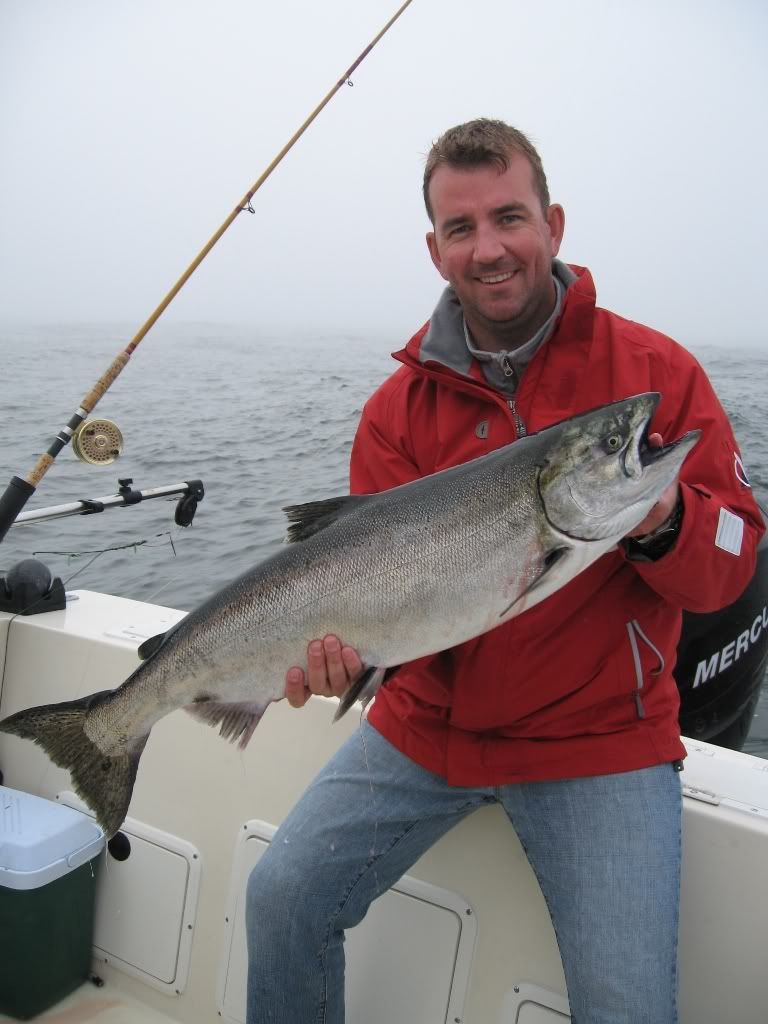 Well.....it didn't take too long for the next hit and my dear sweet girlfriend decided it would be in her best interest to set the bar higher on her first of the day.....a nice 27lber.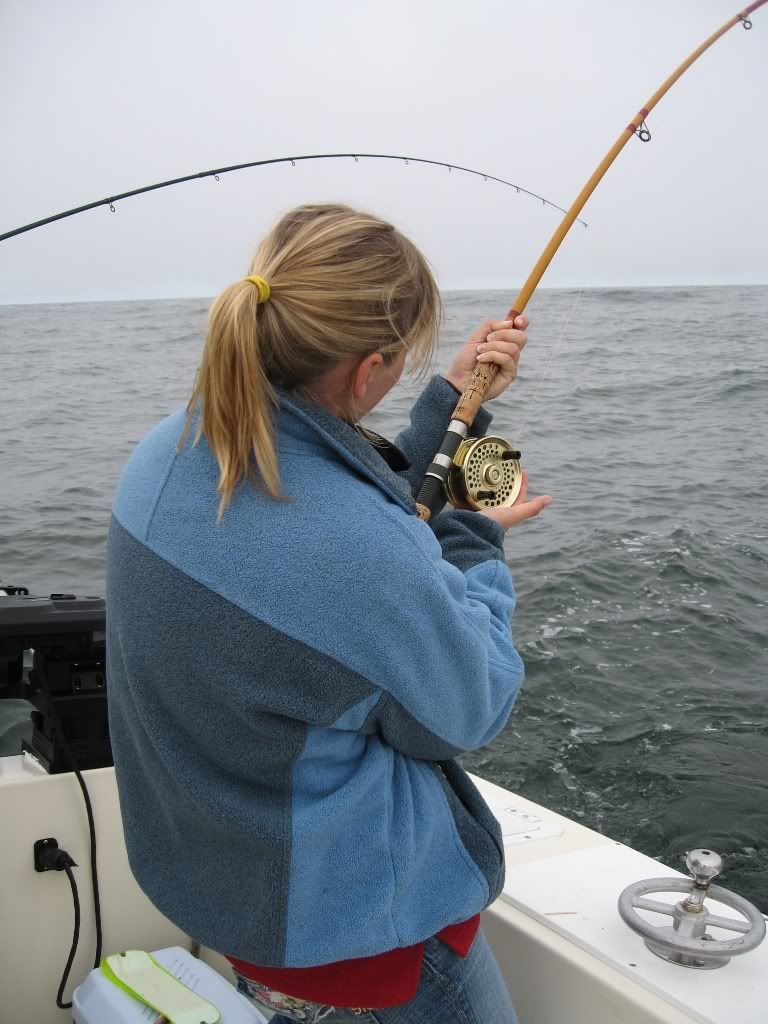 We lost a few fish and released a few undersize along with a fair number of ling's but kept a few rock cod (love eating them fresh from the ocean).
I managed this 17lber who put up one heck of a fight for about 10-12 minutes and kept stripping line off the second he got close to the boat. I hadn't showered but I didn't think I was looking that rough!!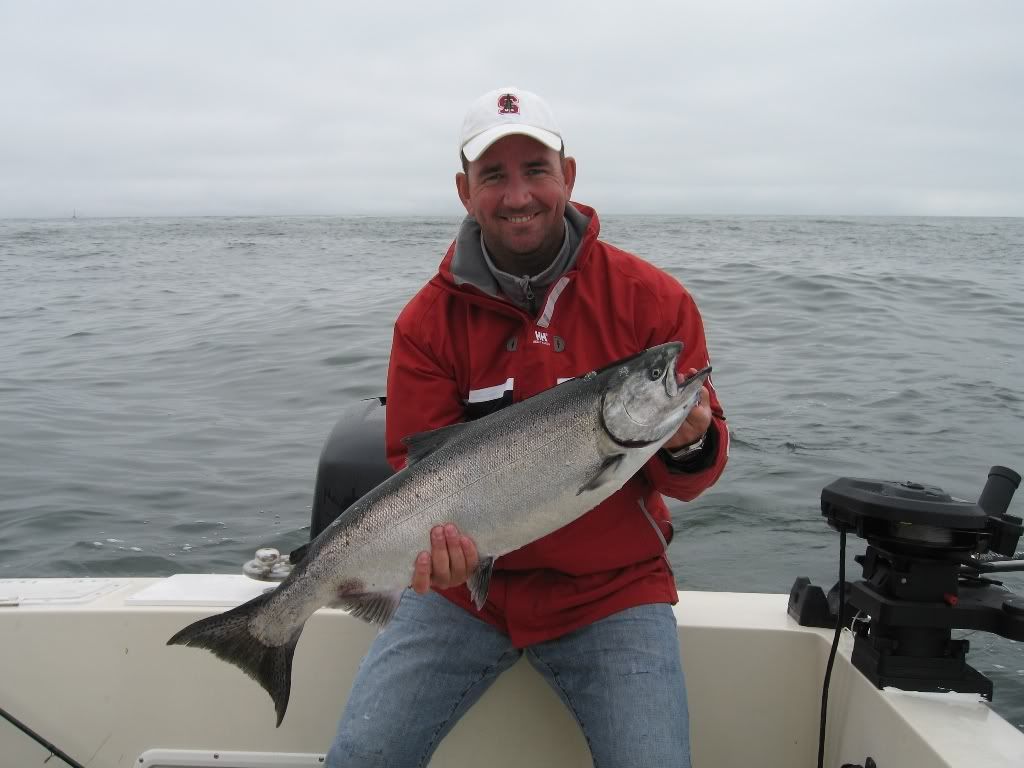 Things slowed down for a bit after that one on the springs but we got into some coho that were all in the 6-7lb range.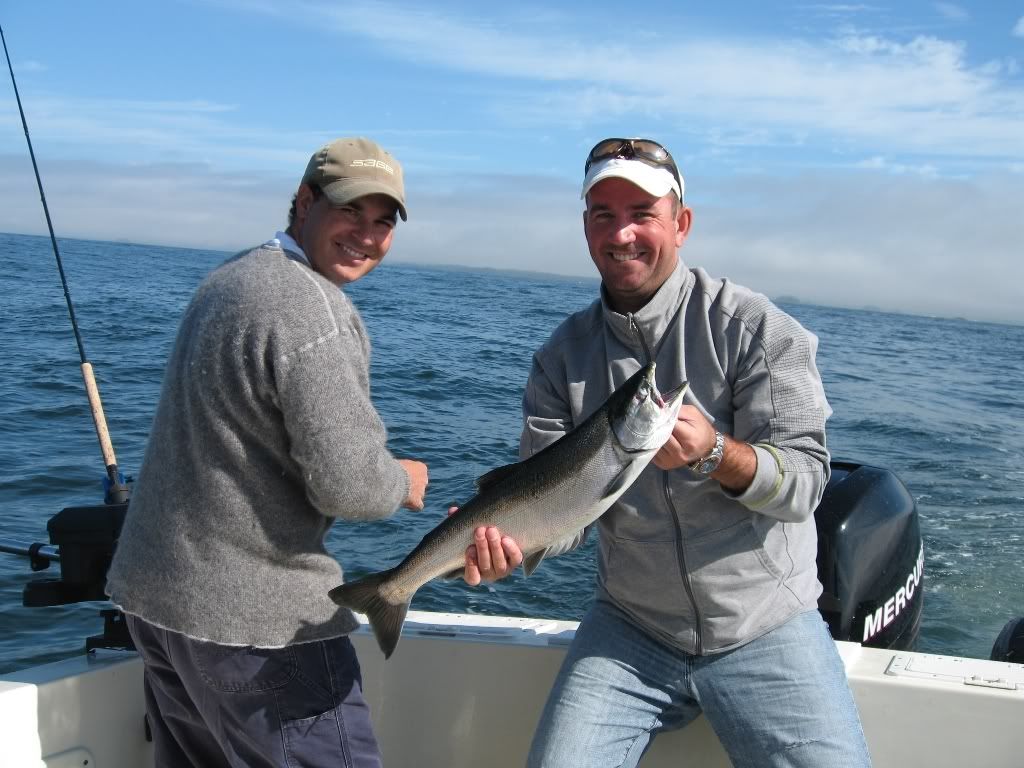 Finally the fog lifted and I was on a mission to try and catch up to my GF's big fish of the morning.
Well after missing a few I was finally rewarded with this handsome 29lber at around 11am which I quickly celebrated with a nice cold :beerchug: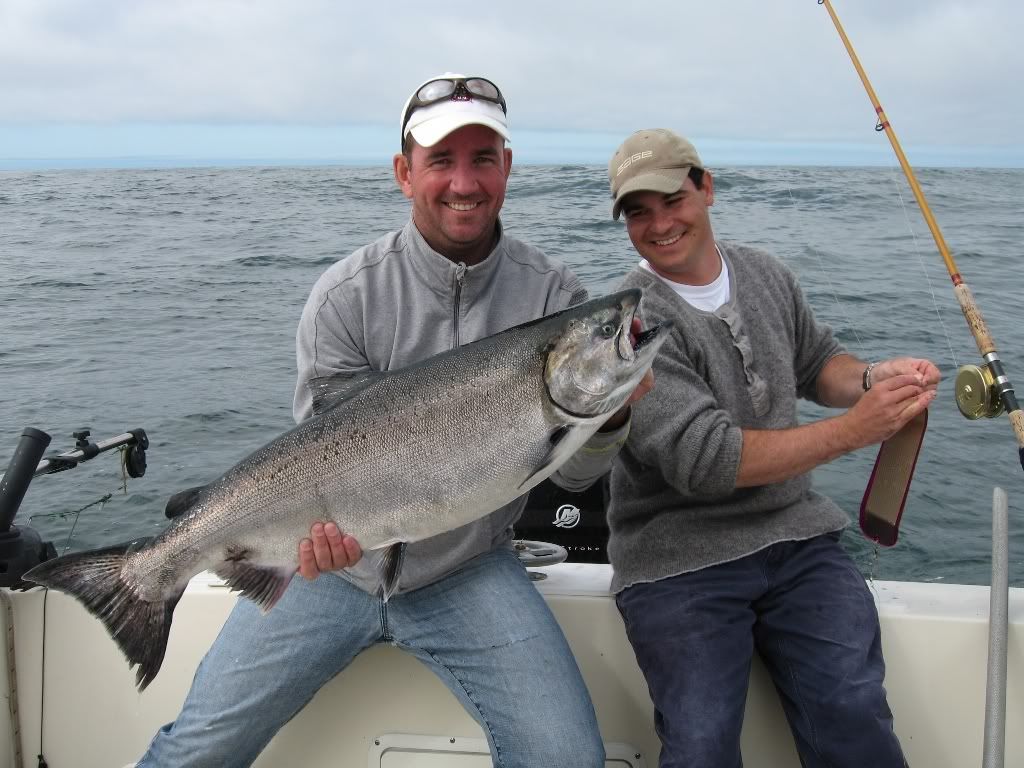 We then tried for a little bit for some hali's and lost one good hook up but that was it. Here are a couple of shots from the end of the day.
There's some good eatin' in that cooler.
We finished off the day with a dinner at her sis's place that consisted of rock cod, fresh green beans, some baby spuds and some good vino. Talk about a great day.....out on the water with someone who I think the world of and who loves being out there just as much as I do. Lots of whales in the area....a great guide/friend who had us in fish all day......and a beautiful sunset to finish off the day! If it wasn't the "best" day it was pretty darn close and will be a tough one to beat!!!