Discussion Starter
·
#1
·
For those looking to get away from the norms of the busy traffic filled rivers in the fall, need to look no further than what the interior has to offer. Fall is the time of year where fish typically go on the feed in preparation for the coming ice on and long winter. If the conditions are right and stable you can be rewarded with some incredible fishing for big interior rainbows that in some cases can almost double their size in body weight. Still water rainbows in the fall can usually be found cruising the shallows ( 30 feet down to 3 feet ) along and more importantly
in
weed beds, drop off and shoals, foraging for anything that will make an easy meal. Night fishing especially can produce well for those willing to brave the falls evening chill in hopes of attracting a tank on the hunt in the cover of darkness in mere inches of water.
This is the perfect time to introduce a new fly fisher into the still water fold. The technicality of the hatches play a smaller roll due to the cooler weather and temps, and in turn the learning curve can be more forgiving when trying to figure out what the bite is on. By simply sticking to the usual big food items such as re migrating Darner and Gomphus Dragons, Leeches, and Damsels can up the odds in ones favor. Another favorite still water staple that is often over looked by fly fishers in the autumn months is the Water Boatmen. A few varieties should always be packed along in the fly box. These little backswimmers have the potential to entice a hard hitting feeding frenzy in the shallows. Just be sure to have a good grip on your rod when fishing them. To keep things simple two lines are typically used at this time of year. The clear sink tip or slime lines, and a full sink line such as a type III sink line. Both choices can be used to effectively fish the above mentioned, and be rewarded with good results.
It is fishing so sometimes it can take quite a bit of work to figure out the riddle of the daily special. So it is important to always put the odds in your favor as much as possible every time out. This includes knowing how an insect behaves and moves through out the water column. Below is a list of retrieval methods that I have found worked well in imitating the proper swim patterns of the invertebrates found in our interior lakes. Although trolling can work well from time to time, it's my personal belief that proper retrieval methods and presentation will often out produce dragging a fly behind a boat.
Dragon Nymphs: Typically move on the slower side compared to their Damsel cousins, often not travelling great distances at a time trying to avoid predators amongst the vegetation. Darners are mostly found in weed beds of cat tails and bull rush, and in mud bottoms of a lake for the Gomphus variety. A simple slower paced figure 8 retrieval mixed with a couple of short intermittent pulls and pauses can do the trick.
Damsel Nymphs: Travel at a faster pace through the water moving (snaking) side to side guided by their tails then pausing for a rest. On the pause or shortly there after is usually when they get picked off by a hungry trout. A faster more steady figure 8 retrieved with intermittent sinking pauses is what I've found works well.
Leeches: Commonly found near or under structure, and although they can be spotted in open water during the day, they are mostly nocturnal travellers trying to avoid predators. Undulating up and down moving through the water much like an eel. Leeches get pounded hard due to there size. But be sure not to lift the rod on a false strike. Trout have a habit of stunning their prey before turning around and coming in the for the true take. A leeches defence mechanism is to ball up in the water and be still or motionless when bothered. So if you get a pull, by simply pausing will mimic this action. Just be sure to hang on because the next strike is usually the big one, and it more times than not come on that first pull after a pause. A slow intermittent pull or figure 8 retrieval is a good way to imitate a leaches travel patterns.
Water Boatmen: Comonly known as "Backswimmers" One of my favorites, these little guys love the cover of weed beds, but can also be found travelling through out the water column in the fall months propelling themselves at a quick short erratic pace. Quick little short pulls with pauses every few feet is a good way to imitate their movement. Every fall they are becoming more of a staple and one of my top patterns in my box.
Next time when your out on the water try to imitate the proper movement of the insect you are trying to pass off as the real deal, and you may be pleasantly surprised at the results.
This past weekend was spent up in the interior on a company golf trip. Of course there's no way I could go to my favorite play ground and not fish. ;D So I took an extra day and turned it into a Fins and Skins weekend. No big fish to hand this time out and our success was spotty at best, however I did get worked over by some fish I never got to see. Once it almost cost me my rod and reel when I was not paying attention.
The weather on our chosen day to fish was not the greatest under a cold, extremely windy low front. Of course the weather was top notch when we were out on the golf courses. :hmmm: Results were had on Gomphus Dragons, Water Boatmen, and Hares Ears in the 15 to 30 foot depth. Rustywheels was my partner for the day, and it was quite a site watching him fool and bring in his first ever fly caught fish. Job well done! :cheers: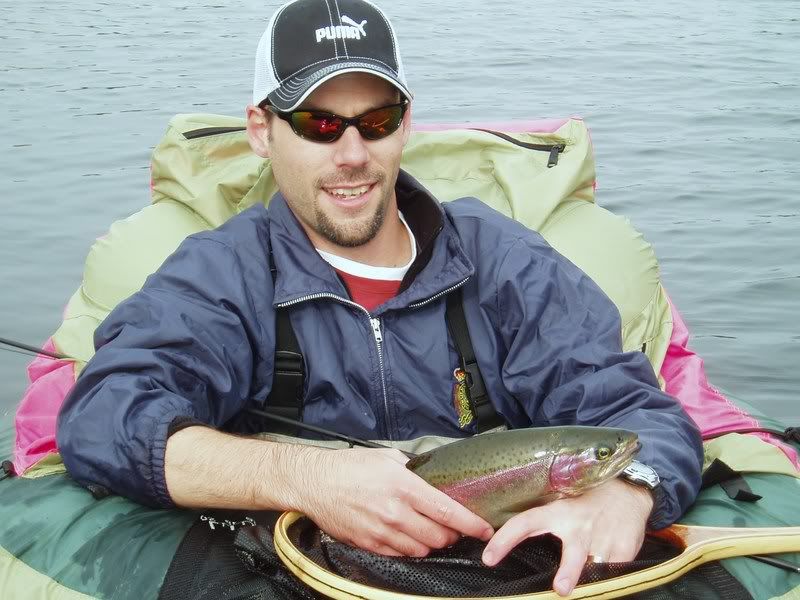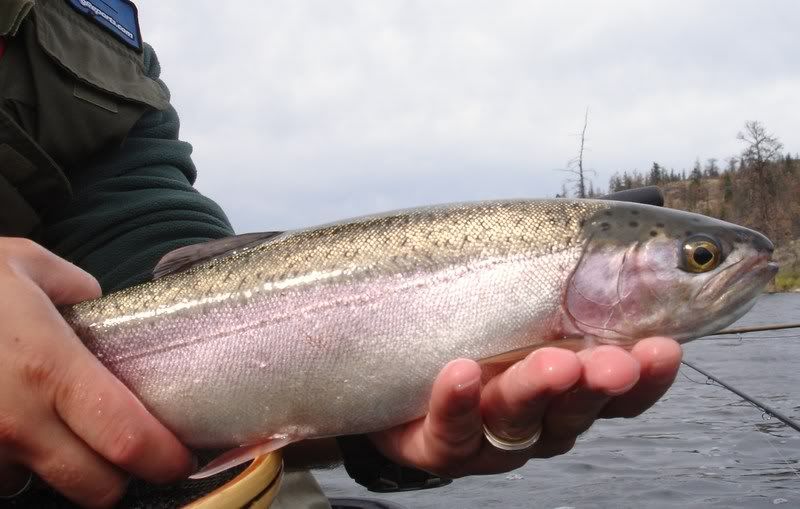 Finder :cheers: