Discussion Starter
·
#1
·
Here it is guys,
As many of you might not know, I headed back to Ontario for holidays from the 26th of April to the 6th of May. It just so happens that the opening of Steelhead falls on the last Saturday of April.
. Myself and a few buddies and some of my family members have been camping out on this week-end for 20 + years. We were set to arrive at the site for 1:00pm on Friday afternoon. We arrived on time and the river was in prime shape. The fishing can't begin until 12:00 am Saturday morning, so we unloaded our gear at a moderate pace between a few beers and started setting up our camp.
Once we got the camp all set up, and gathered enough firewood to keep us warm for the entire week-end, we decided to go for a walk along the river to see what kind of changes have occured on the river and how many fish are in the system. Lets keep in mind folks these rivers in Ontario are more like creeks compared to out here. The river that we're fishing on is the Ganaraska River. This river recieves an annual return of 4500 Steelhead every year. All without any recent stocking, all fish are through natural reproduction. Here is some of what we witnessed on our little walk.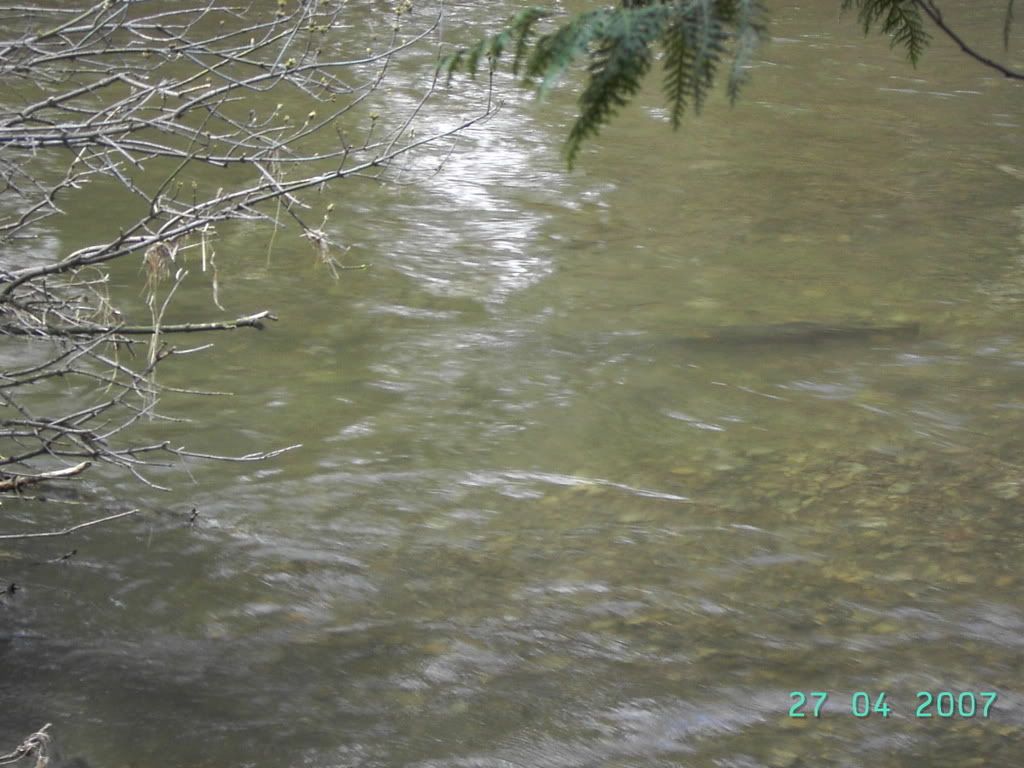 We had a front row seat to lots of fish spawning. At one point there was a pair of fish spawning with about 10 fish in behind them. As soon as the female dropped her eggs all the fish would rush the bed and gorge themselves on the eggs. The whole time in between the male that was spawning was chasing all the other fish off of the bedding area. We sat and watched this for about 30 mins, it was pretty cool to see. We were also throwing worms at the fish and watching them move over and hammer the worms as they drifted near them. After our little tour was over we headed back to camp to see if anyone else had showed up from our camping crew. Sure enough more people started showing up and it was shaping up to be a great week-end. We got a fire going and cooked us up some dinner to get prepared for a night of partying that is always a good drunk.
The crew gathered around the fire.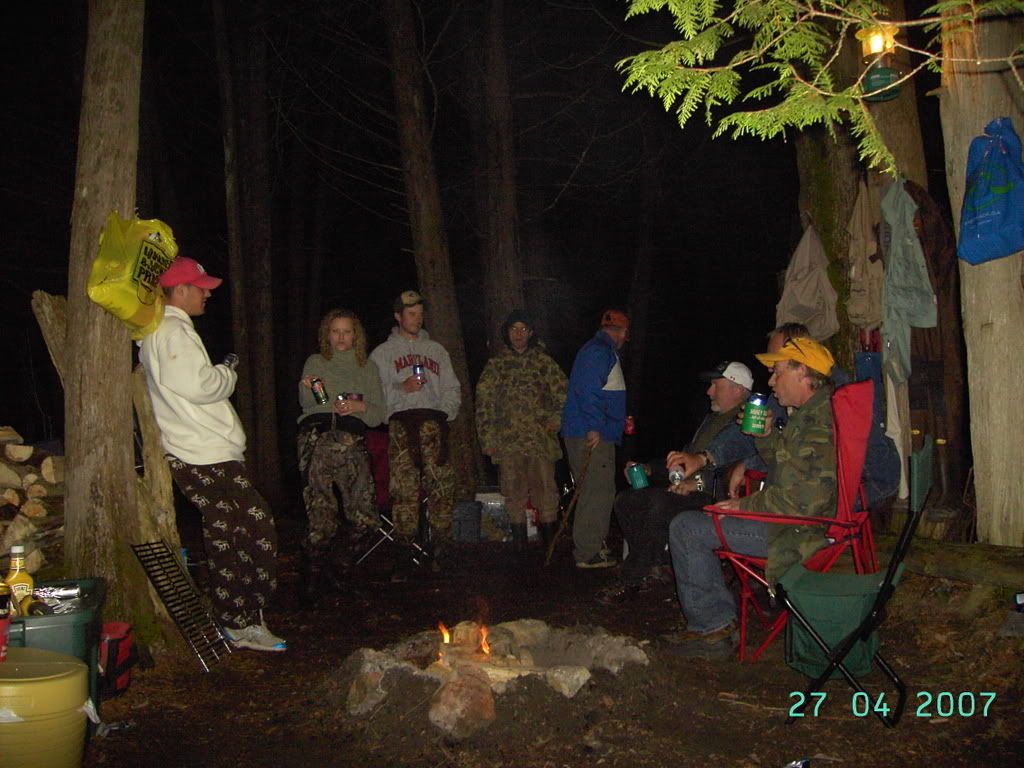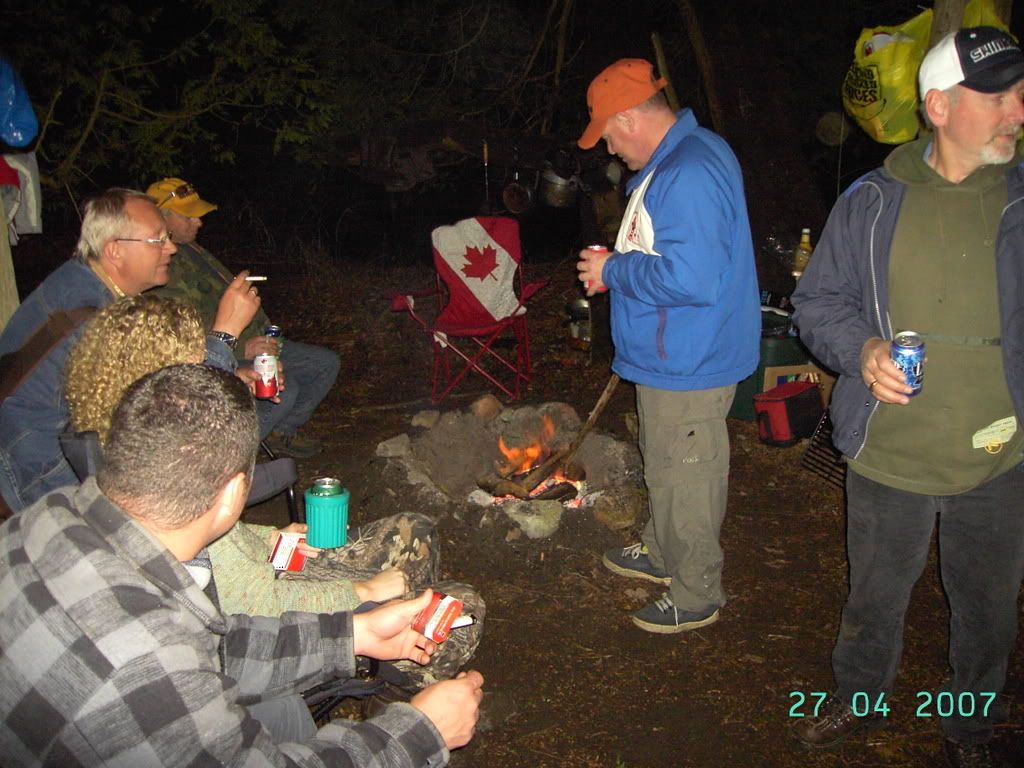 A few of my buddies.(Left to right) Cliff, Cam, and Cory
After many stories shared and many beers drank it was time to hit the tents for a quick bit of shut eye. Before too long opening morning will be upon us. :drunk:
Upon waking up at 6:00am to a nice hot coffee that my uncle had made for me, I strolled down to the pool right beside our camp in my PJ's still, and here is what I came up with on my first drift.
;D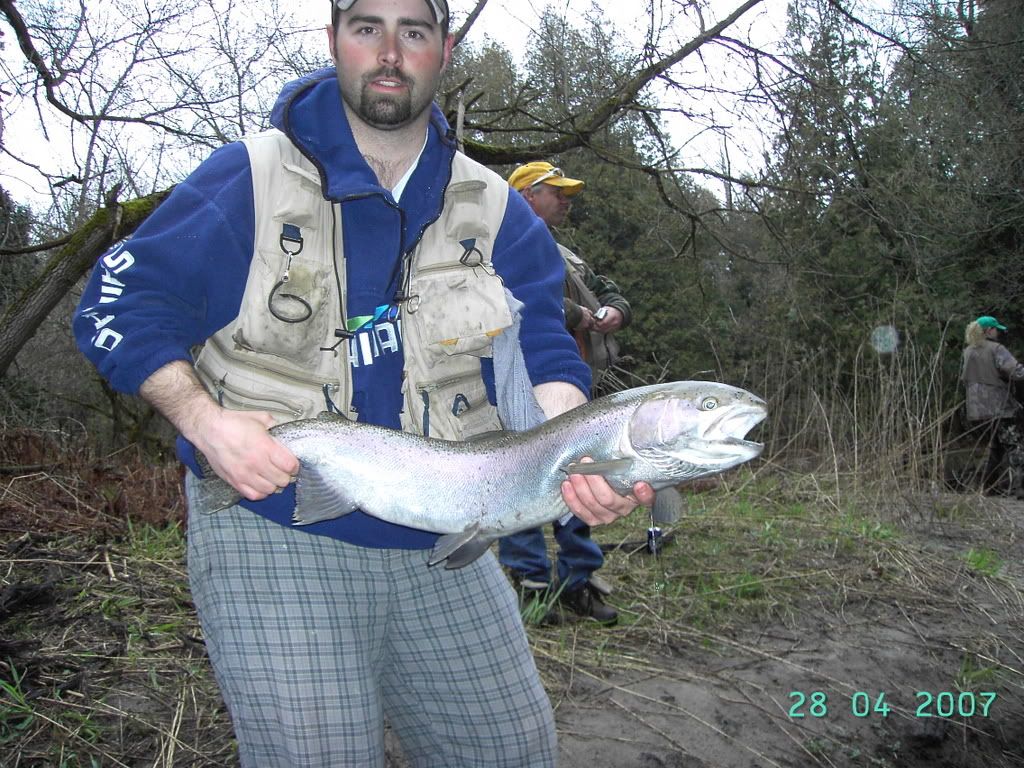 After that I went back to camp and finished off my coffee, and grabbed up some quick breakfast and headed back to the river to see how everyone is making out. The fishing was super hot and the Steelhead were more than willing to take whatever offerings we threw at them. The morning produced lots of nice Steelhead and a few nice Browns as well. Here is a sample of the Browns we were catching. Lots of Browns in the 12 to 16" range. Steelhead in the 3 to 10 # range. :happy: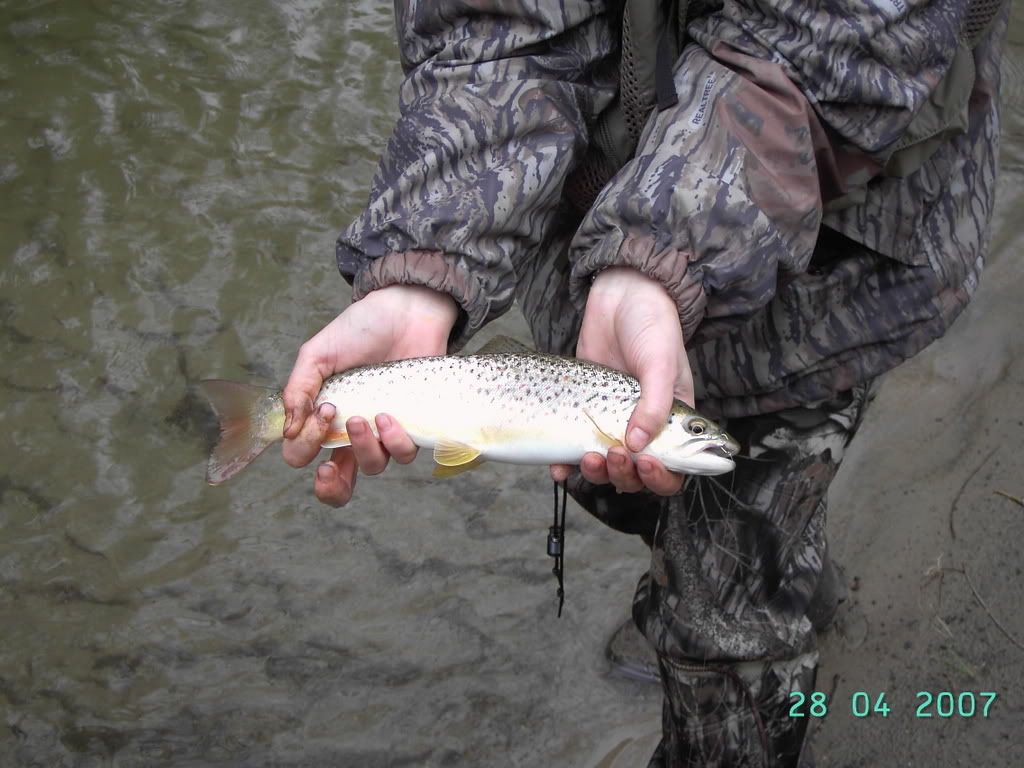 My old man with a typicall Ganaraska River Steelhead. :thumbup:
Throughout the day we continued to catch Steelhead at will right close to camp. Other members of our party ventured up and downstrem and they were rewarded with awesome fishing as well. Most of the crew returned to camp around 12:00 pm for a brunch of bacon and eggs. Over brunch we told fishing stories from the morning and all of us had smiles on our faces and were extremely thankfull for the great fishing we were experiencing. Being around 12:00 pm we all loaded up our vests with beverages to get prepared for the afternoon of fishing and drinking. :beerchug:
Here's a picture of my buddy Brian landing a Steelhead. With my Dad in the background. :thumbup: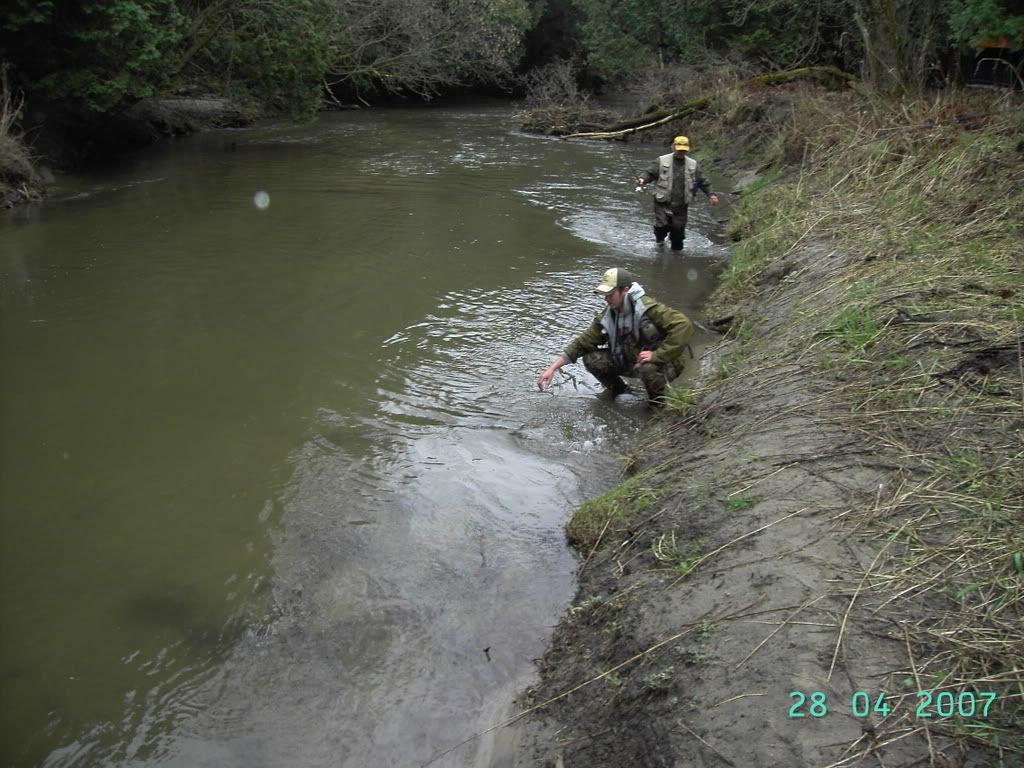 The afternoon proved to be just as good as the morning, as Steelhead continued to fall victim to our baits. We had success on roe bags, worms, jigs, flies, meal worms, and my uncle even caught a few on a hot shot that he was dropping back under a few log jams. :thumbup:
The whole week-end was a great time as always, unfortunately my battery pack died late Saturday night. On Sunday the water dropped and cleared a little bit, so the fishing was a little tougher than Saturday but we still managed to catch a bunch of fish. It was great to go back home and spend some quality time with family and friends, this place will always be held dear to my heart and will always be remembered for the great life experiences that I have had there. The Ganaraska River is the place where I learned to Steelhead fish and that will never be forgotten. :'(.
Here are a couple of videos that I took towards the end of the day on Saturday.
My Dad fighting an acrobatic hen. :thumbup:
http://s151.photobucket.com/albums/s137/natesfish/?action=view&current=ontariotrip07038.flv
Cliff battling it out in the wood with a nice male. :thumbup:
http://s151.photobucket.com/albums/s137/natesfish/?action=view&current=ontariotrip07040.flv
Hope you all enjoyed what the East Coast has to offer. I'll post more pics on here when I recieve them from my buddy. If anyone is interested in numbers of fish landed, I probably landed around 40 or 50 for the week-end. Between the whole crew we definately caught more than 200 fish.
Tight Lines, Wes Roffey