Discussion Starter
·
#1
·
It all started the morning of Friday May 2nd. My buddies brother was going to be in town from Ontario for a few weeks, so I decided to book us a Sturgeon trip with Bent Rods guiding services. Myself, Jeff, and Corey met Bent Rod at the boat launch at 8am. We loaded up into the boat and headed out on the mighty Fraser river, our minds filled with anticipation of "BIG" hard fighting Sturgeon. After a short boat ride we arrived at our first location we baited up and got our lines in the water. It was only a matter of minutes and we had our first Sturgeon in the boat, a small fish only about 2 feet or so. In the next hour or so we caught several Sturgeon in the 3 to 4 foot range. Rod suggested that we change location in search of some bigger fish. We hauled our lines and anchor in and we were off to a new zone. We arrived, got our lines in the water and within 10 minutes we were into another fish, this one was of better quality, after a good battle we landed a nice fish about 4.5 feet. In the next 3 or 4 hours we were consistently into Sturgeon between 4 and 5.5 feet. These dinosaurs put our bodies to the test with line screaming runs, huge jumps, and intense bulldogging at boat side. At this spot we were getting a hit every 15 to 20 minutes and they were all quality fish. Here are a few pictures from that zone. :thumbup:
Corey's first 4 footer.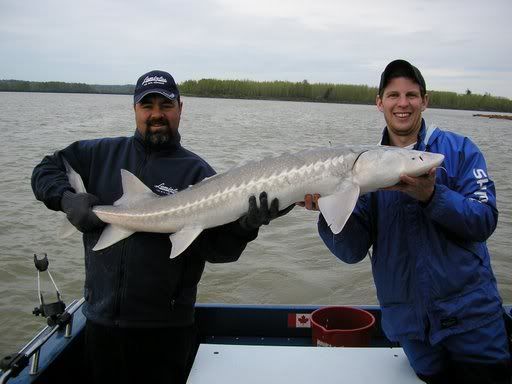 Jeff's first 4 + footer.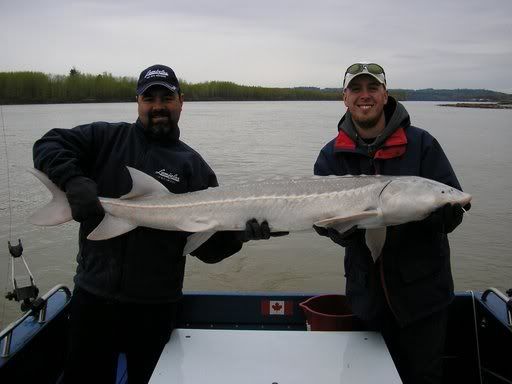 Myself and Corey posing with the competition.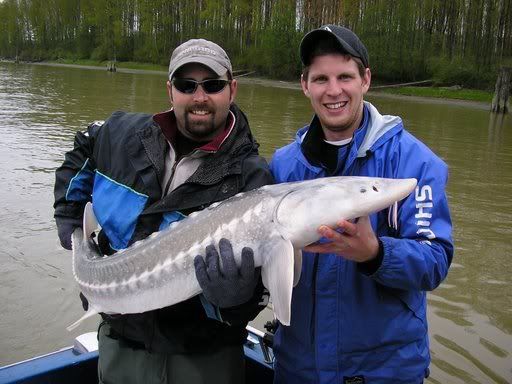 Corey getting worked over by a good sized Sturgeon.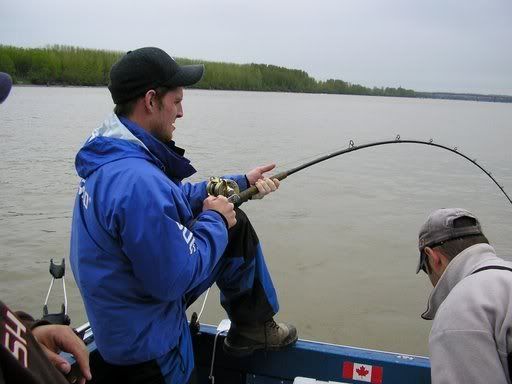 After hauling on these incredible fish for that long the bite slowed down a bit and it was time to hit another zone. We decided to go to an area that usually only produces big fish. Rod has incredible knowledge of this river and seems to know when areas are going to produce, he was spot on again, in the big fish area we caught the 2 biggest fish of the day, both measuring just under 6 feet in length.
Here are the pics from the "BIG" fish zone.
Me and Rod with another good one.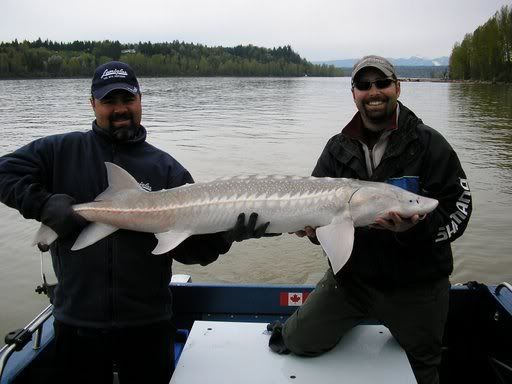 A 5 + footer in hand.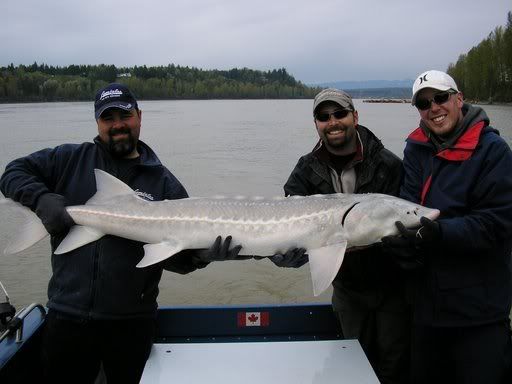 Corey's first over the 5 foot mark.
Jeff playing tug of war with the biggest fish of the day.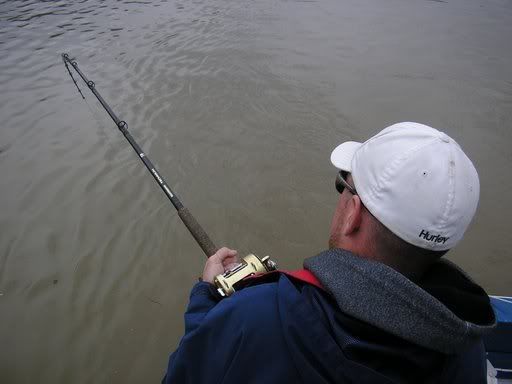 The end result, our biggest fish of the day. This beast cleared the water 3 times!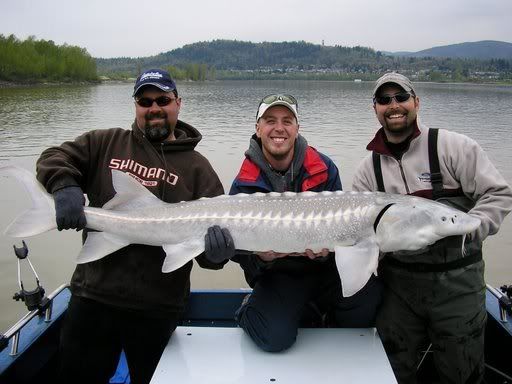 All I can say is WOW!! What a fantastic day on the water,the total count for the day was 26 Sturgeon landed, 6 of them were over 5 feet long with a number of other fish close to the 5 foot mark. If you want to experience first class Sturgeon fishing I would strongly recommend booking a trip with Rod, you will gain alot of knowledge on how to angle for these prehistoric species. At the end of the day all 3 of us went home with sore arms, sore backs, and sore jaws, from laughing and smiling all day long, and from battling the dinosaurs of the Fraser. Thanks again to Rod, It's a trip we won't soon forget.
Tight Lines, Wes Roffey