Just thought we'd Share, so I am posting this for Ortho while he's away...
Gliding silently through the glassy smooth water, the electric motor a barely audible hum, an angler cruises towards the edges of a tasty looking shoal...He carefully maneuvers the boat to his liking and gives a little in reverse to hold her still...

Taking a foggy breath, he soaks it all in..."We're finally here...", he thinks to himself with a smile as he reaches out to release the anchor...the rope slides through his fingers till he feels the weight sink into the bottom of the lake. His eyes scan the water with anticipation...A steady and excited hand reaches for one of the fly rods and he examines the fly he'd chosen...a nice little bead head microleech..."Perfect"...

He stands up, ready to begin his adventure, striping line off the reel he loops a few false casts out there to get the line straightened out, then feeds more and more line into the cast until he finally decides that will do...laying out the line nice and straight, it lands softly on the water and he waits patiently for it to sink...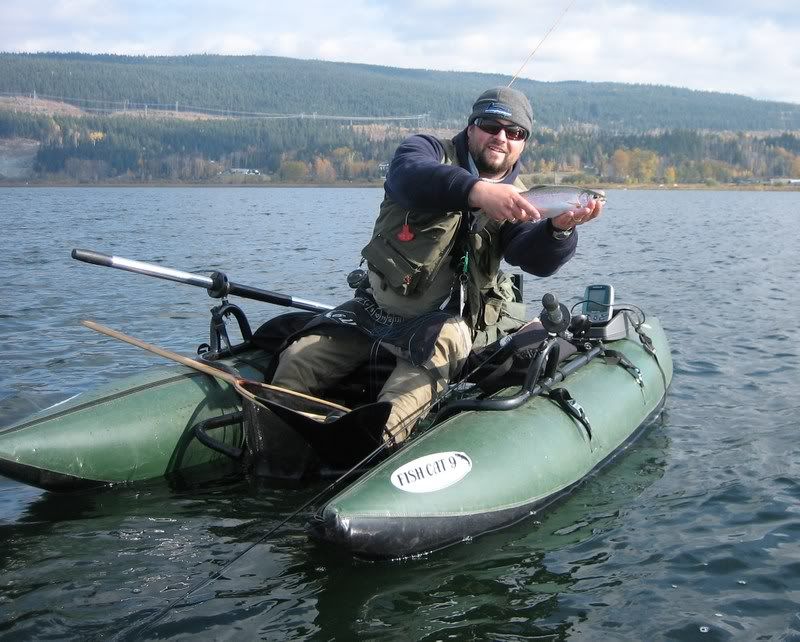 I just returned from a popular interior lake with a couple of very close friends. The eagerly anticipated trip has been highlight of the fall fishing season for a number of years and this trip was no exception. We were fortunate to have some decent weather, in the sense that it wasn't warm, not extremely cold, no hurricane force winds, not raining, or snowing all weekend. However, if camping in minus 5 degree windy and snow flurry weather is your idea of a good time, then you would have really enjoyed the trip.
When we arrived, we had agreed in advance we would set up camp quickly with our frozen fingers, and then get a roaring fire going before darkness prevailed. We had a late evening meal around the fire and quaffed a few beverages then discussed the game plan for the morning. The downside to the evening was crawling into a frozen wasteland of a usually very warm tent and a down sleeping bag that felt like the inside of a freezer.

A few tips for the winter campers:
Be sure to bring dry paper, waterproof matches, candles, fire starting bricks

Bring warm fleece gloves and a toque or fleece hat with a long neck panel and ear flaps

Carefully layer your clothing by wearing breathable lightweight long johns and top. Cover with fleece pants and long sleeved fleece top, and a warm down vest or equivalent, then cover everything with some nylon pants and a good windproof/waterproof jacket. Wool socks and sturdy boots are a good choice
Bring a good axe/saw for wood preparation

A hand warmer is also a good addition to the equipment

Staying dry is important. Keep wet or damp clothes out of the sleeping area
Pack all your clothing separate from all other items in a dry bag so you can find them quickly and keep everything dry.

Separate the kitchen, fishing gear, and supplies into different storage boxes or containers to assist in cooking cleaning and storing when not in camp. The blue storage boxes with the lids are ideal for this purpose.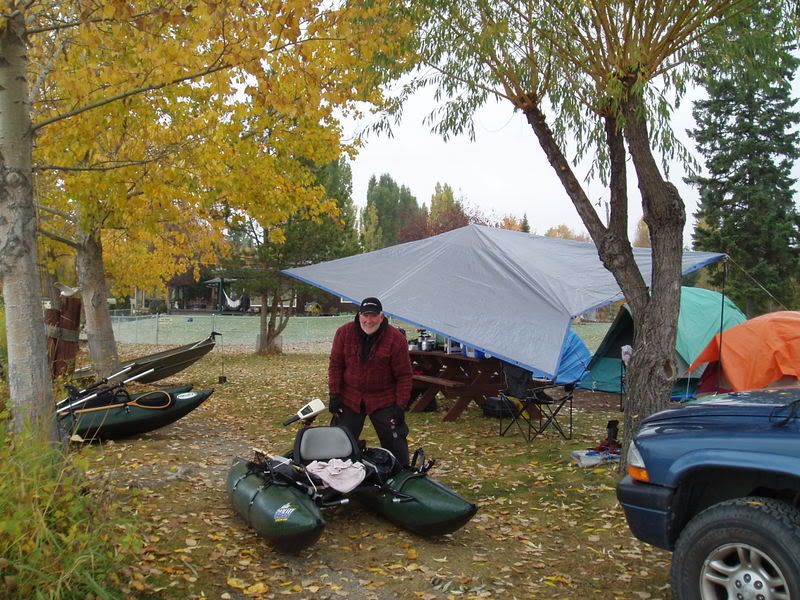 The morning brought an eerie fog over the lake and campground, from the 53 degree water temp and the minus 5 air temperature. The boats tents and anything else not under a tarp was encased in a thin layer of ice....Morning coffee never tasted so good!...Especially with Bailey's finest! We decided to wait a few hrs before heading into the fog, that eventually cleared off around 10am....Conversations with some fellow fishers gave us some encouragement and we rigged up with a variety of flies to do some searching and see what might be productive. Leaches, dragon nymphs, small immature damsel nymphs all produced fish. The odd Boatman worked as well.
We spent most of the day in the 'toons out on the lake freezing' our butts off, sipping some amber liquid from Scotland, tempting the lurking triploid 'bows with a wide variety of offerings, and enjoying the beautiful interior landscapes and fall colors.
A productive day on the water is always complimented by a good meal done in camp and the combination of culinary skills of the "three amigos" produced a memorable meal that kept the night air from sneaking through the four layers of clothing.
Sitting around the evening fire, we planned our fishing strategy for the next day, conversed with some fellow campers that shared our fire, and made a hasty entrance to our tents when the first snowflakes started to fall late in the evening.
A cool wind arrived in the AM along with a few more snowflakes. The threatening skies and surface waves kept us in camp once again 'til 10AM before we ventured out onto the lake. This day was a good field test of the MinnKota electric and the combination of anchoring, oaring and keeping the line correct when trying to angle across the wind, until the anchor pulled out, the waves started pounding over the pontoon, and I soon found myself deep into the reeds with two lines tangled, one rod slightly damaged, the anchor stuck on the bottom, and one very unhappy fisher barking out expletives for a full 10 seconds....Arrrgghhhh!!!
After a 15 minute self extraction from the weed bed, and a recovery of the anchor, I quickly headed back to camp to warm up and enjoy some warm food & drink. My buddies were not far behind as the wind and the waves meant for some tough fishing conditions and some rather finicky fish.
We stayed in camp and swapped lies and stories for a few hrs, then without warning, the wind dropped a bit and we scrambled to hit the lake once again before sunset.
It was decided to stay a little closer to home this time and fish the shoal where we had seen several large fish jump over the past few days. This turned out to be a good choice and we were all rewarded with some nice fish before darkness fell. Almost all fell for the red bodied woolly bugger leach pattern with a black tail.
Another fun, evening fire and a slight tapering of the wind velocity made for an enjoyable evening with good friends enjoying a nice steak dinner with all the trimmings. The overcast skies kept the temperatures a little warmer and seemed to make the snoring a little louder. All of us had commitments to be back in the city for Sunday night so we broke up the camp and reloaded all the gear and hit the road.
Beautiful BC scenery, big rainbows, a great weekend with friends. What could be better?
'Til next year, boys........Cheers
Ortho
Written by Fishortho, with minor contributions by Rib and Finder...Thx Ortho for a great weekend... :cheers: