Discussion Starter
·
#1
·
Well - after FishFinder rescued me from chucking gear on Friday, we hooked up on Saturday morning with the fly rods. I decided to use my Sage XP 796 - my light coho rod. FF had his Loop Blue line 8 weight rod. We hit the river at first light and fished until about 10:00 AM. Here's how it went.
Within my first 6 casts, I'm into a fish and it starts to immediately swim up river. I do get a few head shakes and I am able to turn the fish toward the shore - briefly. The fish then takes off up river and I'm immediately into backing. I'm thinking this fish has to be a spring - and I don't want to fool around with my 7 weight rod. So - I decide to take the pressure off the fish and let the line go completely slack. After a few headshakes, the hook is free. Unfortunatley, in the process I hook into a snag! Minus one X-mas tree!
A while later, FF is into a chum that took his fly right in the mouth. The fish is actually quite clean and FF has a good 10 minute battle. Must be nice to have the 8 weight out there eh FF? Anyway, after landing the fish, the large buck is quickly released.
I then hook into a chum doe that is also very clean. I give FF my rod just so he can see what it's like to fight a big fish on my light salmon rod. FF is worried about breaking my rod and quickly hands it back. No problem though. I've landed 10 - 12 pound salmon/steelhead with that rod without any problem. After a 5 minute battle with plenty of head shakes, the line goes slack and my hook is bent out! I'm using small thin hooks as I'm trying to target the coho in low clear water. Shortly afterward, FF has to leave and I wish him well for his upcoming Dragon Lake trip.
About 15 minutes later, I'm into another chum. It's a buck of about 10 - 12 pounds. This time, I subdue the fish and another angler tails the fish for me. A quick photo is taken and the fish is released. I then call it a day. All in all - it was a very enjoyable morning. We saw a few coho - but they are severely lock-jawed! The low, clear water plus all the pressure down below isn't helping! Anyway, here's a picture of the chum I landed.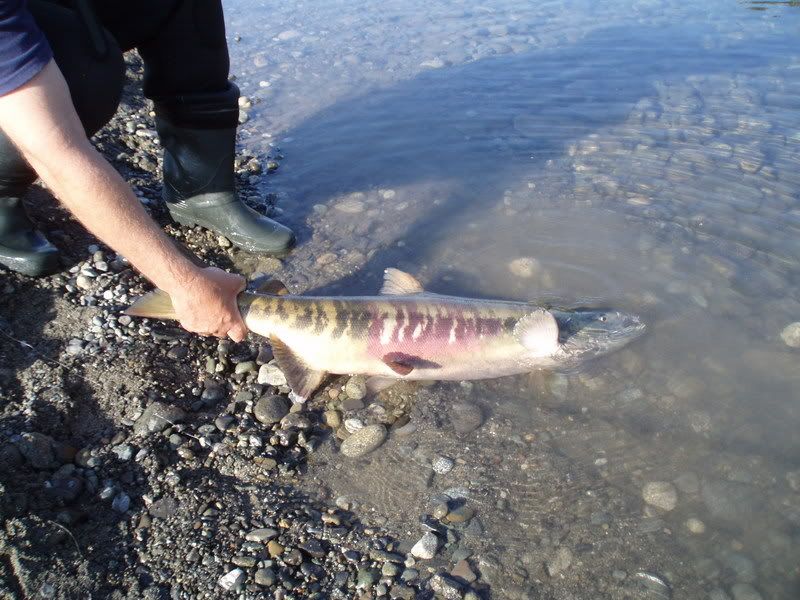 Tight lines and have fun out there!