Discussion Starter
•
#1
•
JUNE 25th OUTPOST Winter Harbour Report
Happy to report, this past week has been absolutely fantastic Chinook fishing in the near short waters off Winter Harbour / Quatsino Sound. There has been huge rafts of Needlefish, as well as Squid schooling in all the near shore shoals, and the fish have been holding in big numbers.
Anglers have done really well in and around Kains Island an hour either side of slack tides.... and the bite has been very consistent in the shallows off Lippy and Kwakiutl Points in 200' of water or less. The bait has been so thick that many boats are coming in with nice sized troll caught Hali and Lings along with their limits of Springs.
The smaller AP Sandlance patterns have been incredibly productive.... particularly the green/chartreuse/glo combo....as has the Sound Wave J31 and Yozuri LGG11 Needlefish. Gold and Purple UV pattern flashers continue to out produce.
We are struggling thru the new Halibut regs along with everyone else.... its hard to catch a small Hali in our area ! We sincerely hope DFO gets it right next year. Nevertheless the Hali and Ling fishing remains excellent
Candidly, despite the fact that our Winter Harbour area largely escaped the latest round of severe DFO catch reductions and restrictions that profoundly affected so many anglers and businesses on the coast, we are very concerned about the new Marine Area Protection submissions being considered. Candidly there is complete disregard for the 100's of businesses, 1000's of jobs and small towns up and down the coast being affected by these rather recklessly formed policies. Make sure you empower your local SFI and SFAB and lets have a voice and at least try to reduce the damaging uncertainty...its REAL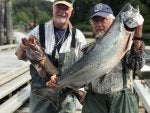 We do still have a few RV spots and Moorage left if you want to come and visit Winter Harbour. Come see what all the fuss is about